A step-by-step guide to planning a stress-free wedding in 2023 and avoiding being overwhelmed during the planning process by a professional wedding vendor.
With so many reality shows showing stressed brides, TikTok information overload, or having family pressure to have a wedding a certain way, it is easy to feel overwhelmed when thinking about planning a wedding or simply not knowing exactly where to start.
These stats from Zola show that "60% [of brides] feel overwhelmed by setting a budget and 54% don't know where to begin their vendor search."
I'm here to tell you that wedding planning doesn't have to be stressful.
As a professional photographer with more than 500 weddings under my belt, I have seen my share of fabulous weddings and weddings where things have not gone as planned. I have put together a step-by-step guide and a checklist to make your wedding planning stress free. This is what I wish every couple would know about planning a wedding. But why listen to me? I'm a photographer, not a wedding planner! Well, in much of the research I've done, I notice that the information out there by many popular wedding sites can be outdated, inaccurate depending on the part of the country you're in, or simply made by people who do not experience weddings every weekend and see the current trends.
As a wedding photographer, I can also share with you some easy tips to think of in advance that you may not have even considered, that would make your wedding photos that much better.
So let's get started!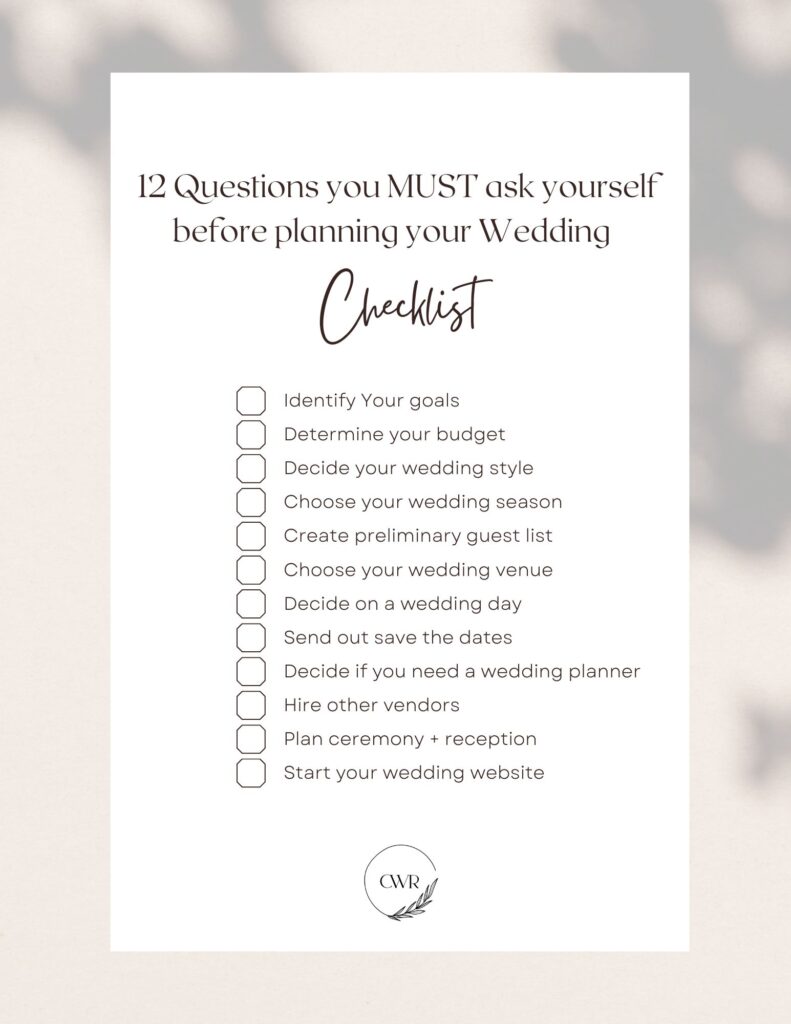 How to plan a wedding checklist
Pre-wedding planning is key to making sure you have an easy time planning a stress-free wedding.
Identify your goals: What is important to you and your fiance? What is a hill you will die on, and what is simply not worth arguing about? What are your wants vs. your needs? Did you know that "Half of 2023 couples said wedding planning has made their relationship stronger" (stats by Zola)?
Determine your budget: This is of the most important topic, as you will soon learn. According to the Knot, the average price of weddings is $30K in the US, $51K in NJ, and $60K in NYC. This is not the Holy Bible though, and should be taken just as a reference figure, every couple is in a different financial situation, and values different things. Lastly, you should allow for a contingency budget in case of last minute costs which may (and will) arise as you navigate through your wedding planning.
Decide your wedding style: rustic, luxury, beach, cottage, urban, industrial, minimal – there are so many different styles of weddings determined by the location, decor and general aesthetic – sit down with your partner and determine what is a style that reflects you both. This will help you narrow down your wedding venues, and help guide your choice of colors.
Choose what season you want to get married in: Do you have a favorite season? Do you enjoy the cold weather or the hot weather? Consider the comfort of your guests and the amenities your guests might need during a specific season. Also consider that many venues book up months, if not years, in advance for prime wedding months. In the tri-state area, prime wedding months tend to be Spring and Fall, as they are the most comfortable weather-wise. You might also consider certain "off-season" months or seasons for more budget friendly venues.
Create a preliminary guest list: This will provide an estimated number of guests to provide wedding venues and start gathering your numbers together. This will also guide you into a discussion as to how large or how intimate you'd like your wedding to be.
Choose a wedding venue: Once you've narrowed down your budget, goals and wedding style, choosing a wedding venue becomes a little bit more manageable with these parameters in place. Google surrounding venues, word of mouth from friends or weddings you've attended, or even as your photographer or other vendors that you have picked out already, what are some of their favorite venues to work it. A few of my own favorite wedding venues are here.
Decide on a wedding day: Do you have a special date in mind that is meaningful to you? If so, make sure to look into this date far in advance as prime dates can become booked 1-2 years in advance. Think about which day of the week or weekend you'd like to celebrate and if you'd like a daytime or evening celebration. Since the pandemic, lots of couples have opted for weekday weddings as an option, and many venues and/or vendors might even offer special pricing for a weekday wedding.
Send out Save the Dates: There are lots of creative ways to send out a save the date, whether in print, or digital format, incorporating an old picture of you both, or using one of your engagement session photos. Save the dates are a great way to get your guests into the wedding in advance, and start getting a headcount in advance.
Wedding dress/ Groom's attire: Depending on the time of the year and your aesthetic, you can choose the best outfits that match your styles and the weather. Instagram, Pinterest, and Google are all great places to start by researching particular styles of dresses you might like. Or get creative and start researching some smaller vendors on Etsy – it doesn't have to be traditional. Just keep in mind some time for alterations to make sure it fits just right.
Do you need a wedding planner?: Depending on the type of wedding you're having a wedding planner can always help make the event run more smoothly. Whether its just a day-of coordinator or a full-service wedding planner, both are great additions to the day. Many will help you find the perfect wedding vendors and are experts at making sure the look and feel of your day matches your vision. Wedding planners can also help you stay within your budget so that in the end they are helping you save money and not stress about your day so that you can fully enjoy your once-in-a-lifetime experience.
Hire other vendors: Here's where the fun part comes in! This is really the time for you to customize your wedding to your tastes and preferences. Make a list. Decide what is your priority to spend your efforts, energy and budget on. Start with those first to make sure you have the budget for the vendors you really want and that they are available. If you've already booked a venue, many have their lists of preferred vendors, but don't be afraid to think outside of the box and research your own. Many times, this is how you'll find the hidden gems! Ask questions, see portfolios – and make sure your vibes match. Also, don't be afraid to ask if your favorite vendors will travel to your wedding location. Many times they do! Here are a few of my own favorite vendors I've worked with.
Plan the ceremony and reception: Will you be getting married in a church or a temple off-site? Consider the distances that your guests might have to travel in between, where your guests will go in the interim, and also consider the time between locations, as they will generally add on time to your coverage for photography and videography, transportation, etc.
Wedding registry: If this is something you choose to have, this can be super fun to start choosing. As a past bride myself, something I wish that I knew going into wedding registry shopping, was all the stuff I thought I needed but really didn't. So don't go trigger happy – try to look into the things you'll really need. And if you have an already-married friend, maybe take them along with you for some advice? There are also great alternatives to wedding registries if you don't feel comfortable asking for cash or checks, for example honeymoon registries, photography registries (ask your photographer about this!), or anything else you know you will truly enjoy and need after your wedding, are great ways to get guests to contribute to your experience.
Start your wedding website: Wedding websites are a great place to have fun, post pictures of you both, tell your story, interact with your guests, and share important details and information about your day, especially if there are hotel blocks, travel directions, etc. to share in advance. And the best part : they are free!
How long does it take to plan a wedding?
As a photographer who is generally somewhere in the beginning to the middle of the process of most people's planning, I get to see how long people can hustle to make their wedding dreams come true. Generally weddings are planned 12-18 months in advance, as many of the best vendors book up within this time frame, so you can ensure the wedding vendors you really want on your team. Further than this might be overkill, and you might have a hard time getting vendors to commit. However I've also seen wedding planning done in as little as 2 months, depending on the complexity of the event, and who you have on your side to help you! Sometimes you get lucky, and sometimes you just are a good, and efficient planner!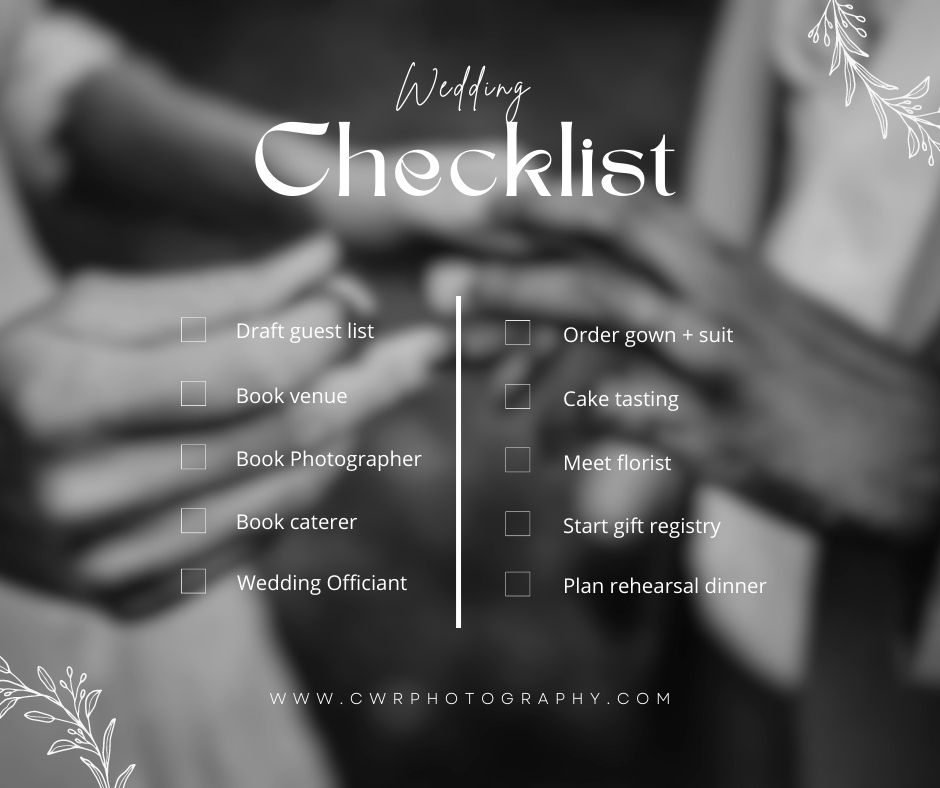 What vendors do you need for a wedding?
Wedding vendors will be your partners and if chosen carefully. They will help you make each part of the wedding process a bit easier. Trust is the biggest secret in making your wedding day a success, so do your part to ensure the connection is there before you hire a vendor, and the rest should be a piece of cake.
Here is a checklist of the vendors you will need.
Wedding dress/ suit
Venue
Officiant
Rings
Planner
Flowers and decor
Food and beverages
Entertainment
Photographer/videographer
Photo booth
Bridal party gifts
Favors (or alternatives to favors)
Transportation
Don't forget to screenshot and save these handy checklists to make wedding planning easy to refer back to!
Here's a condensed version: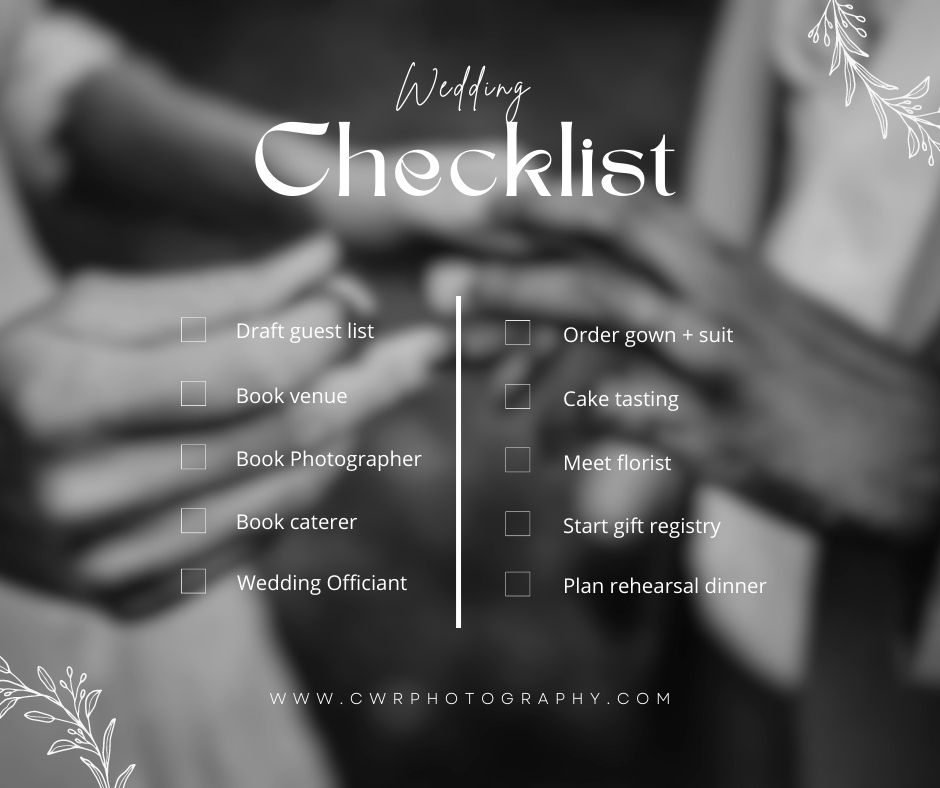 Wedding Planning Guide