Non-traditional weddings are becoming increasingly popular, and you might already have various ideas you are considering that would make your wedding day more distinctive. As a wedding photographer who works with couples who are often all about creating their own traditions, or skipping wedding traditions, here are some of my favorite ideas for making your wedding genuinely non-traditional and unique.
But before planning a non-traditional wedding, make sure it is actually what you want, not just something others are doing. Creating a non-conventional wedding day is all about what you want as a couple that will be unique for the two of you. If certain traditions have meaning to you, then stick to them! There is nothing wrong with following traditions, breaking with traditions, or a blend of traditional and non-traditional. Make sure you get what you want on your wedding day!
Getting Ready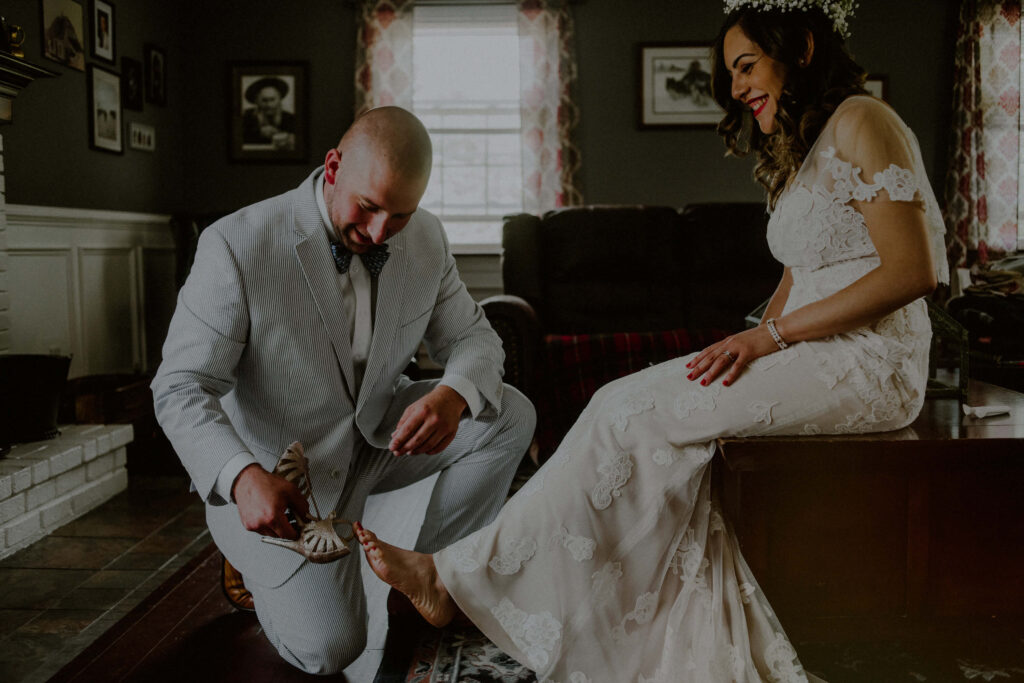 Although traditionally, both partners prepare for their wedding day separately from each other, you are free to get ready however you want on your big day! Maybe this means dressing at home instead of in a hotel room, or you could rent an Airbnb to get ready — maybe even with your partner. If you decide to get ready with your partner, you could create your own tradition by sharing a drink or eating breakfast together on your wedding day.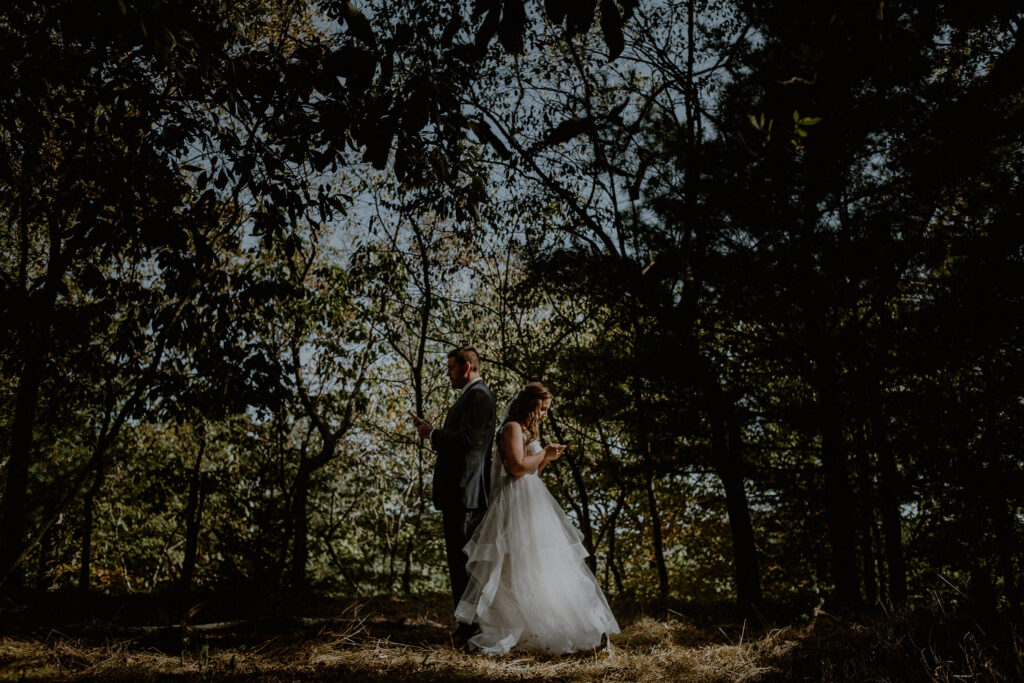 First Look
Traditionally, a couple has their first look as one partner walks down the aisle toward the other partner. However, today many couples choose to have a private first look before their ceremony. If a first look isn't for you, you could have a first touch* before the ceremony and then wait until the ceremony to see each other. You could also write each other letters to read at a first touch or right before your first look. Don't be afraid to do something different that feels right to you.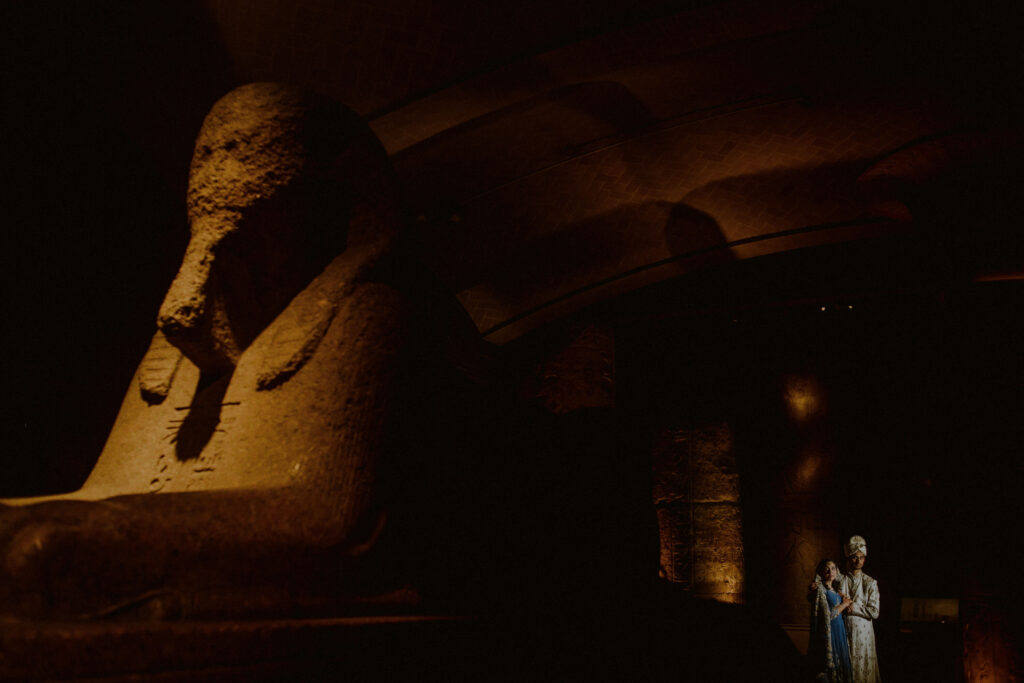 Get Married Some where Other Than a Venue
There is no shortage of "wedding mill" venues available today, but there is no reason you can't pick a unique location for your ceremony and reception. If you plan an intimate wedding, you could get married at your home, in your backyard, or at an Airbnb or vacation rental. You could also choose a spot that has a special significance to the two of you. This could be a historic building, a museum, a beautiful park, or even a place where you've had a memorable date. Wherever you choose to say "I do," make sure it is someplace you will love looking back on with no regrets.
Non-traditional Wedding Attire
Wedding attire is traditionally thought of as a white wedding dress and a classic tuxedo, however times have changed. No rule says you can't wear something else! Maybe that means wearing an off-white dress, a dress that is a different color altogether, or not wearing a dress at all. You have the freedom to choose to wear a romper, a less formal skirt with a top, or even pants if you want to! It's your wedding, after all. You could go all out with sequins or embroidered lace, or wear something simple and understated. You may want to have an outfit change to be comfier during your reception. Instead of a suit, you could wear dress pants and a shirt, or choose something with a fun pattern.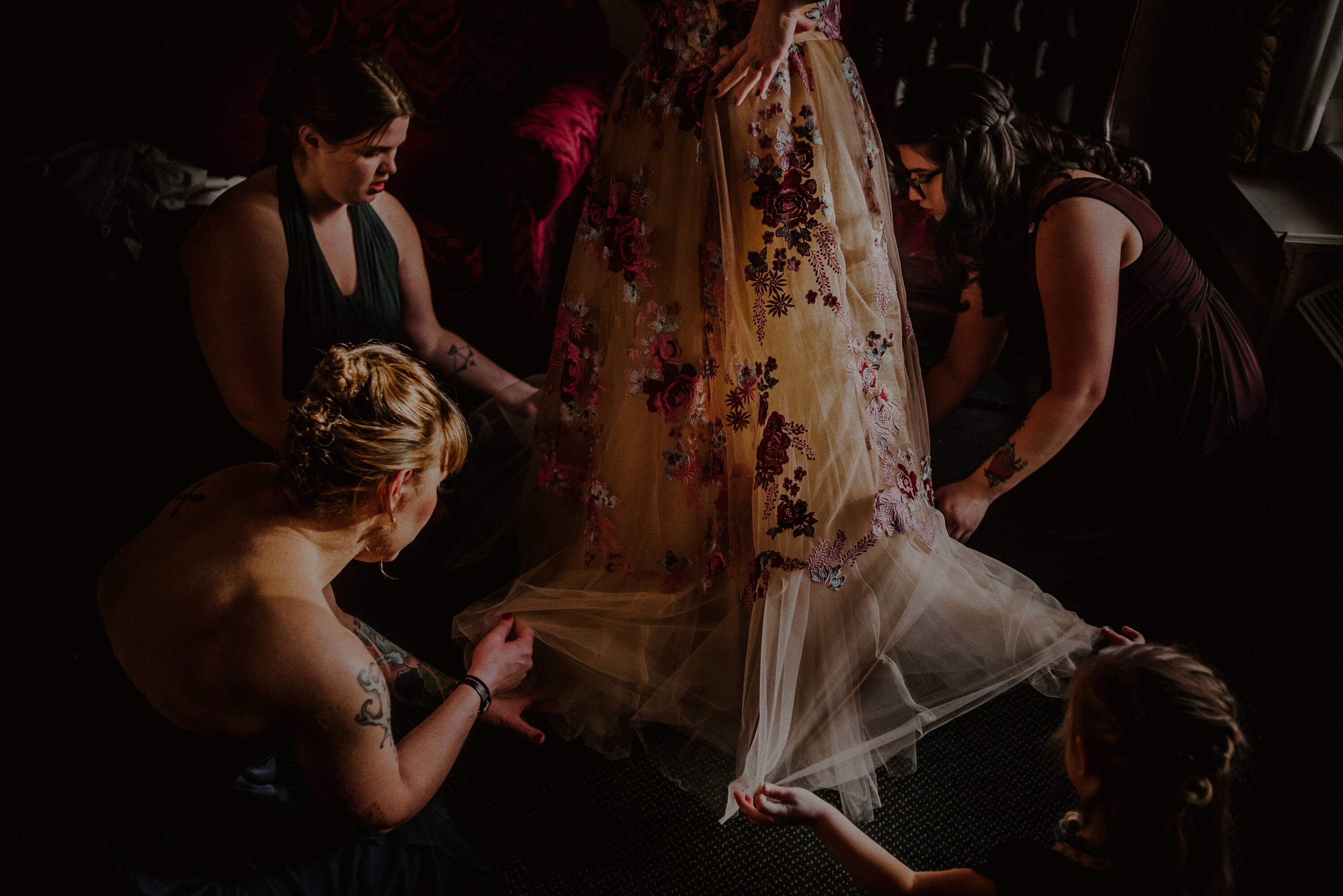 There isn't a rule that says your wedding party must wear the same attire, either. Each wedding party member could wear a unique outfit in a similar shade, or choose to not match at all! The possibilities are endless when it comes to non-traditional wedding attire. So sit down with your fiance to decide what feels right for the two of you, and run with that!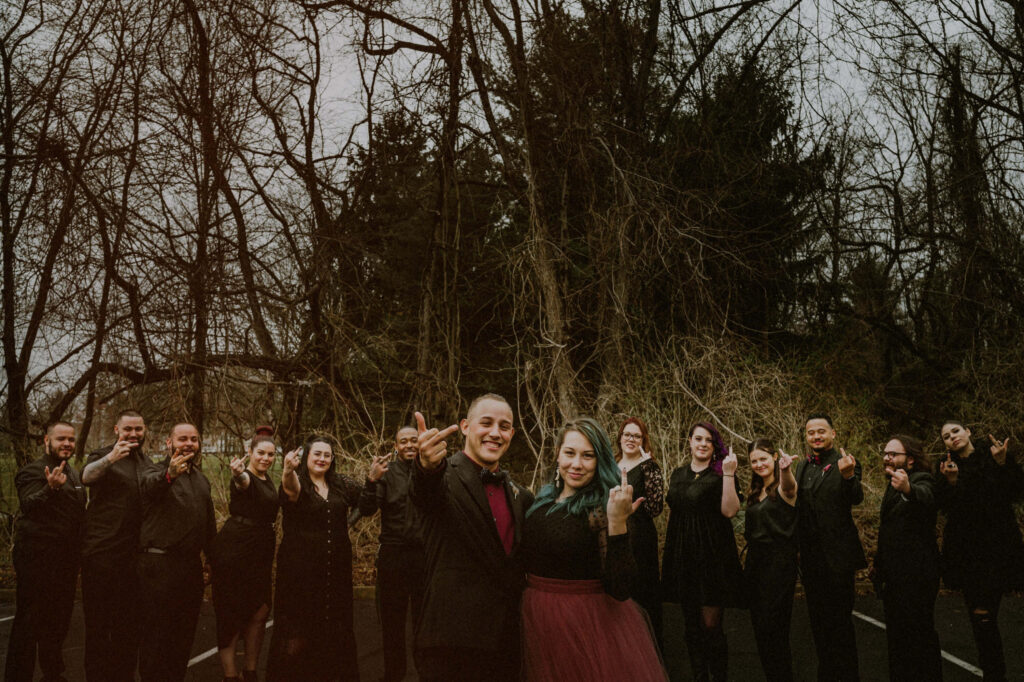 Non-conven tional wedding party
Speaking of the wedding or bridal party, we typically think of each side having the same number of people, but more and more, couples are switching up their wedding party or are choosing not to have a wedding party at all. You could include different numbers of friends on each side of the wedding party, incorporate your children into your big day, or even your dog!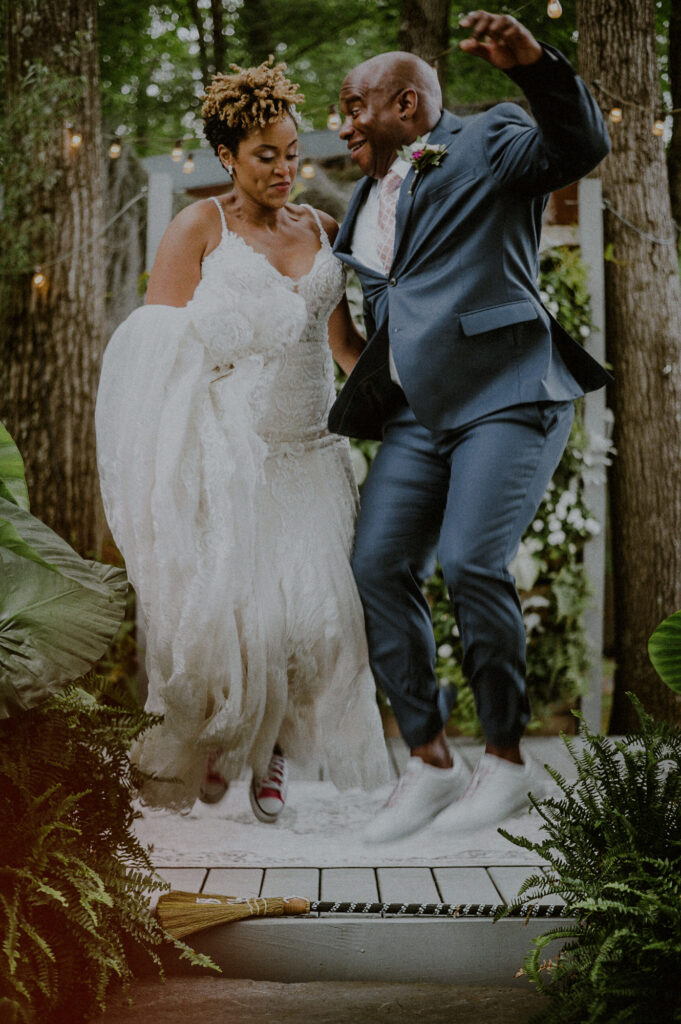 Ceremonies With Unique Traditions
The traditions surrounding a wedding ceremony are typically based on the belief systems of the couple. If you don't have an emotional attachment to some of the traditions at a wedding ceremony, you can create your own. That might include a unity candle, sand-pouring, blending wine, hand-fasting, jumping of the broom, or another tradition you create. Maybe you want your ceremony to be a different length of time than the typical ceremony, or you may want to write your own vows. Perhaps, you would like to walk down the aisle together! The options for a nontraditional wedding timeline are endless. Talk about the things important to you in your relationship and beliefs so that you can make your wedding ceremony special.
Ditch or Switch Wedding Formalities
On a wedding day, you may be surprised how much time is consumed by formalities. A traditional wedding day is packed with speeches, cake cutting, formal dances, a bouquet toss, and so many other things that can waste precious time. If there are formalities that you don't love, don't be afraid to ditch them or switch them, and make them your own! Make sure that if you are sticking to these traditions, you are doing it because you want to, not because you feel like you have to.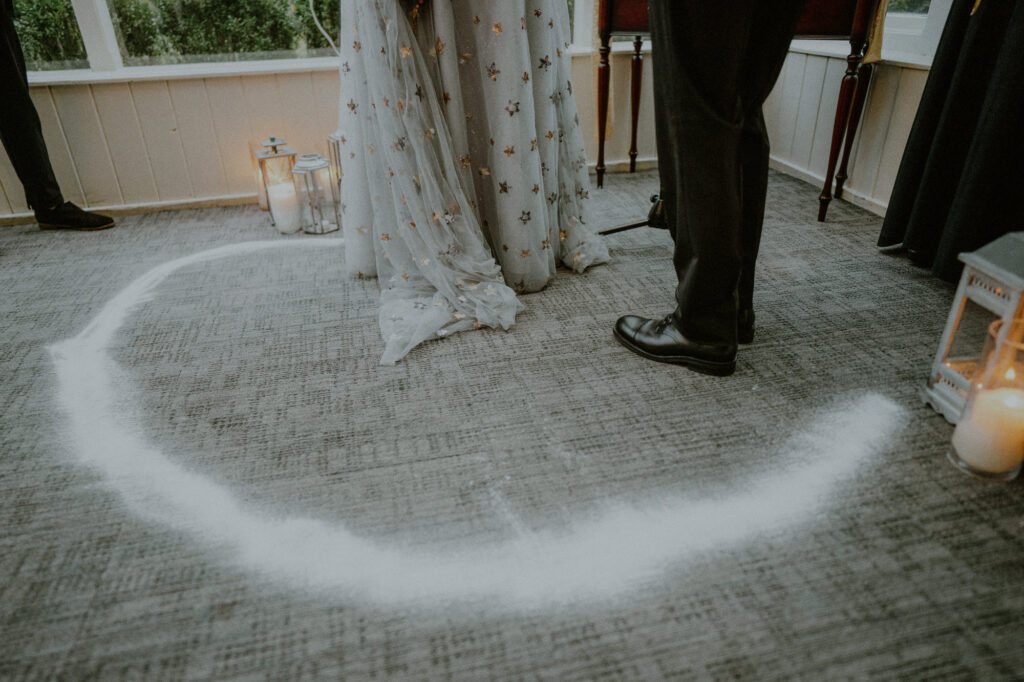 Here are some ideas:
Wedding Cake
The cake cutting is one popular wedding formality. However, maybe the two of you don't feel emotionally attached to cutting cake and feeding each other a piece, or perhaps you just don't like cake! If you choose not to have a cake cutting, you could serve a different dessert like donuts, ice cream, or even have a champagne tower! If you do want to have a cake, there's still no rule that says you two have to cut it and feed it to each other.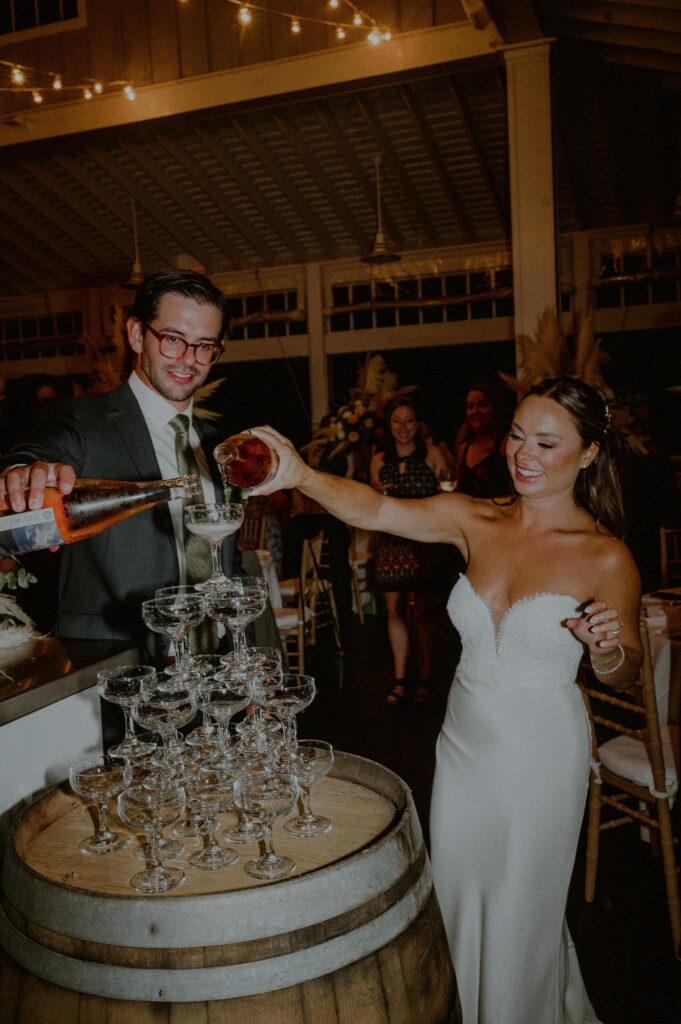 Cocktail Hour
Instead of having a cocktail hour and then a reception, you could merge your after-ceremony festivities into one big party. Guests won't have to wait for the party to begin, and you won't need to have as many formalities at a scheduled time. This way, you'll be able to relax and enjoy the party without worrying about where you have to be next.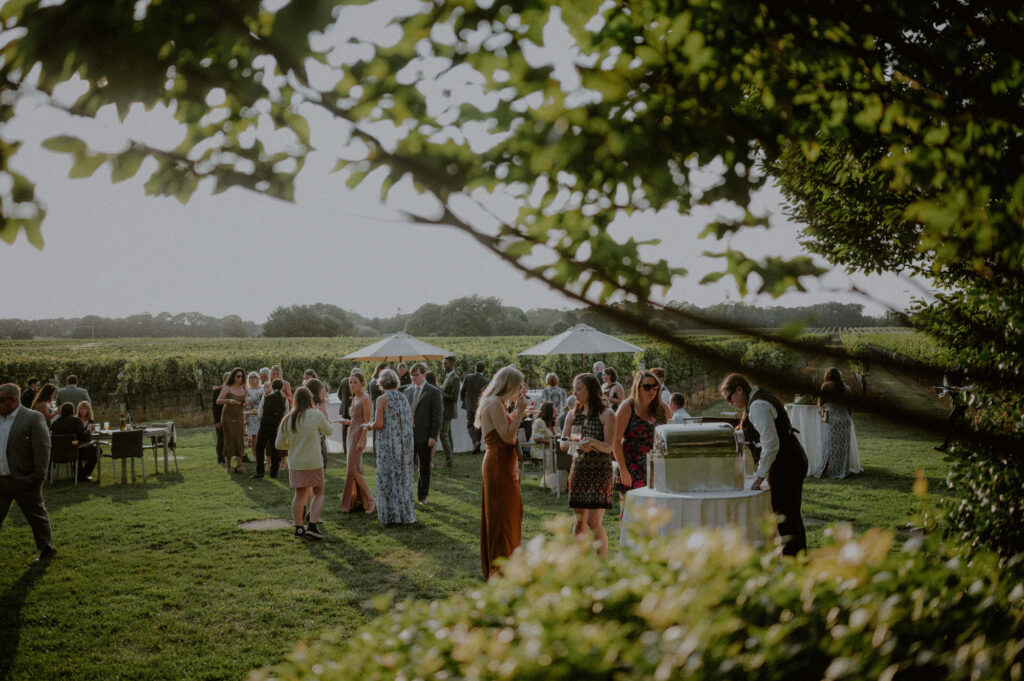 Formal Dances
Formal dances can create beautiful moments, but sometimes family dynamics may cause them to become a bit of a sore spot. You might even be more shy and not love the spotlight on you during a dance. If you don't feel like including every formal dance, ditch the ones you don't want, and only keep the ones that are truly meaningful to you.
Speeches
We've all been to the wedding where the best man's speech seems to drag on forever and is filled with anecdotes that have nothing to do with the couple. If you aren't feeling the best man and maid of honor speeches, there is no need to have them. You could always choose to give a speech yourselves or have someone important to your relationship give a speech with the purpose of celebrating your bond as a couple. Another option may be asking guests to write down their best pieces of advice to you so that you can read them at a later time.
Garter & Bouquet Tosses
Instead of a bouquet toss to your single guests, you could choose to opt-out of this formality or choose a fun alternative. Garter tosses are also becoming a less-common tradition that you could put your own spin on. For example, you could throw boxed wine or cash, or you may want to have a singles dance.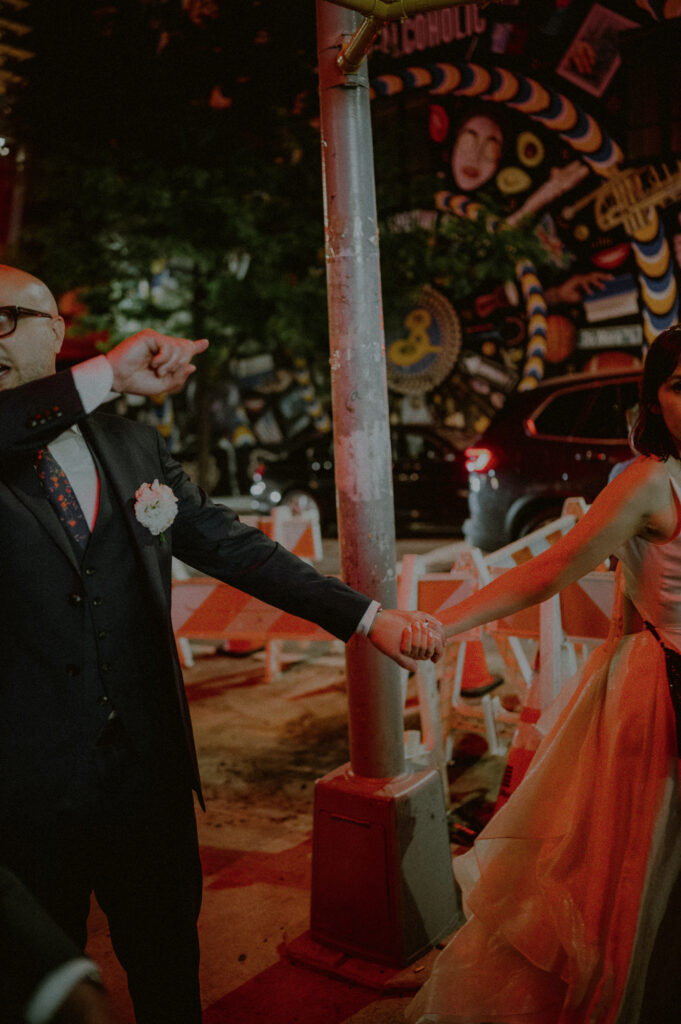 End of the Night Festivities
You could incorporate many fun, offbeat, non-traditional festivities into the end of your wedding day. For example, you may want to have a fire pit going to make s'mores. You could also schedule an after-party with some of your closest friends. Whatever sounds fun to you, incorporate it into your day!
*A first touch is where both partners will hold hands without actually seeing each other before the ceremony.
When you ditch some of the formalities of your wedding day and make it your own, you will save precious time on one of the best days of your life for the things that matter most to you. Now that that times have changed (for the better), and weddings are becoming more inclusive of everyone's individuality, it's even more important to consider what feels right to you and your partner in planning your wedding, not just what your ancestors have done or what society deems a wedding should be!
Offbeat Wedding Ideas
With 10+ years of wedding photography experience under my belt, I've seen my share of offbeat and unconventional weddings that have left me a box full of ideas to share with couples.
Here are a few of my favorites over the years that I have found to be truly unique, or have unique traditions built in that I haven't seen elsewhere.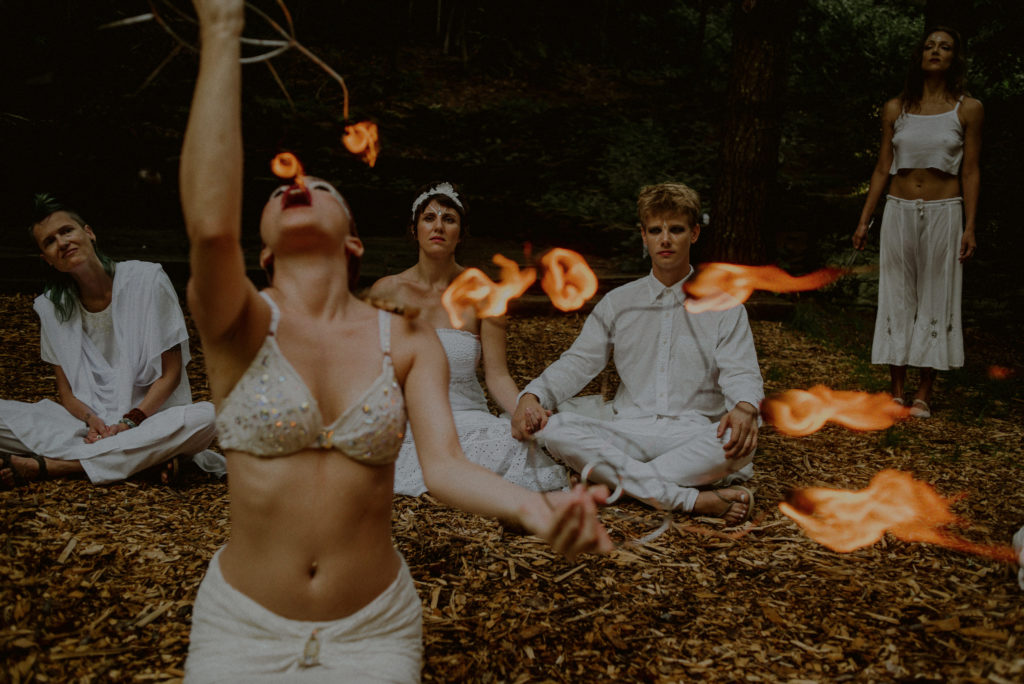 Addison and Leah's Wedding in the Catskills was so non-traditional that they didn't actually even get officially "married"! That's right! They had an "Earth, Wind, and Fire" Ceremony of the Elements to symbolize their union in front of their guests, along with incorporating some pagan and sensorial experiences and requiring all of their guests (as well as me!) to wear white.
Arielle and John's Wedding at the Metropolitan Building in Long Island City was set in an old factory space that was re-designed and repurposed for the use of events. I loved that Arielle and John incorporated parts of their heritage and important elements signifying the current times and political situation, such as the jumping of the broom, and "taking a knee" in response to Colin Kaepernick and the 2016 NFL protests for the Black Lives Matter movement.
Looking to hire a non-traditional wedding photographer who specializes in unique weddings? Contact me today!
Read More