Engagement sessions sometimes have a reputation for being stressful. You might worry about choosing the perfect outfit and location or preparing all of the best poses. However, if you are someone who isn't comfortable being photographed and wants to make the process fun and painless, I've compiled my best advice for having a successful engagement shoot (no posing needed)!
Work With a Photographer You Trust
The first step towards a successful engagement session is working with an engagement photographer you can trust. Most people are not used to being in front of the camera, and experienced photographers know that! Your photographer has your best interests at heart, and trust that they know what they're doing; no worries! They will help you look great in front of the camera, even if you are a little nervous at first. Your photographer knows how to capture moments in a natural way while helping you look fabulous. Trust their vision and their prompts!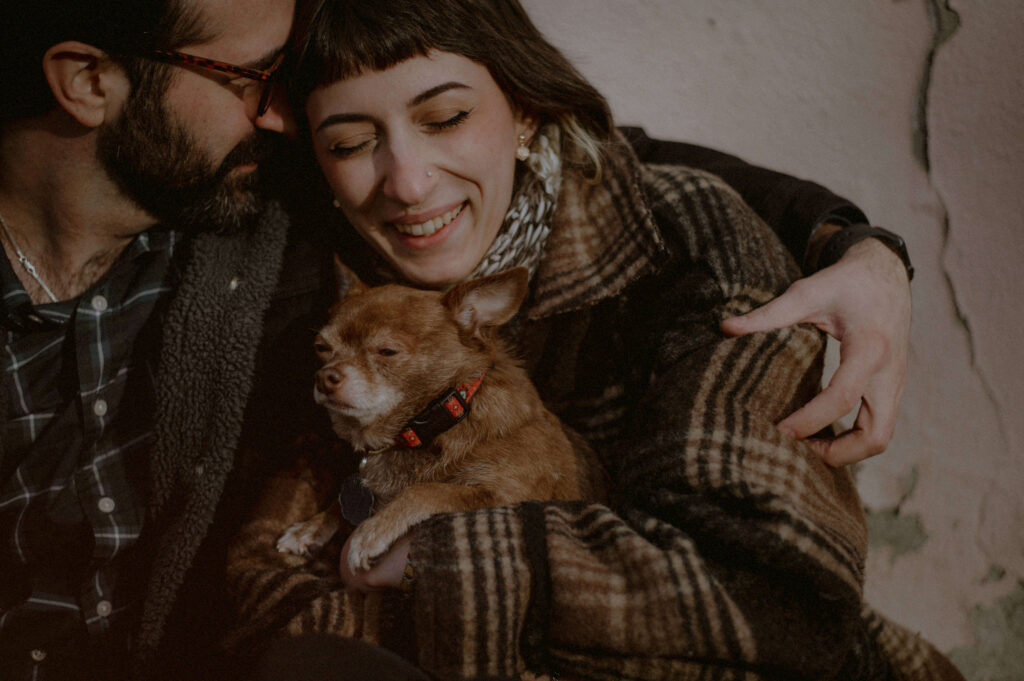 Don't Be Afraid to Show Some PDA
You're engaged to your favorite person ever, so don't be afraid to show a little affection during your session! Let yourself get caught up in the moment and forget you're even in front of the camera. Even if it's a little hard to show PDA at first, remember that the goal of an engagement session is to document a special time in your relationship. Try not to overthink it; just show affection as you would organically. You'll love having images that show the two of you interacting naturally.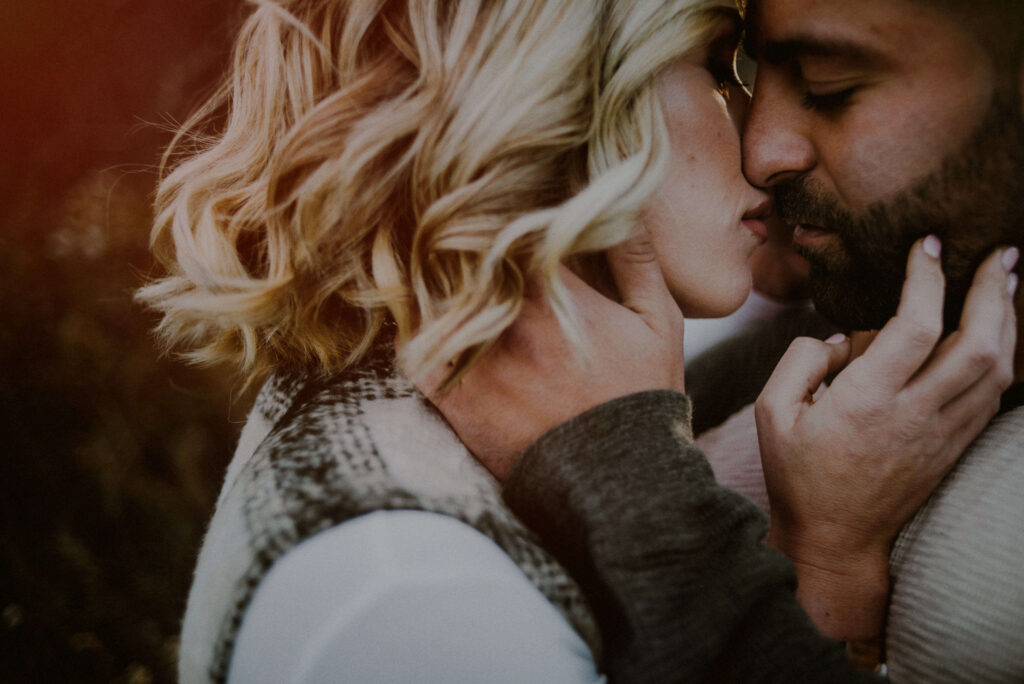 Posing Advice for Non-Posers
Not a fan of posing for photos? No worries! Sometimes the best images come when you're not posed for a picture at all. I always love the in-between moments when a couple is just being themselves and not worrying about how they look. The best "poses" come from actions that come naturally to you—playing with each other's hands, hair, or face. This is where PDA will come in effortlessly! Don't be afraid to get touchy-feely with each other. It will help you feel a little less awkward and add a personal, intimate touch to your images.
How to Choose the Right Time of Day
Lighting varies greatly depending on different times of the day. It's important to know the style of the photos you are going for and plan accordingly. Take them at the time of day that works well with the style you desire. Lighting is softer in the morning and evening and harsher around noon. Again, neither type of lighting is "bad," but the light will definitely affect the look of your photos. Some photographers prefer to shoot around the golden hour (the hour right before sunset) as it can be more challenging to shoot with harsh lighting. However, I find that more direct light can create dramatic, conceptual pictures that are more difficult to achieve at other times of the day. Other things that affect lighting are the time of year and how many clouds are in the sky. In general, softer light (early morning, golden hour, and cloudy days) will create a more even exposure—meaning there will be less contrast. Strong, direct sunlight (around noon and on sunny days) will create shadows and give a more dramatic effect.
Engagement Photo Locations
Is there a location that has special meaning to you as a couple? It's always nice to incorporate a spot for your engagement photos with a story behind it. If you don't have a preferred location, ask your photographer for recommendations! In general, I believe that locations are secondary to your relationship with each other. You don't necessarily have to take your photos in a beautiful park or by a monument where it's common to take photos. A good location could simply be a woodsy path, your neighborhood, or a unique alleyway.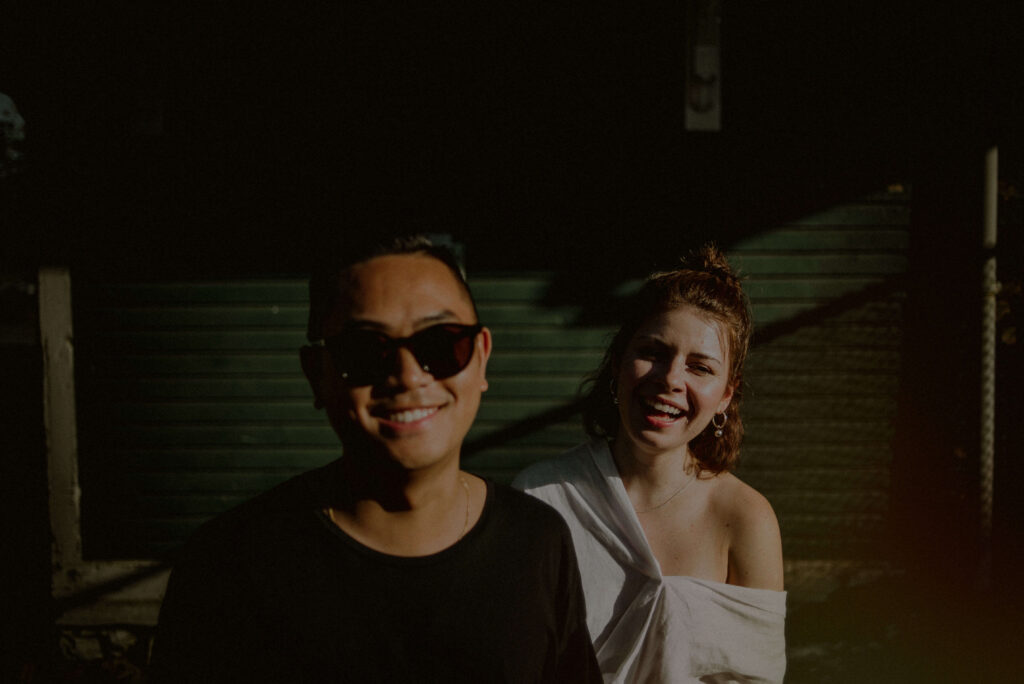 Engagement Session Outfits
When it comes to outfits for your engagement session, ask yourself what makes you feel your best. If it's beat-up jeans and a t-shirt, go for that look! On the other hand, if you imagine yourself in a beautiful, elegant, flowy red dress or a sequined top that you've been wanting to take out of your closet, go for that look instead! Choosing your outfits is all about the feeling YOU want for your shoot. I also recommend wearing an extra layer or bringing a backup outfit for adventure-style sessions. I love to go for walks with couples and discover new places, which sometimes means getting dirty, so it's always good to have an extra top or jacket.
Ways to Incorporate Something Meaningful
There are many different ways to make your engagement session truly your own. Is your dog part of your family and you want to bring it along? You don't even have to ask if that's okay! Do you have kids? There's nothing that says you can't make your engagement session a family session, too. Or maybe you have something else that holds special meaning—a car, an instrument, or even a surfboard! Whatever it may be, just chat with your photographer about incorporating it into your session and making your photos even more unique.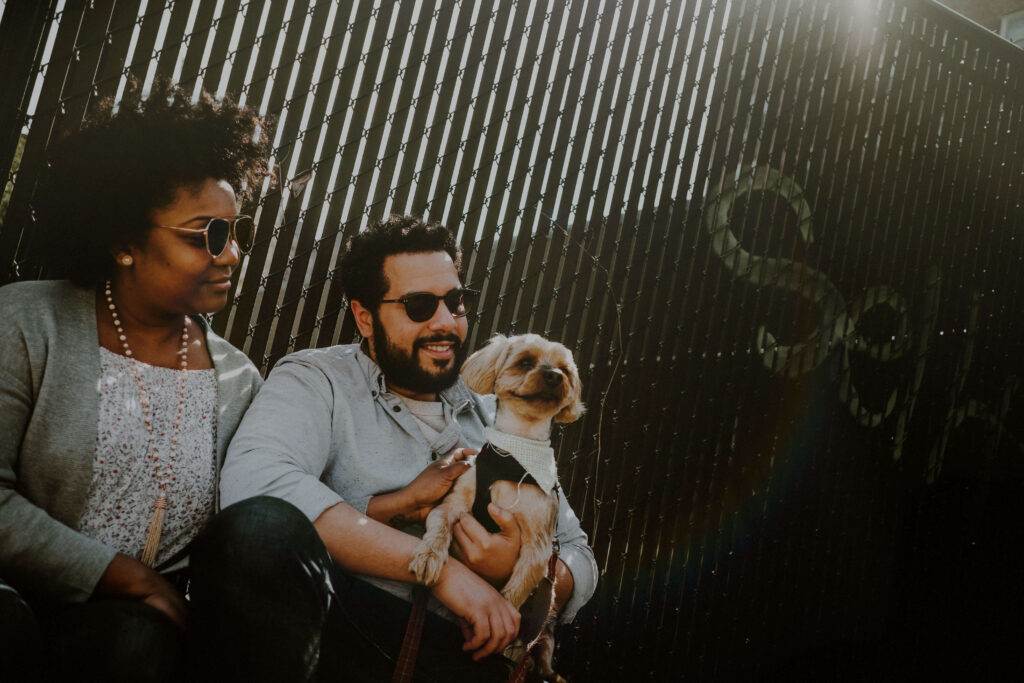 Don't Stress Over Weather
When it looks like there might be inclement weather in the forecast, your instinct may be to cancel or reschedule. But "bad" weather can lead to some creative opportunities that could make your session even better! It's a photographer's job to be creative and look for ways to make your photos unique, so if your photographer is down to shoot in the rain or snow, trust their vision. They might be able to create something amazing with you.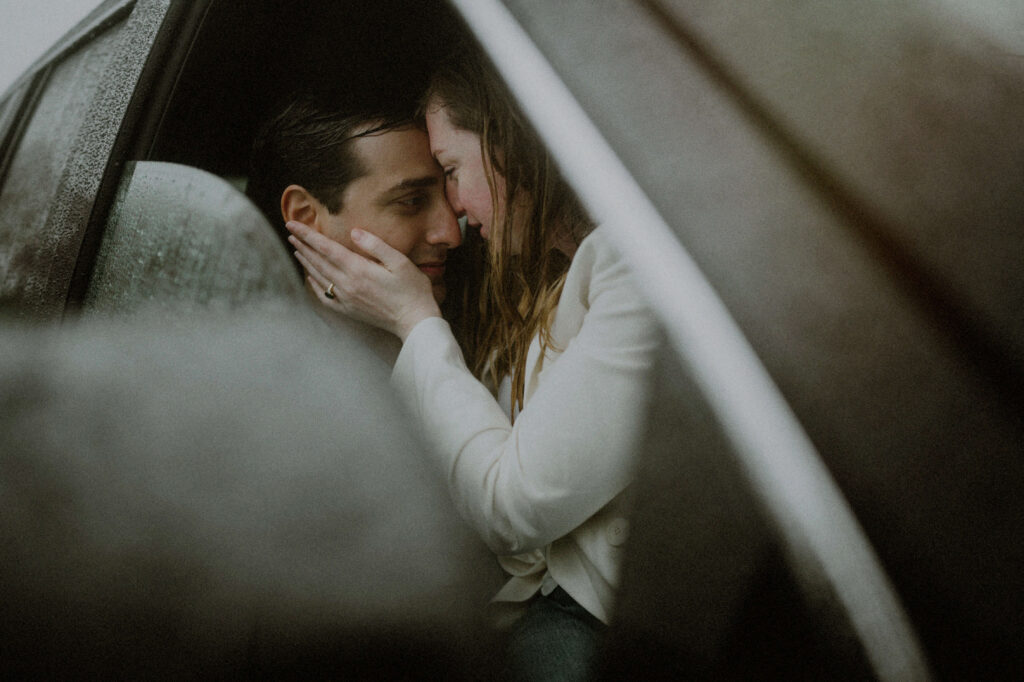 Plan Your Engagement Session
Looking for an engagement photographer to capture your engagement photos in the New York or New Jersey area? Reach out to me today!
Read more