Taking Engagement Photos in New York City
New York City is an incredible city for taking engagement photos. As a NYC wedding photographer in the area, I've helped many couples plan their NYC engagement sessions. Whether you are local to the area or traveling here for your photos, these 5 tips for couples planning to take engagement photos in New York City can help you:
Live in NYC? Let's Start In Your Neighborhood!
If you are local to New York City, why not start your session from your home and take a walk around your neighborhood? You will have images of yourselves in a meaningful place to you both. And if it is your first home together, you'll be able to look back and remember the beautiful memories you made in that home for many years to come. Your home and neighborhood are also locations where you feel comfortable, which will help you feel comfortable in front of the camera!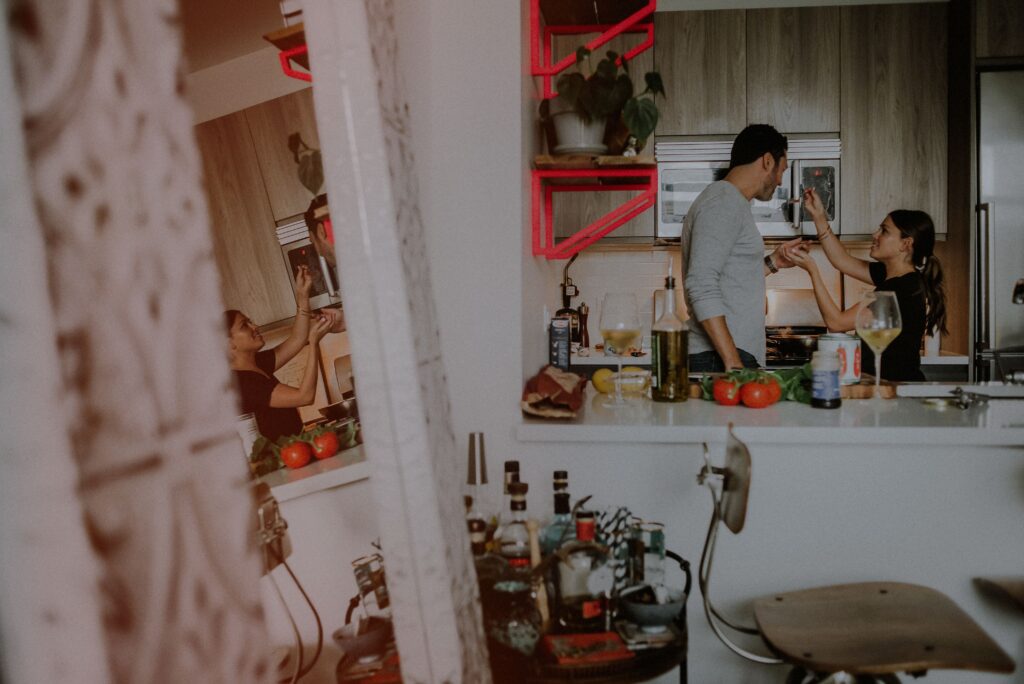 Incorporate Meaningful Locations
While New York monuments are fun to explore, your engagement photos are a great way to commemorate the unique parts of your relationship. Think of places that have meaning to both of you. For example, is there a neighborhood coffee shop you frequent? Or could you visit the spot of your first date? Don't be afraid to ask permission to take some photos at locations you love! Chat with your photographer about the streets, neighborhoods, and businesses that are important to you. They can help you choose the places that will photograph best!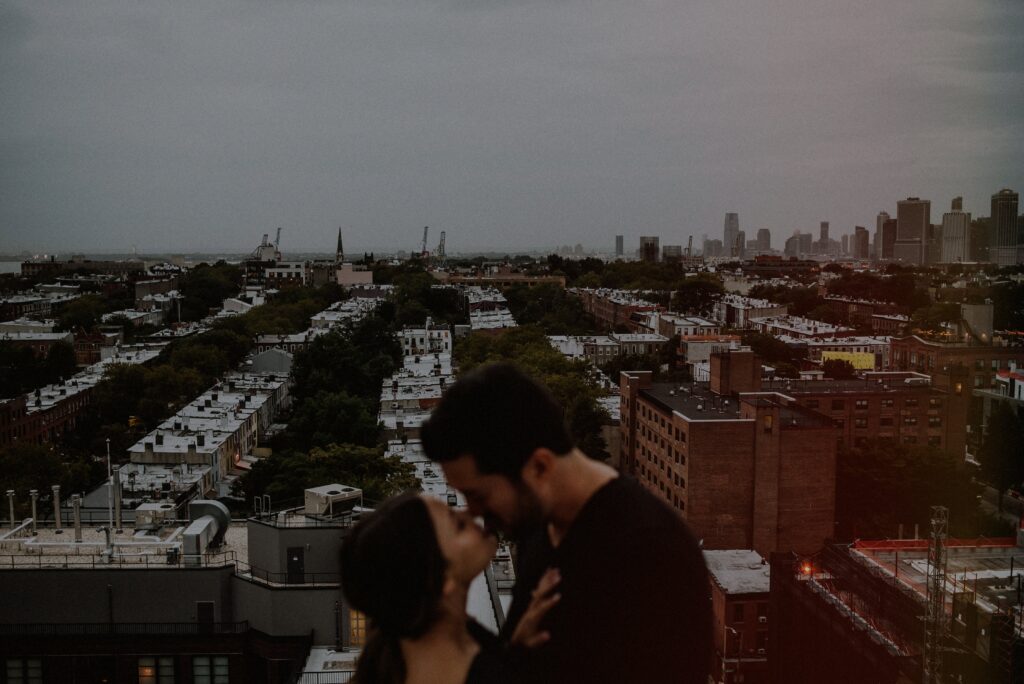 Plan Ahead for Lighting
Consider the time of day when you would like to take your photos. Lighting changes drastically throughout the day, so keep that in mind when scheduling your session. Most photographers typically schedule their sessions right before sunset so that you get a little bit of golden hour and a little bit of blue hour, too. During golden hour, your photos will have a warm, sunkissed vibe. Blue hour begins when the sun goes down and the sky turns a deep blue. Colors during blue hour will be cooler and more intense.
Or if you're night owls, you might want to capture NYC at night! Using a little pop of flash can add that unique NYC vibe that makes the city so special. If you have a specific vision for the lighting for your engagement session, reach out to your photographer! They can give you their best tips for lighting so your vision can come to life. Lighting can directly affect the vibe of your session, so make sure you plan ahead.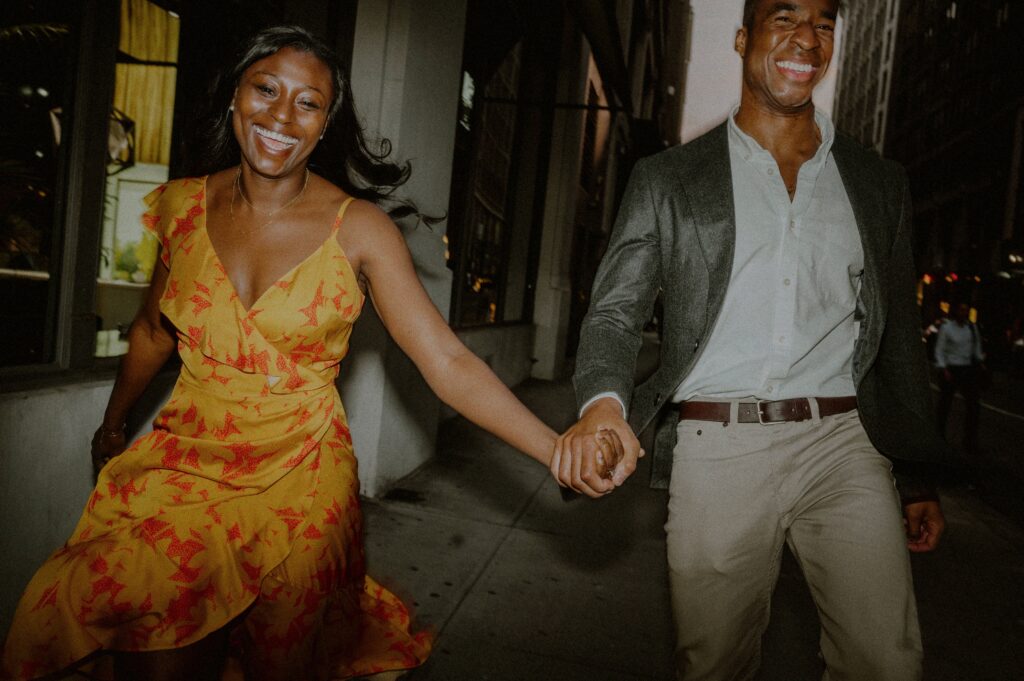 What to Wear to Your NYC Engagement Session
"What should we wear?" is one of the most common questions I get as a photographer, but it's honestly one of my least favorite! What you wear is totally up to you. It boils down to what you feel most comfortable wearing. I always tell my couples just to keep it real! If you love a pair of ripped jeans and sneakers, wear ripped jeans and sneakers. If you love to go all out and dress up, go for a flowy dress or stylish suit. The more comfortable you feel in your outfits, the more comfortable you will look in front of the camera, and the more natural your photos will turn out. And you can always bring a couple of outfit changes to your session if you want more than one look.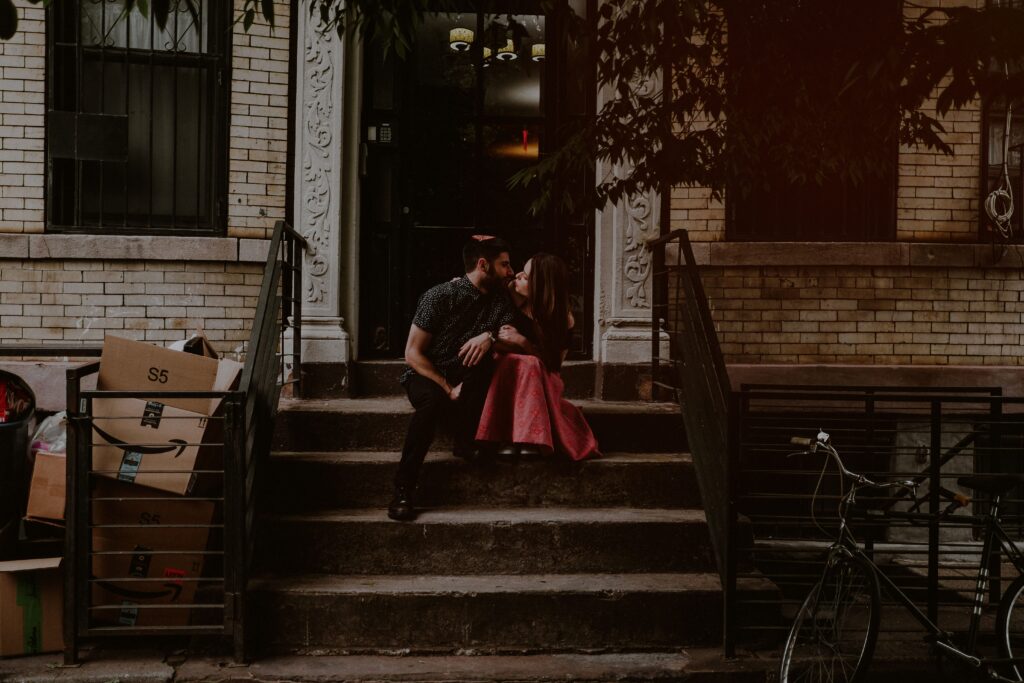 Think About Transitions
As you plan your NYC engagement session, think about how the in-between moments will look. For example, how are you planning on traveling from one location to the next? Are you taking a taxi, walking, or taking the subway? Those transitions could be a unique part of your shoot as well! For example, we could get some photographs of the time between each location—holding open the door to the taxi, waiting for the subway, or walking through the streets hand in hand. Often, these natural-looking moments turn out to be some of my couples' favorite photos!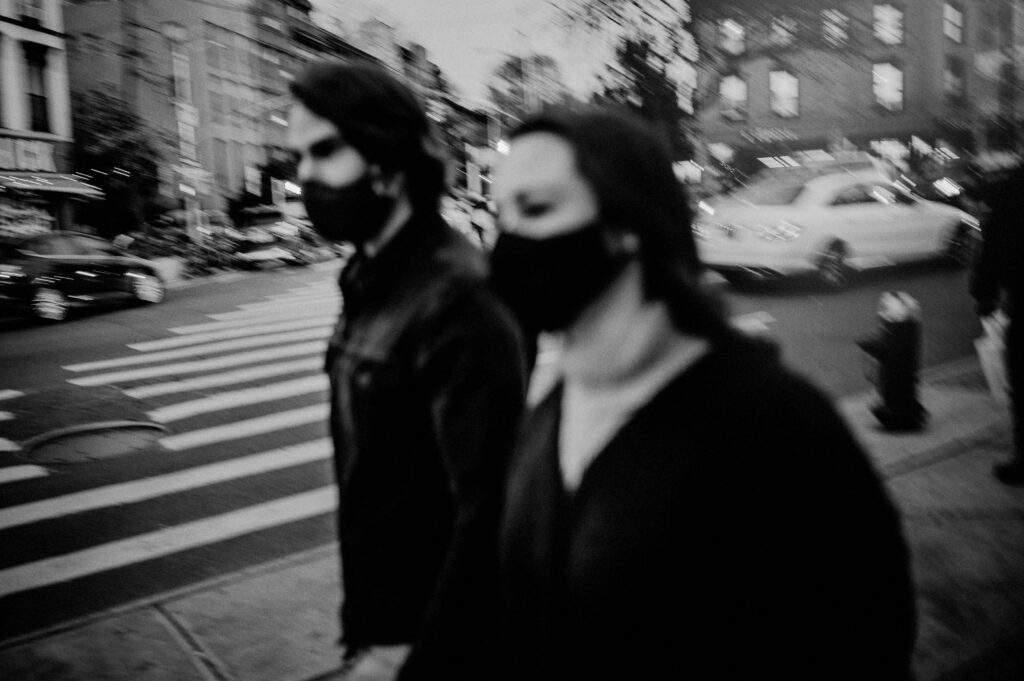 Bonus Tips for Engagement Photos
Hopefully these tips will help you as you plan your New York City engagement session. For more in-depth planning advice, talk to your engagement photographer! They can help you plan for your specific needs. Your relationship was never meant to be "cookie-cutter," and your engagement photos shouldn't be either. An engagement session should celebrate the uniqueness of your relationship. That's why I love capturing candid moments for couples in NYC and the surrounding areas. I'm all about capturing vulnerable and genuine moments during the phases of your relationship that you never want to forget. If you're looking for a photographer who is creative and down-to-earth, I'd love to connect with you!
Engagement Session Guide