Liberty House is a classy wedding venue with breathtaking views of NYC skyline. Conveniently located in Jersey City, NJ, only a train or ferry ride away from NYC.
I've photographed my share of weddings both in NJ and NY and one of the biggest concerns that I hear from my clients looking for a NYC wedding is the price. A lot of my own clients have started looking towards NJ wedding venues because it is so much more cost efficient than a NY wedding venue. Liberty House is a venue that many New Yorkers go to because of it's proximity to NYC (it's just a ferry ride or a PATH ride away, and just across the tunnel!), as well as it's magnificent views of the NYC skyline, the place they call home!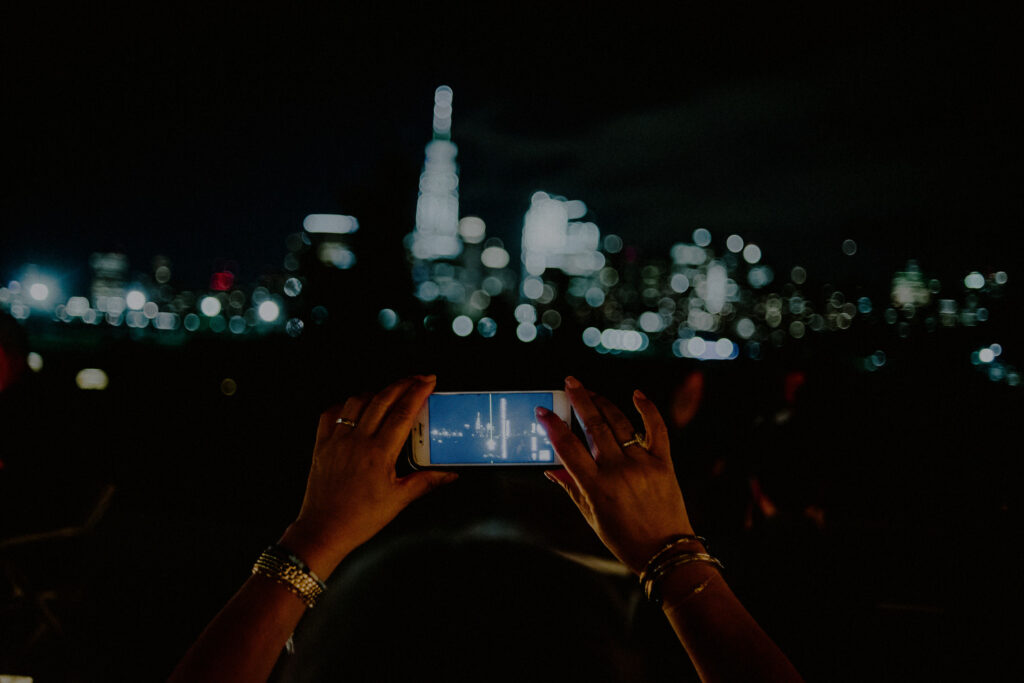 I love photographing weddings at the Liberty House because it is classic and elegant without the stuffiness, which many of my non-traditional wedding clients appreciate. The spaces are large, with ample room for plenty of guests to roam around, beautiful floor-to-ceiling windows to let in the beautiful daylight and skyline views, and the attention of the staff and catering is on point.
Here are some of my thoughts on this top wedding venue in NJ from the point of view of a wedding photographer.

Getting Ready at or near the Liberty House Restaurant
Liberty House does include a few side rooms for brides and grooms to get ready on site. These makes for a convenient place for everyone to either get ready at or put the finishing touches on at the venue itself and not have to move around from place to place in your dress.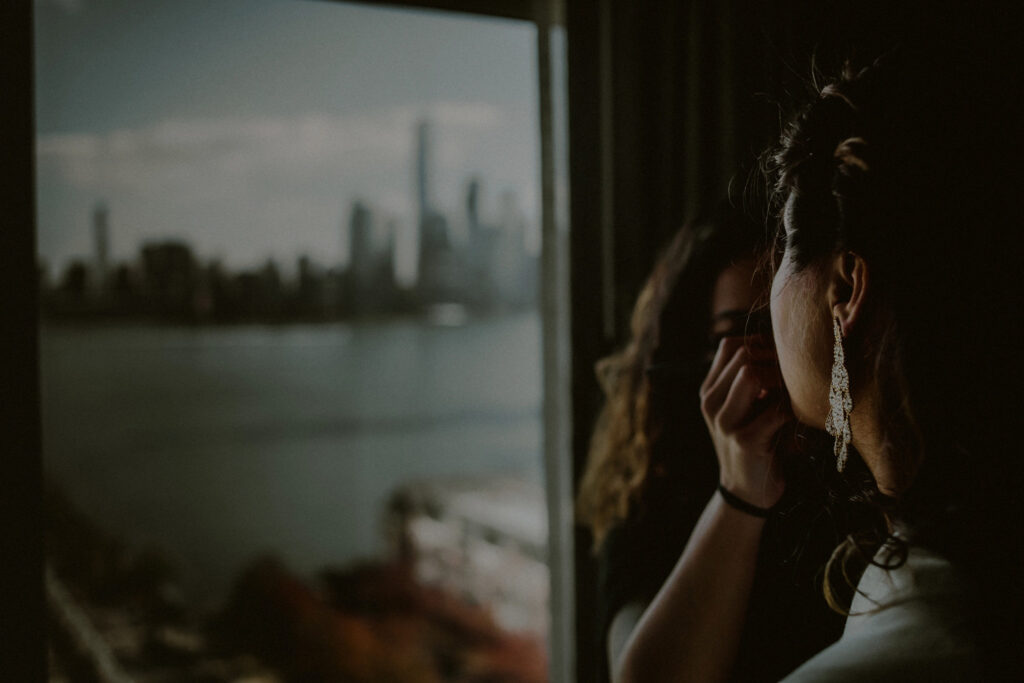 However due to the many choices of hotels in the area, many couples choose to book a hotel block at one of the nearby hotels and get ready at their hotel, alongside their wedding parties and families. Plus you can easily book a shuttle bus for you and your guests to go back to the hotel after the party is over to continue the party, or to safely get home for the night.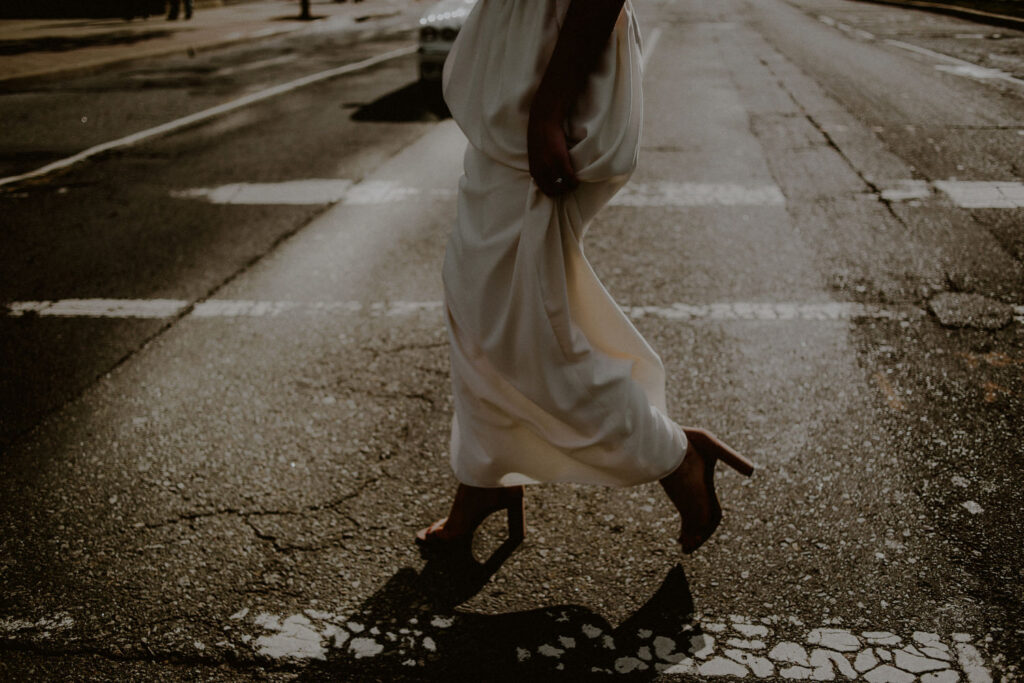 One of my favorite hotels nearby that has elegant and spacious hotel rooms is the Westin Jersey City which is also nearby the water and the Jersey City Arts District, making for some great non-conventional wedding photos. A few other great hotels in the area that I'd recommend are the Jersey City Hyatt, directly on the water of the Jersey City Financial District, and the W Hoboken, which is just a bit farther away but still close and within the area.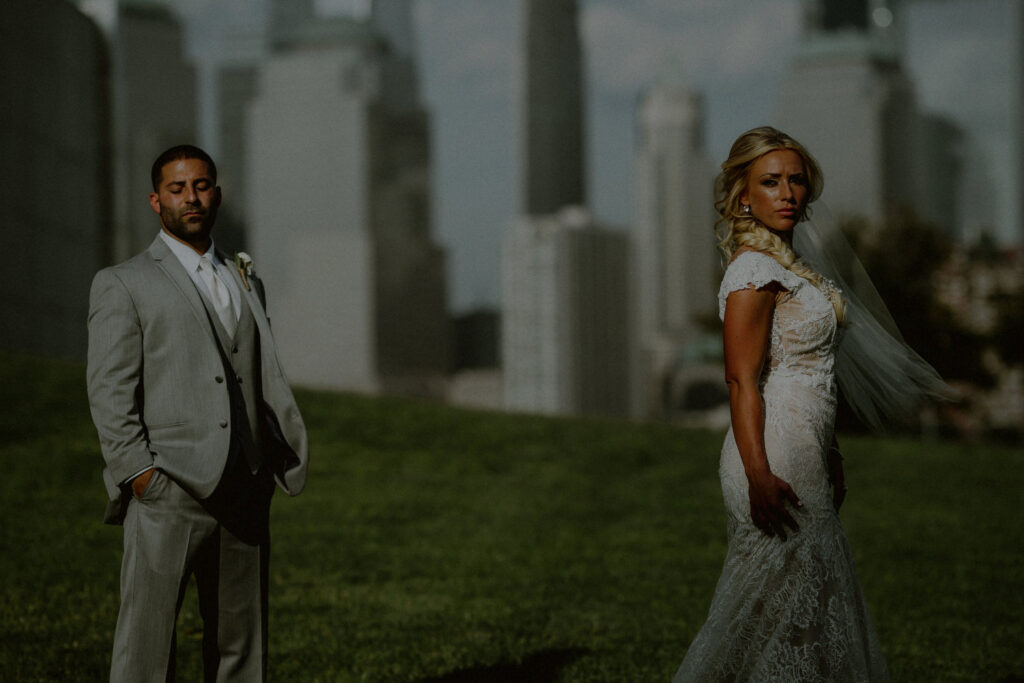 On Site Ceremony with NYC Skyline Views
Easily one of my top favorite outdoor ceremony spaces on the Hudson River, due to it's incredible views directly from the outdoor ceremony space. Liberty House has a beautiful garden that is directly in the back of the venue and adjacent to the restaurant, which provides for great views as you say your vows to each other.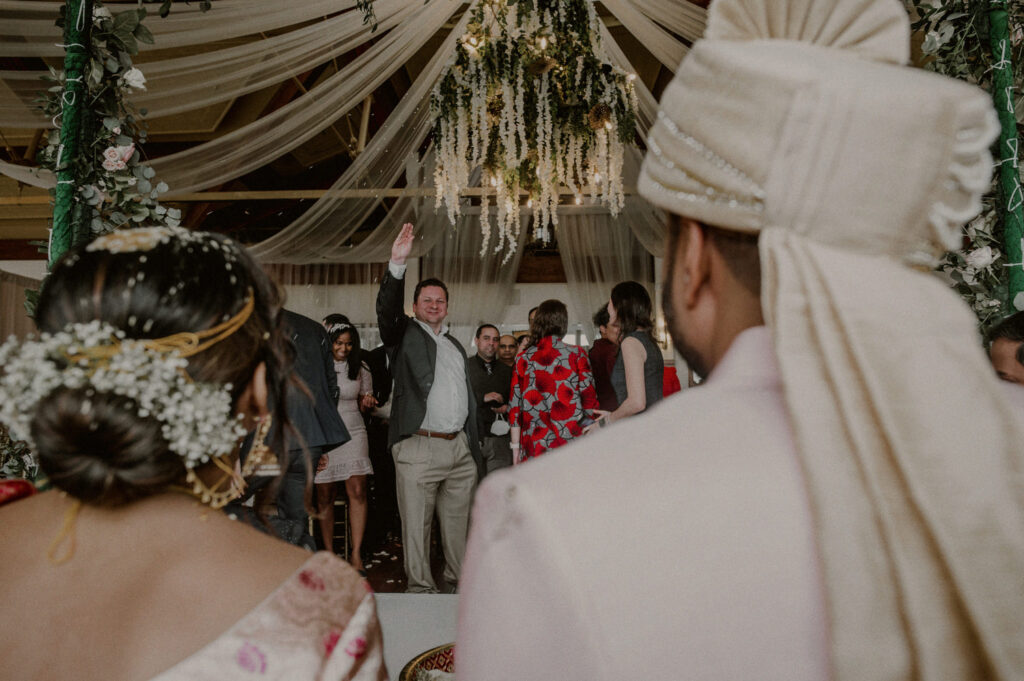 The venue also has a great option for an indoor wedding ceremony space if the weather does not cooperate, or for winter weddings, which also have equally as beautiful of a view through the floor-to-ceiling windows.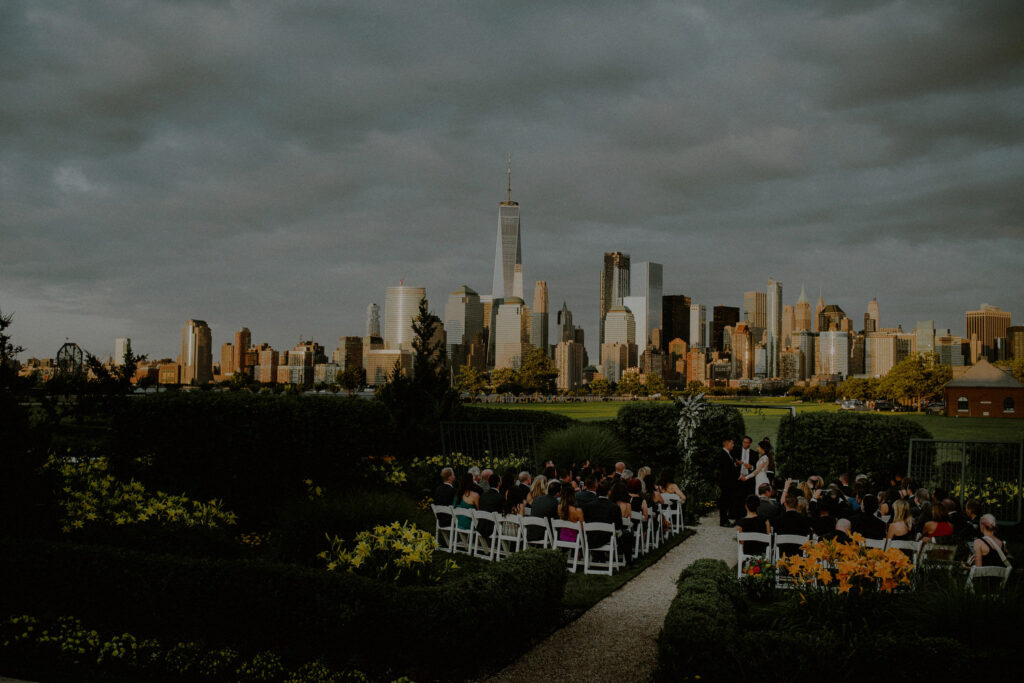 Indoor and Outdoor Cocktail hour spaces
Because there are so many options of spaces to choose from, the cocktail hour options span from indoors and outdoors, to both. If you'd like to have your guests free to roam from one area to another, the indoor/outdoor cocktail hour is a plus.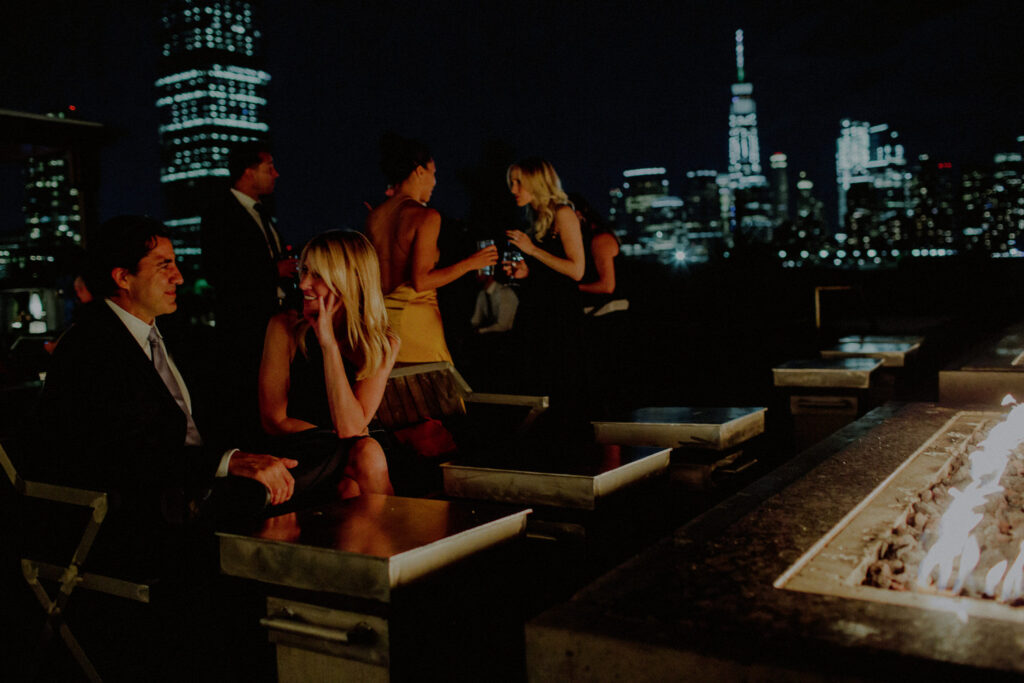 Several Reception Spaces to Choose From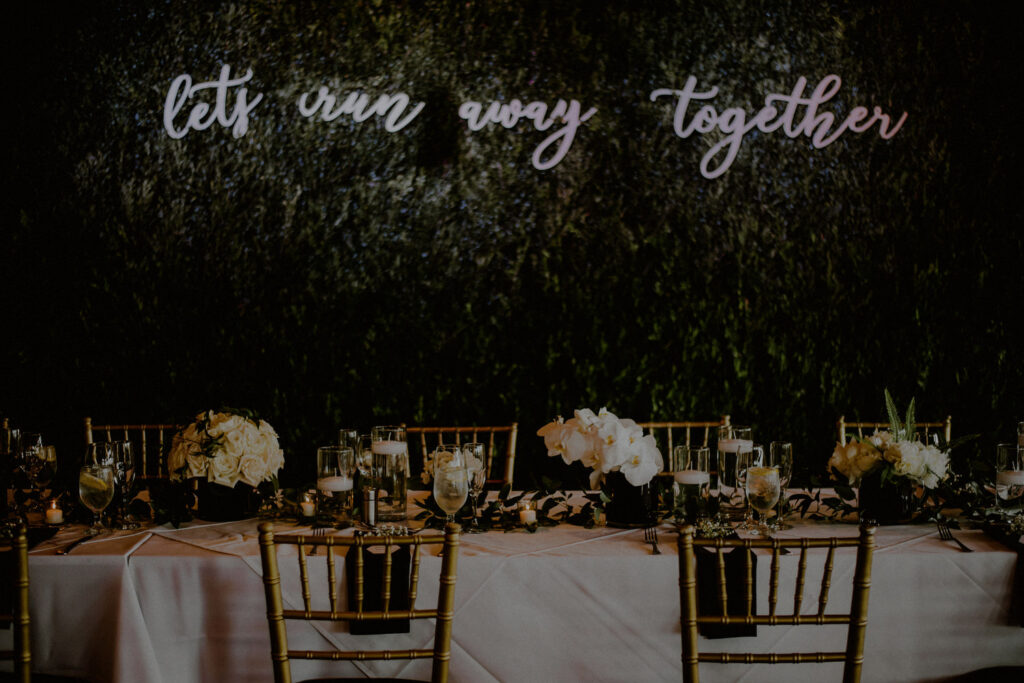 The Liberty House has a few different reception spaces to choose from. The first being directly adjacent to the outdoor ceremony space in the back, with access to the outdoor for guests to wander in and out of, and warm up by the gas-lit fire pits outside while enjoying a cocktail and a breather. This is my favorite space of all of the spaces.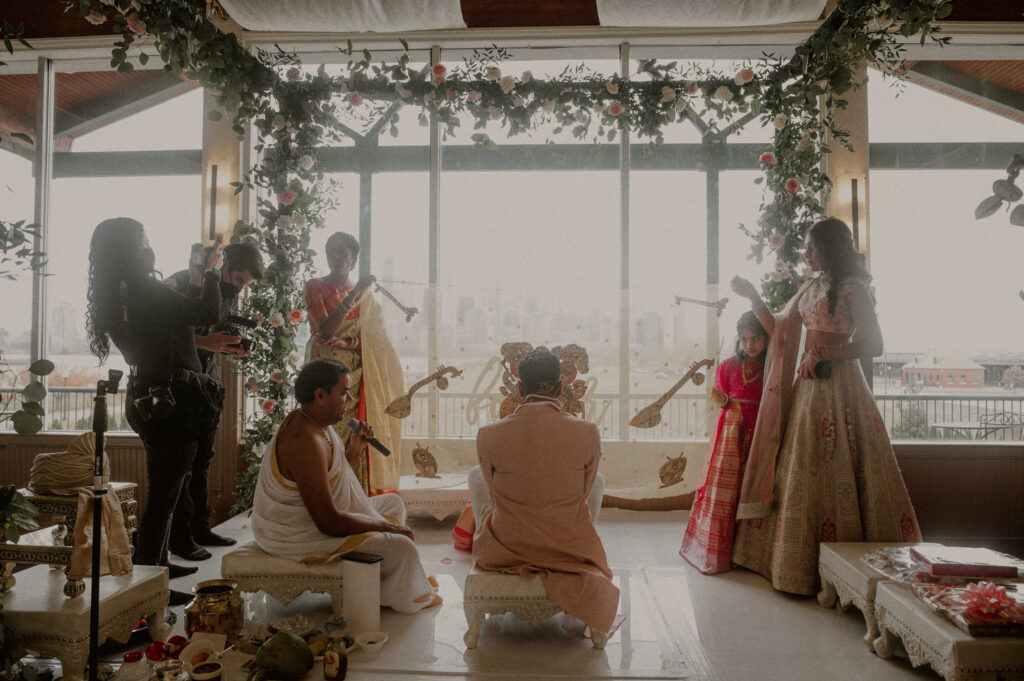 There are other spaces, on the side of the restaurant, as well as in the upstairs floors, that also have great views, natural light, and will vary depending on your needs. The one thing they all have in common is spaciousness, and plenty of light, which allow for many different photography styles to capture your event.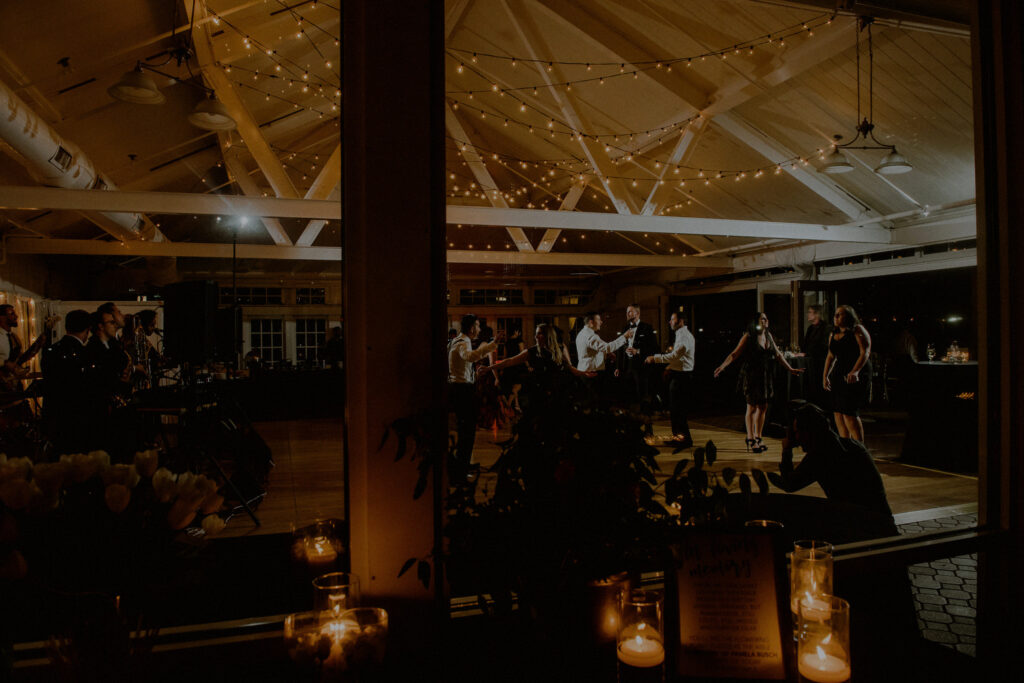 Food at the Liberty House Restaurant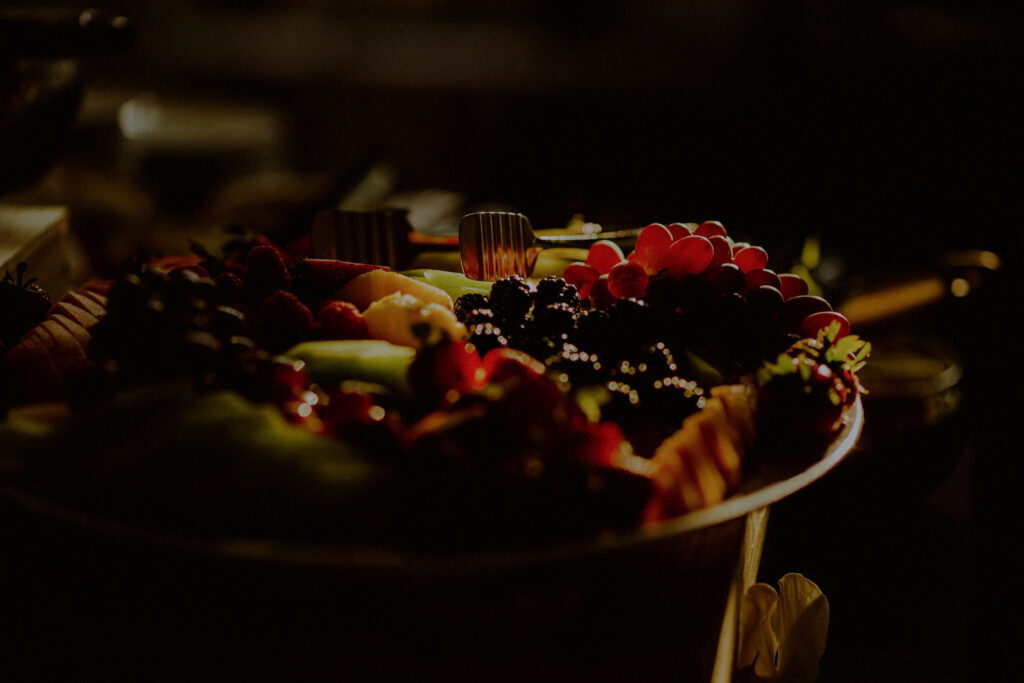 Liberty House Restaurant and wedding venue is owned by Landmark Hospitality, which have a lot of wedding venues in the NJ area. This guarantees that you'll have great food, and great service – especially since their reputation depends on it! The venue is equipped with a full restaurant open to the public, which also assures you're getting the best quality food and catering options.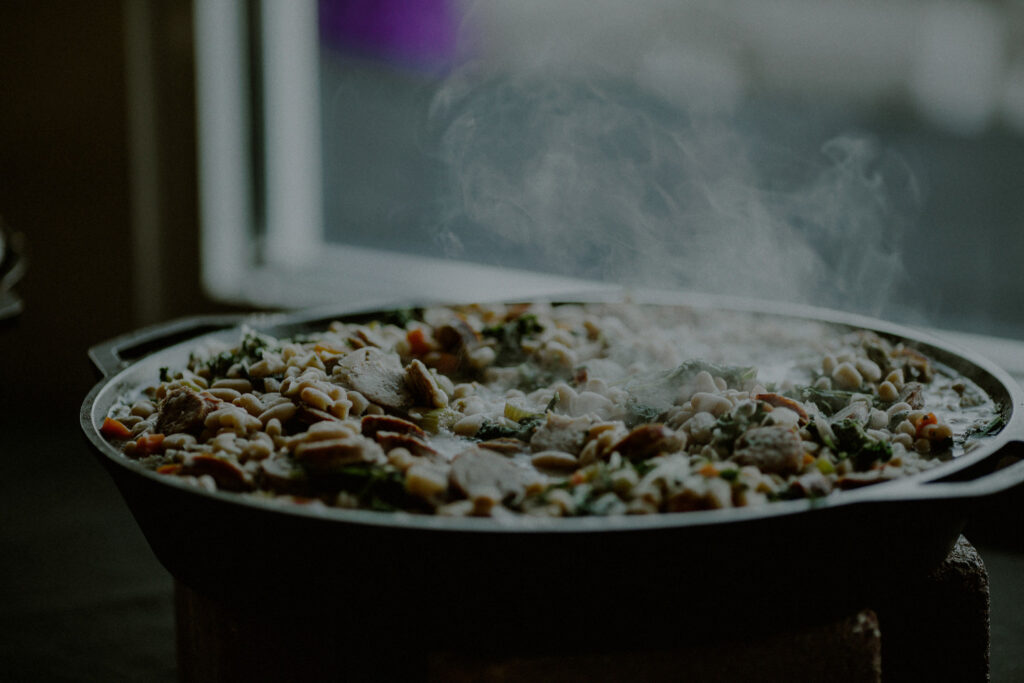 Wedding Portraits at or near the Liberty House
The great thing about the Liberty House is that it's located conveniently in Liberty State Park, a public park with gorgeous skyline views, historic landmarks, and a variety of locations to photograph in. While at any given weekend, you are likely to run into several other couples taking their wedding portraits at the park, there is plenty of space for everyone to share and roam around.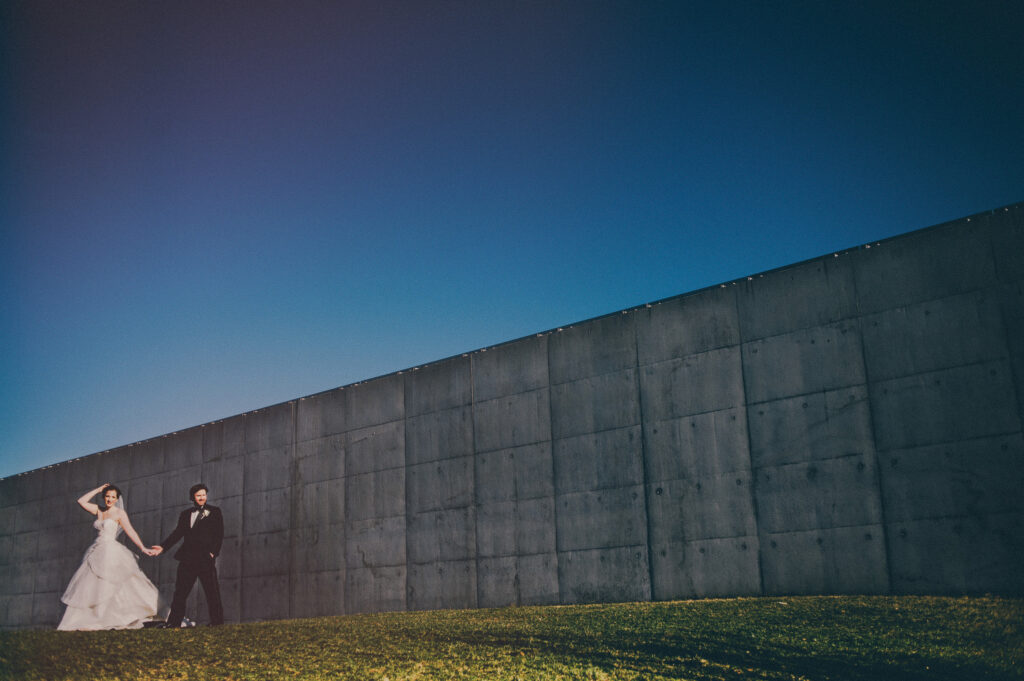 The most popular spot for wedding portraits at Liberty State Park is located at the very end of the park, next to the train station, where the famous 911 Memorial is. As cool as it looks to photograph within the Memorial walls, as a photographer, I try to steer my own couples away from photographing directly in this space, out of respect to the names on the memorial, unless it's of particular significance to you. However there are plenty of places on the outside of the walls, as well as at the top of the hill where you can clearly see the view of NYC for your wedding portraits. Depending on the look you want for your wedding photos, there are other spots to check out, including inside of the historic train station, the unused tracks, and little nooks with plenty of shade and trees if that's more your style.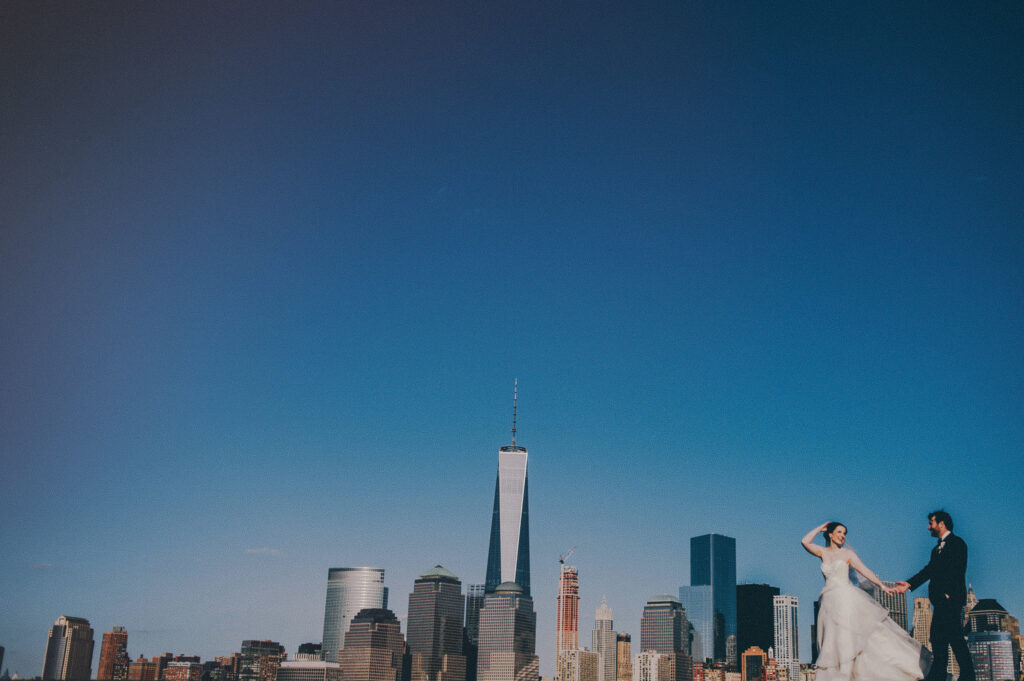 Because Liberty House is located in a very urban area, the nearby cities of Jersey City and Hoboken, also provide some great backdrops for more urban-style wedding photos, with plenty of graffiti walls to check out, cobblestone streets, and more populated areas if you like that look. Just be sure to plan out plenty of time to go back and forth, and park between locations!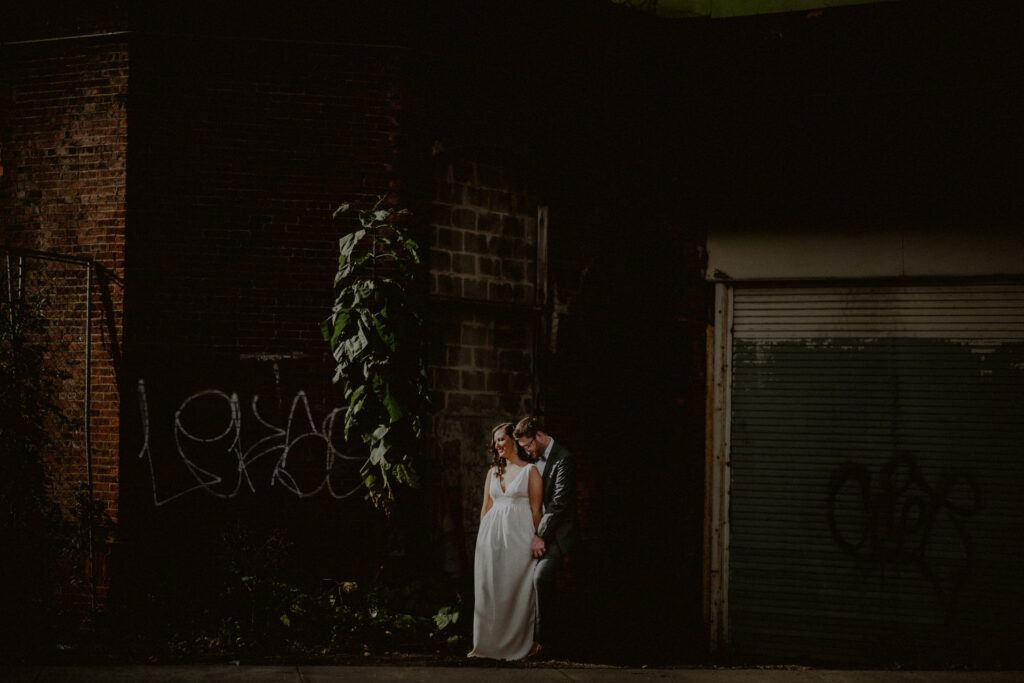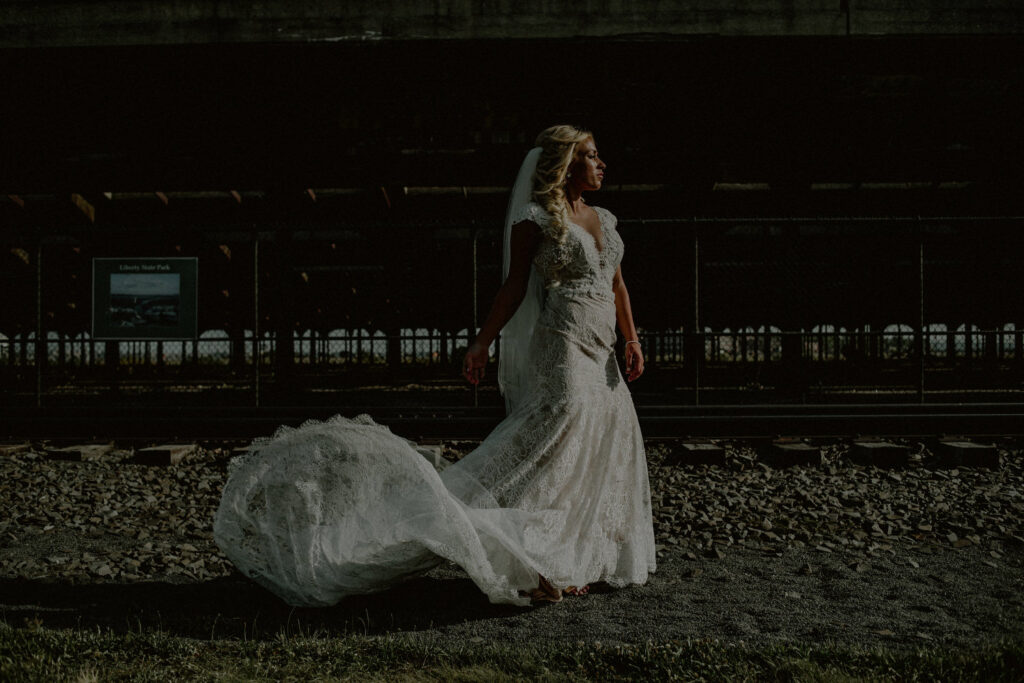 Comparison of Liberty House vs Maritime Parc
If you're taking a look at the Liberty House, chances are, you've probably peeked over and had a look or considered Maritime Parc as well, just across the parking lot. Because they are so similar, yet each distinct in their own way, I've put together a little easy comparison chart below to consider.
Maritime Parc
Modern-minimal architecture, all white spaces, with modern chandeliers, and a unique geometric ceiling design
View of the skyline is a bit more limited
Indoor cocktail hour space only – outdoor space is limited to the wrap-around balcony
Indoor ceremony space
access to Liberty State Park for portraits
located conveniently close to transportation and easy parking
space is fully dedicated to one wedding only
Liberty House
Rustic-modern architecture, combining wood beams, vaulted ceilings and floor-to-ceiling window
Clear view of the NYC skyline from the ceremony and reception spaces
indoor and outdoor cocktail hour and ceremony spaces
access to Liberty State Park for portraits
located conveniently close to transportation and easy parking
space is shared with the adjacent restaurant and may have smaller events happening
Real Weddings at Liberty House
I love weddings at the Liberty House because it's such a versatile wedding venue. It's elegant, and has all of the typical wedding venue amenities, while not being super stuffy or too "wedding factory"-like. It has a very unique NYC vibe and is right across the river for a fraction of the price, which is why a lot of couples choose it.
Here are a few of my favorite weddings that I've photographed at the Liberty House over the years.