New Jersey, the beautiful Garden State, is quite a large state, spanning 150 miles from top to bottom, and 70 miles from edge to edge. With so many amazing and diverse locations within the state, you might be stuck on where to take your wedding photos or engagement sessions. But don't worry, I got you covered.
As a wedding photographer in New Jersey for the last 15 years, I compiled my share of the best wedding photo locations all over the state to help couples with their wedding planning – and I'll break it down for you in this post, including a few tips on locations you might want to AVOID, as well as what to do if it rains on your session date!
Here are a few of my favorite wedding photoshoot locations separated by region in New Jersey:
Northern New Jersey Wedding Photo Locations
Liberty State Park
The park is situated on the Hudson River waterfront, and is perfect for taking wedding photos overlooking New York City. The 911 mural is also an important piece of history and is beautiful to look at (although I would stay away from photographing within the mural out of respect to the deceased, unless it is of particular significance to you). There is also a historic New Jersey Central Railroad train station that offers great indoor spots for photos with lots of character, and an old railway that is fun for some more rustic wedding portraits. All in all, this is a popular spot, if you're getting married in any of the venues nearby – but watch for crowds! because it's so popular for the wedding venues nearby, you may run into a couple or two (or five) taking photos at the same time there. Liberty State Park is a scenic urban park located in Jersey City. It spans over 1,200 acres and offers breathtaking views of the Manhattan skyline, the Statue of Liberty, and Ellis Island.
NJ Botanical Gardens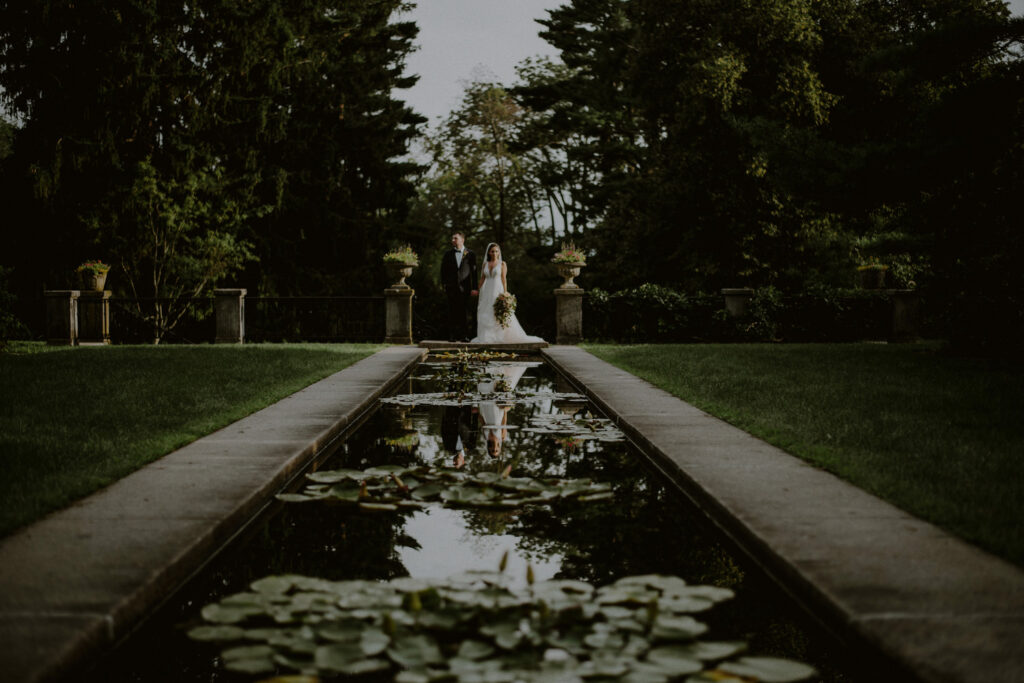 The New Jersey Botanical Gardens is a picturesque location for capturing beautiful wedding photos. Situated in Ringwood, New Jersey, it offers a stunning backdrop of natural beauty that enhances the romantic atmosphere of your wedding portraits. The gardens boast a diverse collection of plants, flowers, and landscaped areas, providing endless possibilities for unique and breathtaking photo opportunities. The Rose Garden, with its elegant trellises and fragrant roses, provides a classic and romantic setting. The Perennial Garden, with its lush greenery and vibrant blossoms, offers a vibrant and lively backdrop. Additionally, the Arboretum, Woodland Trail, and Water Garden provide diverse natural landscapes that add depth and character to wedding photos. The Skylands Manor, which is located on the property, is a beautiful Tudor Revival mansion that presents a grand and elegant backdrop for capturing timeless images as well.Its magnificent gardens, fountains, and stone walls provide a touch of old-world charm and sophistication. NJ Botanical Gardens is in a word – magical – and it's worth the trip to North Jersey for.
Verona Park
Verona Park, nestled in Verona, New Jersey, is a picturesque and enchanting location that provides a serene and natural setting for capturing stunning wedding portraits. This beautiful park encompasses 54 acres of lush greenery, tranquil lakes, and charming pathways, offering a romantic and idyllic backdrop for your wedding portraits. The centerpiece of Verona Park is its expansive lake, which serves as a captivating focal point for wedding portraits. Verona Park is a very central park to many of the nearby wedding venues as well, providing a great opportunity for a quick stop for photos.
Watchung Reservation
Watchung Reservation, located in Union County, New Jersey, is a sprawling natural reserve that offers a scenic and rustic setting for capturing breathtaking wedding portraits. The dense forests with towering trees create a magical and enchanting atmosphere, while the meadows dotted with wildflowers provide a whimsical and romantic setting. Watchung Reservation features several picturesque lakes, including Lake Surprise and Lake Lenape, which can serve as stunning backdrops for wedding portraits.
Loantaka Preserve
Loantaka Preserve, situated in Morris County, New Jersey, is a picturesque natural reserve that offers a charming and scenic backdrop for capturing beautiful wedding portraits. This expansive preserve encompasses over 1,000 acres of rolling hills, serene woodlands, and peaceful meadows, providing a tranquil and idyllic setting for pictures. The meandering trails, lined with wildflowers and tall grasses, create a whimsical and romantic atmosphere. The wooded areas, with their towering trees and dappled sunlight, provide a rustic and enchanting backdrop for capturing intimate moments amidst nature's beauty. The preserve also features several picturesque ponds and lakes. With its convenient location, ample parking, and well-maintained trails, Loantaka Preserve offers ease of access and navigation for couples and their photography team.
Cross Estate Gardens
Cross Estate Gardens, located in Bernardsville, New Jersey, is actually one of my favorite local spots. The meticulously manicured flower gardens are well maintained by volunteers, and does not require a permit to visit or take photos in, and it's a beautiful spot to just wander around in. The centerpiece of Cross Estate Gardens is the majestic Italianate-style mansion, which serves as a beautiful backdrop against the surrounding nature. While the rose garden is the main attraction of the garden, there are also beautiful and vast open fields and woods to stroll by, as well as the structured architectural elements, such as stone walls, ornamental hedges, and tangled branch pergola, that add a few unique elements to this garden for your wedding photos. Cross Estate is easily accessible and has a small parking lot on site as well.
Great Falls of Paterson
The Great Falls of Paterson, located in Paterson, New Jersey, is a breathtaking natural wonder that offers a dramatic and picturesque backdrop for your wedding photos. As one of the largest waterfalls on the East Coast, the Great Falls cascades over 77 feet, creating a mesmerizing display of power and beauty, and ads a unique touch to your wedding photos. The preserved industrial buildings and structures, such as the raceways and mills, add a touch of historic charm to the portraits. The Falls are also very close to the Art Factory, which is a popular industrial wedding venue, and many couples like to pair their wedding photos from the Factory with a quick trip to the Falls – just be aware of building in lots of extra time for this!
Fort Lee Historic Park / Palisades Interstate Park
Fort Lee Historic Park, located in Fort Lee, New Jersey, offers a captivating and historic setting for capturing memorable wedding portraits. This park holds great significance as it played a vital role during the American Revolutionary War, providing a unique backdrop that blends natural beauty with a rich sense of history. The park's strategic location atop the Palisades cliffs provides panoramic views of the Hudson River and the New York City skyline, creating a stunning and iconic backdrop for wedding portraits amidst nature. The reconstructed Revolutionary War-era barracks and the iconic stone monument create a sense of authenticity and add a touch of historic charm to the portraits. You can also continue onto the remainder of Palisades Interstate Park, which spans all the way from New Jersey to New York, and offers striking views of the Manhattan skyline, juxtaposed against the beauty of the rugged cliffs atop the Hudson River and the surrounding foliage.
Branch Brook Park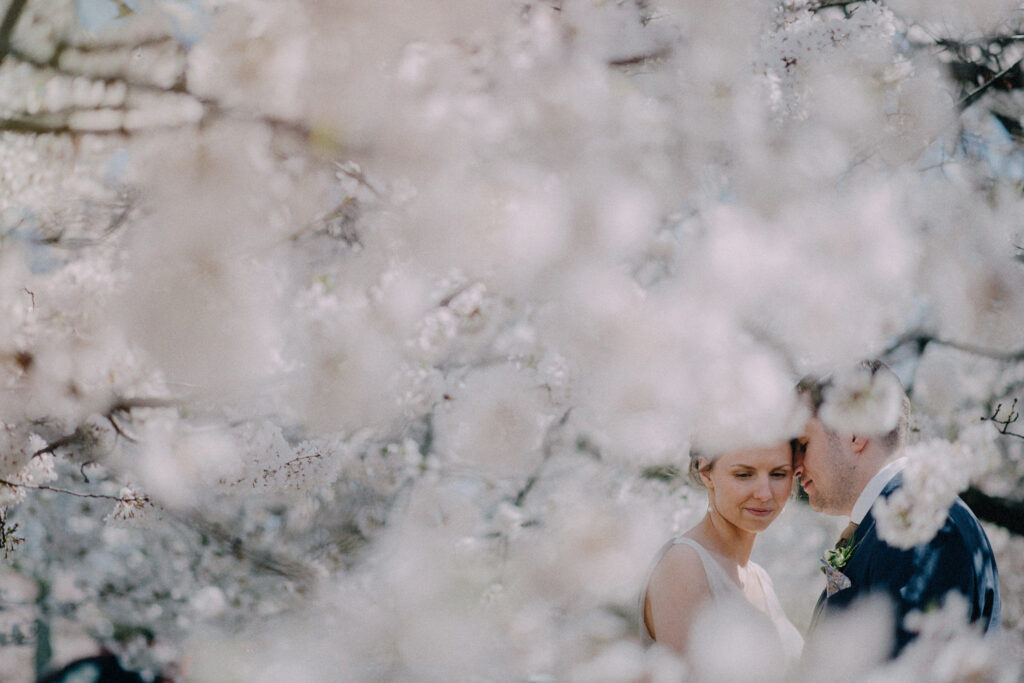 Known for its magnificent cherry blossom trees, Branch Brook Park, located in Newark, NJ, transforms into a magical wonderland during the cherry blossom season. The park's most notable feature is its extensive collection of cherry blossom trees, which is the largest in the United States. When the trees bloom in the spring, the park becomes a sea of delicate pink and white blossoms, creating a romantic and dreamy ambiance. The ideal time to capture the beautiful blooming cherry blossoms is usually around the 2nd or 3rd week of April, however arrive early before the crowds get there, as it tends to be a pretty crowded park, since it's open to the general public. Early morning or early evening is usually better for photos anyways!
Presby Memorial Iris Garden
Presby Memorial Iris Garden in Montclair, NJ is known for its exquisite collection of irises. The garden boasts thousands of irises in various hues, ranging from delicate pastels to bold and vibrant shades. The garden's well-manicured paths and lush greenery offer a serene and romantic environment for couples to wander through.
Brookdale Park Rose Garden
As couples enter the Brookdale Park Rose Garden in Montclair, they are greeted by a symphony of roses in full bloom. The garden showcases a diverse array of rose varieties, each boasting its unique colors, shapes, and scents. Pergolas covered in climbing roses, decorative arches, and ornate benches provide charming and picturesque settings for capturing intimate moments.
Frelinghuysen Arboretum
Frelinghuysen Arboretum is located in Morristown, NJ and its gardens are maintained meticulously for a very pleasant visit. The arboretum boasts a wide variety of trees, including majestic oaks, elegant maples, and flowering magnolias. PERMIT REQUIRED FOR WEDDING PHOTOS.
Reeves-Reed Arboretum
Reeves-Reed Arboretum, located in Summit offers 13.5 acres of well kept natural beauty and boasts beautiful gardens and variety of plants and trees to incorporate into your wedding photos. PERMIT REQUIRED.
Jockey Hollow
Jockey Hollow, which spreads through the towns of Bernardsville to Morristown, is an expansive web of hiking trails, nestled in the woods, with a few covered barn-like structures along the way used by the army during the American Revolution. It's a peaceful place where you can be surrounded by nature and terrain.
Central New Jersey Wedding Photo Locations
Sandy Hook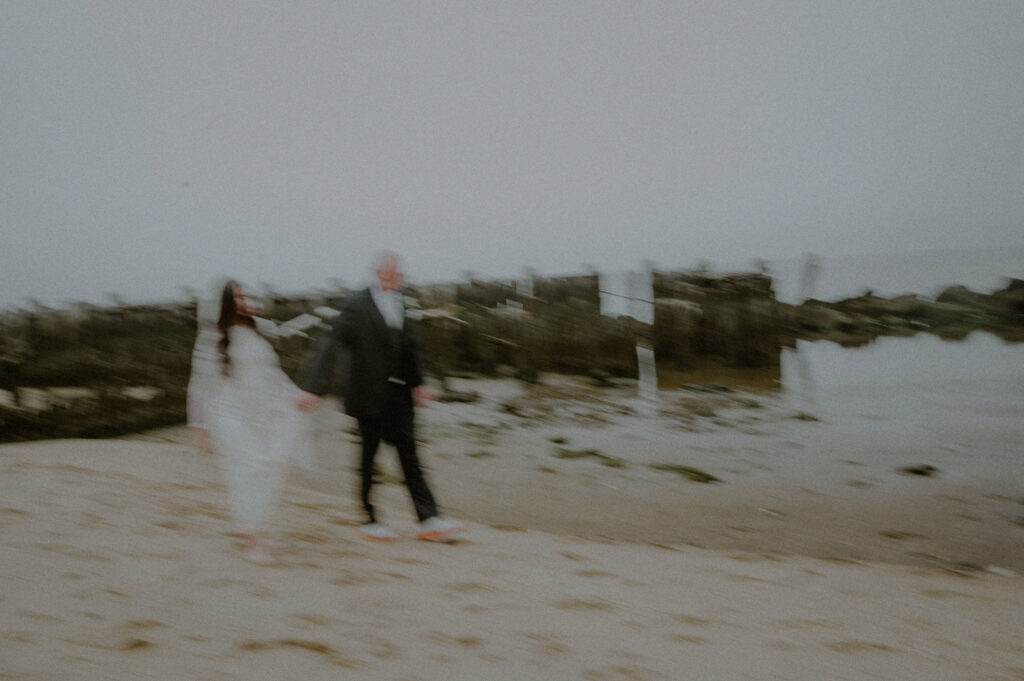 Coming from the North of New Jersey, Sandy Hook is one of the first beaches you'll hit, and I love it for it's serene nature, and variety of terrain for taking beach wedding photos. The beach stretches over seven miles, providing ample space for couples to find their own secluded spot or explore different areas for their portraits. Whether for a stroll along the waterfront, or having the crashing waves as your backdrop, or exploring some of the forest backdrops, and abandoned military buildings on site, Sandy Hook provides a ton of variety for a beach location to take wedding portraits in. During the prime summer hours, when NJ beaches can get packed, Sandy Hook can provide a bit more privacy and intimacy for your portrait session, than the other beaches in the area. The beach is easily accessible, and parking lots available on site, so it's easy to drive to.
Asbury Park Boardwalk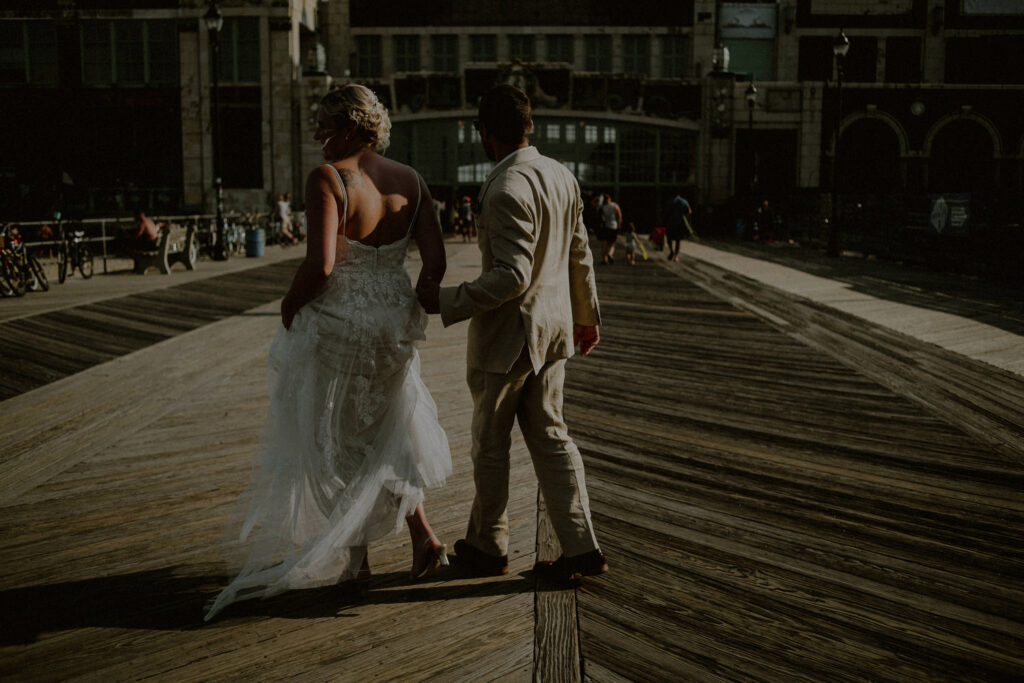 The Asbury Park Boardwalk, located in Asbury Park, New Jersey, is a vibrant and iconic destination that provides a unique and eclectic backdrop for wedding portraits. Asbury Park Boardwalk is known for its distinctive architectural features, including the historic Convention Hall and the iconic Paramount Theatre. The boardwalk itself exudes a lively and energetic atmosphere, lined with colorful shops, boutiques, and restaurants. Asbury Park Boardwalk also boasts a diverse range of murals and street art, which can serve as unique and artistic backdrops for wedding portraits. These vibrant and eclectic displays add a pop of color and urban edge to the photographs, infusing them with a sense of contemporary style and creativity. With its bustling atmosphere, the boardwalk provides opportunities for candid and spontaneous moments to be captured. Additionally there is plenty of street and garage parking in the area, however arrive very early during the summer months to beat the crowds.
Natirar
Natirar, located in Peapack-Gladstone, New Jersey, is a magnificent estate that offers a luxurious and elegant setting for capturing exquisite wedding portraits. The centerpiece of Natirar is the historic Tudor-style mansion, which was at one time the home of the Prince of Morocco, which exudes timeless charm and sophistication. With its impressive stone façade, intricate details, and sprawling grounds, the mansion serves as a regal and majestic backdrop for wedding portraits. Its classic architectural features, such as grand staircases, arched doorways, and sweeping lawns, add a touch of elegance and grace to the photographs. For couples who are getting married at the mansion, they will have access to the grounds of the mansion. However, if you are just visiting for the day, or would like to stop at the park for some wedding portraits, there are plenty of locations and hidden nooks within the park that are open to the public as well, from majestic looking trees, expansive fields, and hidden creeks along it's 1 mile walking loop. The bonus I like to mention to all of my couples, is that you can make your portrait session a fancy night out after, stopping at the elegant restaurant, 90 Acres, for a drink or a bite to eat after!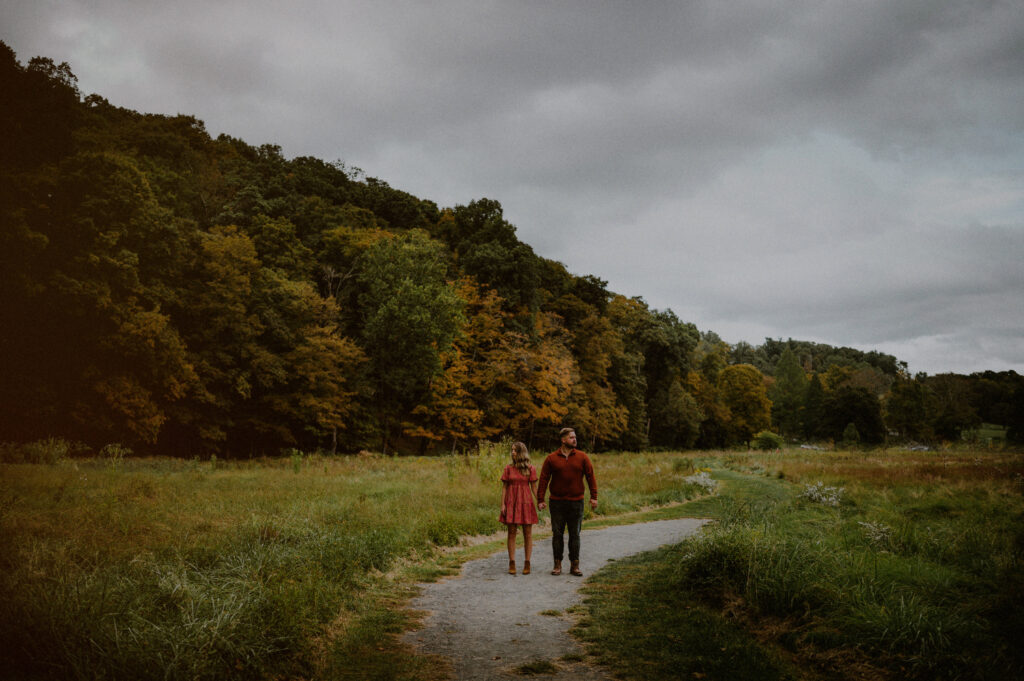 Allaire State Park
Allaire State Park, located in Farmingdale, New Jersey, provides a rustic and natural park setting for your wedding portraits. This expansive park covers over 3,000 acres of diverse landscapes, including forests, fields, and historic structures, creating a captivating and picturesque setting for your portraits. The park's historic village, known as Allaire Village, adds a unique and charming element to wedding portraits. The preserved 19th-century buildings, including a general store, a blacksmith shop, and a chapel, offer a glimpse into the past and create an authentic and nostalgic atmosphere. Located close to many wedding venues in the central NJ area, this is a spot that many wedding and engagement couples like to use for their wedding photos due to it's accessibility and vastness.
Sayen Gardens
Sayen Gardens, located in Hamilton, New Jersey, is a hidden gem that offers a breathtaking and enchanting backdrop for capturing stunning wedding portraits. The garden's design is both visually striking and harmonious. From perfectly manicured lawns to intricately designed flower beds, every corner of Sayen Gardens exudes elegance and serenity. Each season offers a distinct and magical backdrop for wedding portraits. In spring, the garden bursts with a riot of colors as cherry blossoms, tulips, and daffodils. Summer brings an explosion of lush greenery, while autumn showcases the rich hues of changing leaves. Even in winter, the garden reveals its beauty with frost-kissed foliage and evergreen accents.
Grounds for Sculpture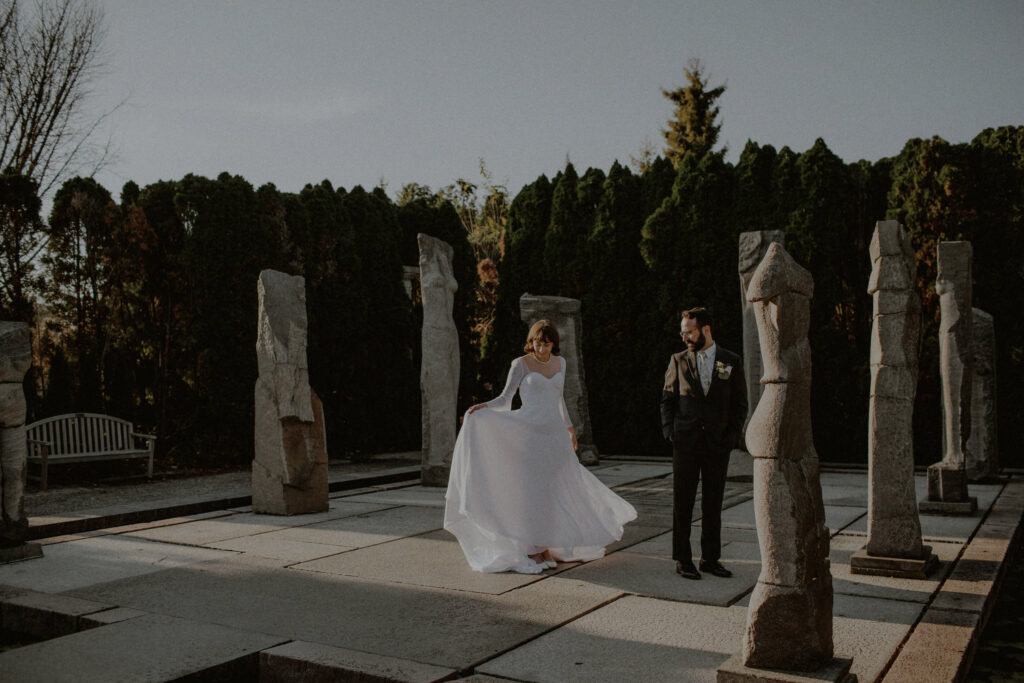 One of my favorite locations to photograph wedding couples, this museum is a dream for any art and sculpture lover. As a sculpture park and museum, Grounds for Sculpture, in Hamilton, NJ, combines art, nature, and romance to create a one-of-a-kind setting that will make your wedding portraits truly unforgettable and unique. Open to the public through a small entry fee, you are welcome to wander at your own pace and take pictures amongst the architectural pieces and become one with the surrounding art and nature. Spread across 42 acres of meticulously manicured grounds, Grounds For Sculpture is adorned with a remarkable collection of sculptures created by renowned artists. From abstract and contemporary pieces to figurative and whimsical sculptures, the park offers a diverse range of artistic expressions that add depth and visual interest to your pictures for true works of art wedding photos. In addition to its outdoor spaces, Grounds For Sculpture also features indoor galleries and venues that can be utilized for your wedding portraits. Grounds For Sculpture is not just a venue for your wedding portraits; it is an immersive and interactive experience that will ignite your senses and spark your creativity. It invites you to embrace the magic of art and nature.
Colonial Park
Colonial Park in Somerset, NJ is a well kept park that offers a natural setting for portraits. The park's centerpiece is the Rudolf W. van der Goot Rose Garden. This exquisite garden showcases a vast collection of roses in various colors, sizes, and fragrances. The carefully arranged flower beds, pergolas, and pathways create a romantic and enchanting ambiance, making it an ideal spot for capturing wedding photos. The park's colonial-style structures, such as the historic Colonial Park Gardens Cottage and the picturesque Sperry Observatory, offer unique architectural backdrops that can be incorporated as backdrops to your wedding portraits. PERMIT REQUIRED.
Duke Gardens
Duke Gardens features a diverse collection of plants, flowers, and trees, providing a stunning array of colors and textures throughout the seasons. From the vibrant blooms of roses, lilies, and hydrangeas to the delicate foliage of ferns and ornamental grasses, every corner of Duke Gardens presents a picturesque setting for capturing the most natural wedding portraits surrounded by a stroll amongst nature. PERMIT REQUIRED.
Leonard J Buck Gardens
The Leonard J. Buck Garden design was conceived by two remarkable men: Leonard J. Buck, who owned the land and first envisioned the garden; and Zenon Schreiber, a Swiss landscape designer who had established himself as the premier rock garden designer in the United States. It truly is a tiny hidden gem nestled in the small town of Far Hills, NJ. It is a woodland rock garden operated by the Somerset County Park Commission, and features planted rock outcroppings and woodland trails lined with naturalized bulbs, ferns, shade perennials and drifts of delicate wildflowers. The garden is especially appealing in spring, during peak bloom, offering many native and cultivated azaleas and ephemeral flowers. PERMIT REQUIRED.
Rutgers Gardens
Rutgers University in New Brunswick is the state university of New Jersey and it boasts many beautiful large well maintained gardens on campus which are perfect for taking your wedding photos. PERMIT REQUIRED.
Princeton University
Princeton University, nestled in the heart of Princeton, is a beautiful and historic site for taking your wedding portraits. The campus grounds are beautiful, with the stone buildings as backdrops and the dappled lighting of the trees. The surrounding town of Princeton is also fun to explore, with lots of great restaurants and local entertainment you can incorporate into your photos as well. PERMIT REQUIRED ON CERTAIN PARTS OF CAMPUS.
North Western New Jersey Wedding Photo Locations
Willowwood Arboretum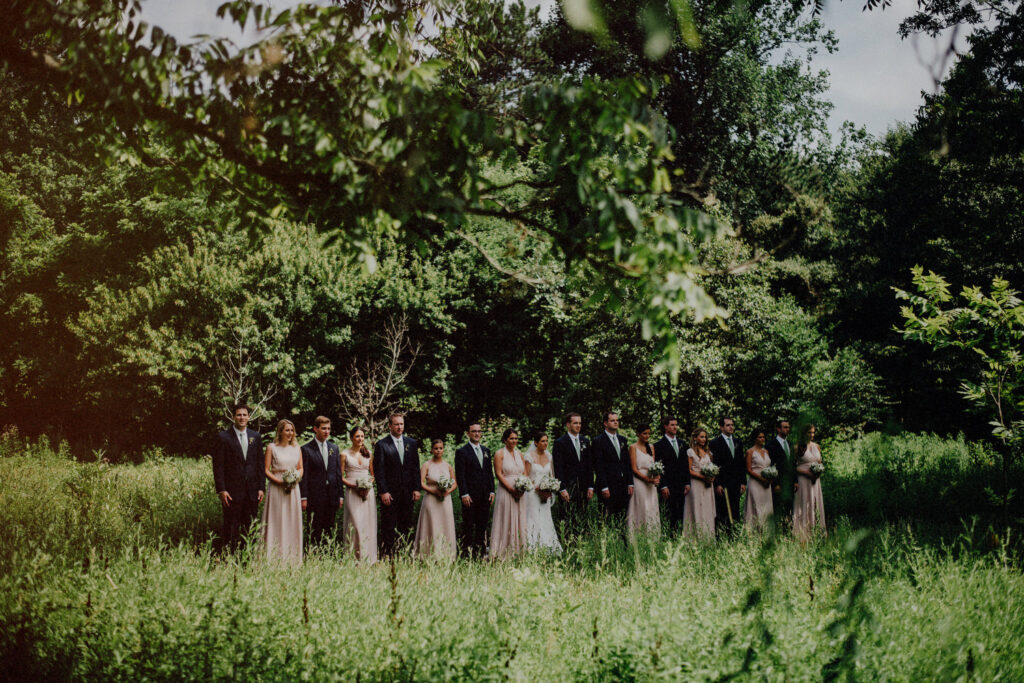 Willowwood Arboretum, located in the small town of Chester, is New Jersey's most comprehensive and longest continually operating Arboretum. It is open to the public for free for a stroll and personal photography, however wedding photos generally require a permit. What I love about Willowwood is the tranquility of the space, as not many other wedding photos are happening there, and generally it's a space that is enjoyed by the public. There is a great variety of plants and areas to explore that give a unique variety of locations to incorporate into your wedding photos. Unique trees, bamboos, creeks, flower gardens, open fields, winding paths and gravel roads, and a stone barn structure all offer great opportunities for variety within one location. PERMIT REQUIRED.
Round Valley or Spruce Run Reservoir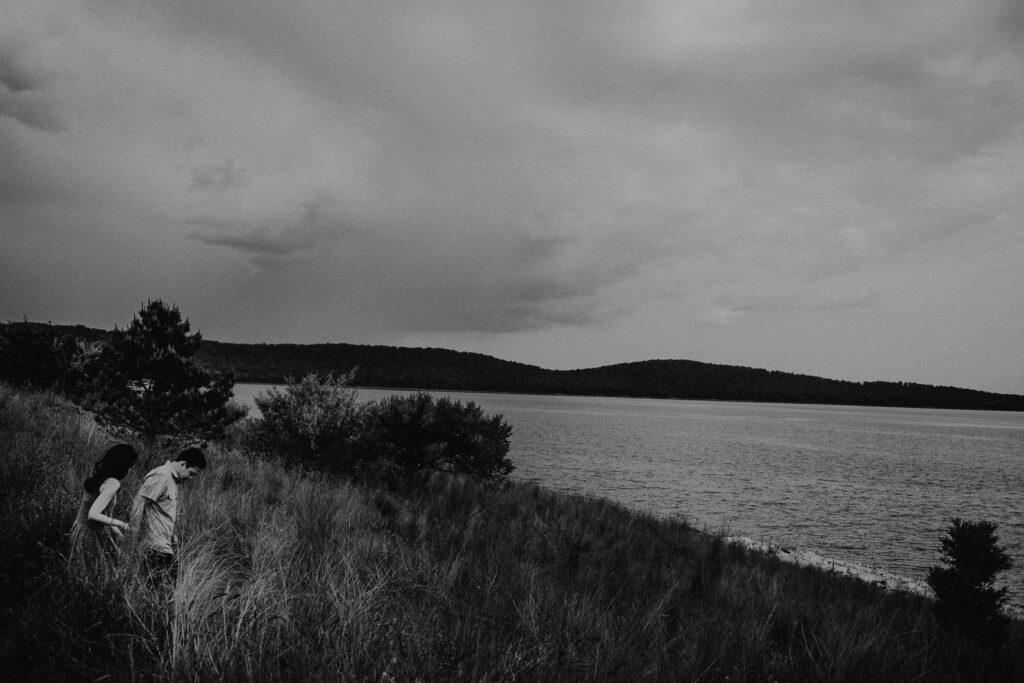 Round Valley Reservoir, located in Lebanon, New Jersey, is a breathtaking and expansive natural setting that can serve as a stunning backdrop for wedding portraits. The reservoir itself is a vast body of water, offering panoramic views and a sense of tranquility that can add a touch of serenity to wedding portraits. The surrounding hills and forests provide a lush and vibrant setting for wedding portraits. Round Valley Reservoir features several scenic spots along its shoreline that can be ideal for wedding portraits. Whether it's a secluded cove, a rocky outcrop, or a sandy beach, these natural features provide a sense of intimacy and allow couples to connect with their surroundings.
Waterloo Village
As couples step into Waterloo Village, they are transported back in time, surrounded by a quaint and nostalgic environment. The village features historic buildings, including a church, a general store, a blacksmith shop, and charming cottages, which serve as captivating backdrops for wedding portraits. The rustic architecture and vintage charm of these structures add a touch of authenticity and character to the images, evoking a sense of nostalgia and romanticism. Situated along the Musconetcong River and nestled amidst lush greenery, Waterloo Village offers picturesque landscapes that evoke a sense of tranquility and serenity. Couples can explore the village's scenic trails, stone bridges, and peaceful waterfront areas. Couples can incorporate elements of history, such as the historic canal and the Morris Canal Lock, into their portraits.
Fields of Sussex Sunflowers
For the flower lovers, Fields of Sussex Sunflower Field in Sussex, NJ, is a seasonal attraction, typically blooming in late summer, and provides a stunning backdrop of rows after rows of flowers, filled with bright and cheerful sunflowers. Couples can pose amongst the towering flowers, using them as a natural frame or backdrop. Be conscious of the time of day you come here for wedding portraits, as the sunflowers are located in open fields, and subject to direct sunlight – so the later or earlier in the day, the better (pending hours of operation of course).
Western-Central New Jersey Wedding Photo Locations
Local Farms during their "picking" hours
Since I am a photographer based in a rural part of NJ, with lots of beautiful farmland at my disposal, one of my favorite things to do with my couples is to explore the local farms, which there are plenty of in my area of Hunterdon County (Melick's, Ort, Riamede, Alstede, Von Thune, Wightmans, to name a few). Local farms generally have seasonal "pick-your-own" fruits, vegetables and/or flowers open to the public, and some farms offer other activities such as hay rides, local farm stands, and farm animals. Since the farms are open to the public, as long as you are paying for your PYO and entrance fee, you are free to take pictures here as well. Although for a larger wedding party, I would suggest checking in with the owners of the farm for permission, but they are usually very nice and accomodating.
Ken Lockwood Gorge
Ken Lockwood Gorge, located in Lebanon Township, New Jersey, is a hidden gem, right off the Columbia Trail, both for couples who enjoy hiking, and for wedding portraits. This hidden gem is nestled along the South Branch Raritan River and is known for its crystal-clear waters, rocky cliffs, and lush greenery. Due to it's rocky terrain, and walking distance to get to the gorge, I would recommend bringing your sneakers for this one! The rocky cliffs and boulders that line the gorge offer a unique and dramatic element, especially for the adventurous couples who like to hike together and enjoy nature. The secluded nature of Ken Lockwood Gorge offers a sense of privacy and intimacy, allowing couples and their photographers to freely explore and find the perfect spots for their portraits. You definitely won't be finding other couples taking their wedding portraits here if you decide to venture this far!
Delaware Water Gap
Closer to the western border of NJ, The Delaware Water Gap, located along the border of New Jersey and Pennsylvania, is a breathtaking natural landmark that provides a stunning backdrop for your wedding portraits. The towering cliffs, with their rugged rock formations, add a sense of grandeur and drama to the images. The sweeping vistas of the river and the mountains create a sense of awe and vastness, showcasing the beauty and majesty of nature. This is another spot that is ideal for the adventurous couple who appreciates nature and likes to hike together!
Clinton Red Mill Museum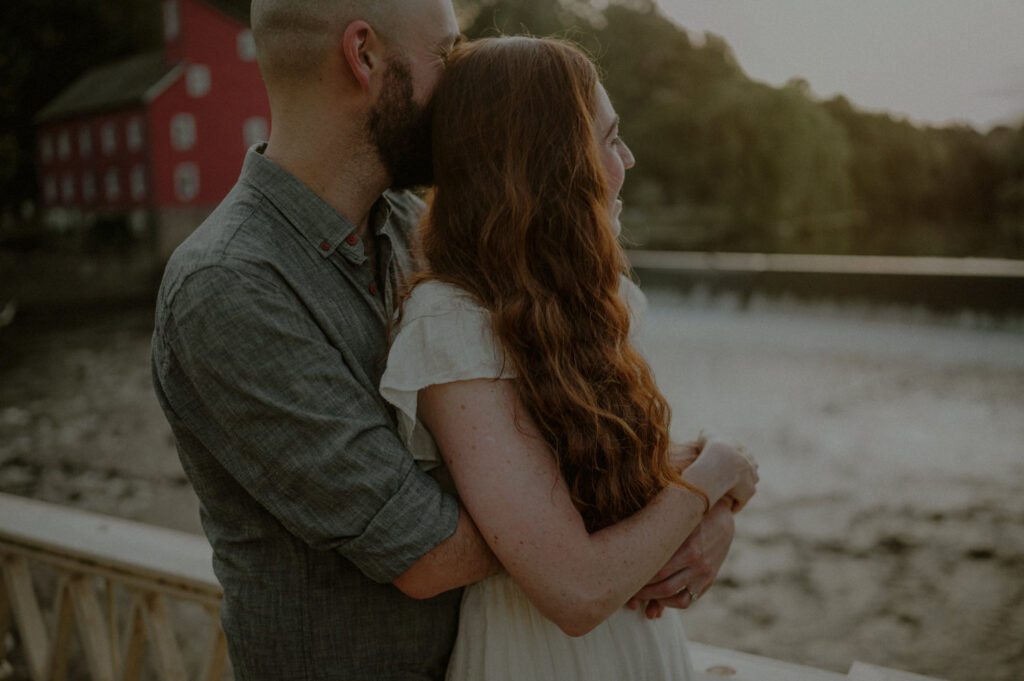 The Red Mill Museum, a historic landmark situated along the banks of the Raritan River, in downtown Clinton, provides a unique and rustic backdrop with its iconic red mill building and scenic surroundings. While the museum itself does require a permit for entering to take wedding portraits on the property of the Red Mill, many couples like to capture the Red Mill Museum in the background of their pictures, from across the street, and overlooking the river. Downtown Clinton is a quaint small and picturesque town, with a beautiful old bridge, and restaurants and shops along the main street that you can easily explore and find little nooks and alleyways to photograph in. Or stop into one of the cute riverside coffee shops to warm up with a drink and some candid wedding photos of you both enjoying a moment together. The Hunterdon Art Museum is also located right on the water, which is a nice spot to visit after your session, or even use as an additional backdrop to your photos. One of the fun traditions in front of the Art Museum is the chalk they provide to write on the floor with, outside of the museum. It provides for a fun activity to do together while you're taking pictures.
Southern New Jersey Wedding Photo Locations
Cape May Lighthouse and Wildlife Preserve
The Cape May Lighthouse, located in Cape May Point, New Jersey, is an iconic and picturesque landmark that is great for pictures. The lighthouse serves as a symbol of guidance and hope, metaphorically guiding couples on their journey into married life, which is a nice poetic touch to your wedding photos. The sandy beaches, dunes, and rolling waves create a scenic and idyllic coastal backdrop. Cape May Lighthouse is located within a picturesque state park, which offers additional opportunities for capturing memorable portraits. The park features well-maintained paths, green spaces, and scenic overlooks. The Cape May Lighthouse is also known for its panoramic views from the top. Couples can climb the spiral staircase to the observation deck and enjoy breathtaking vistas of the surrounding coastline and the vast Atlantic Ocean.
South Central New Jersey Wedding Photo Locations
Laurita Winery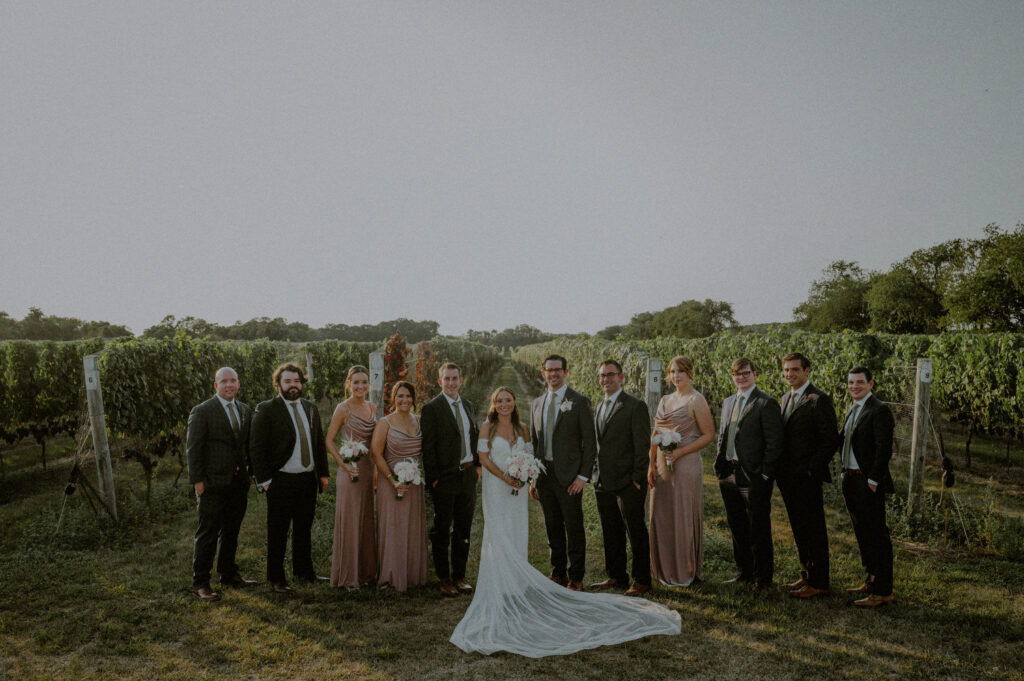 Laurita Winery is a vineyard that is open to the public and is a fun place where lots of events happen. Since it is open to the public, you can use it to photograph your wedding portraits – just be careful to ask the staff in advance if a wedding is happening on site, or if you can go during the off-hours. Vineyards can provide a great variety of photos and angles, and if you enjoy wine, then what better way to incorporate it into your wedding photos.
Rainy Day Wedding Photo Locations in New Jersey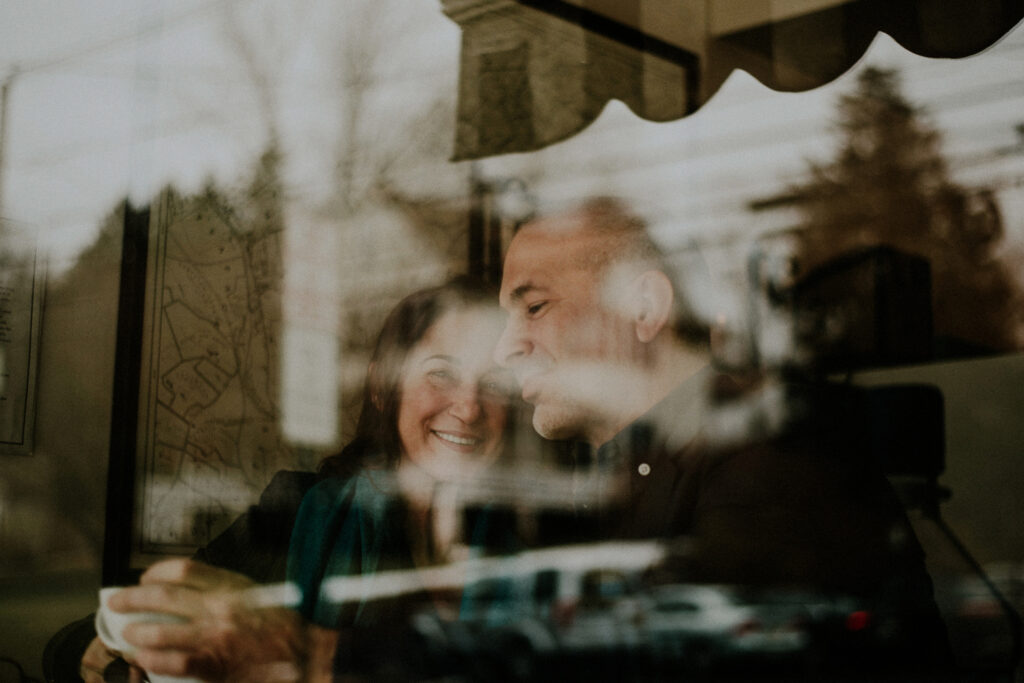 If it rains on your wedding day, or portrait session, and you don't have an indoor venue that provides a backdrop for photos, there are plenty of other options to explore that will give character to your wedding photos. One option is to rent out a studio space and do a studio photo shoot that you can play with more high-end posing in a controlled setting. The Art Factory in Paterson offers the option to rent their spaces for the day or for a few hours for a photo shoot. There are many other locations that rent out a studio as well. Hotels or airbnb's are also a great option for renting out rooms and photographing in them as well. If you are just stopping by for some pictures, you can also use a hotel lobby or courtyard. Choose a hotel with a modern vibe and large windows with natural light. A few of my favorites are the W Hotel in Hoboken, Bungalow in Long Branch, and the Asbury in Asbury Park. Another great way to incorporate some character on a rain day into your wedding photos is to go to your favorite stores or restaurants together, such as a Home Depot, a local library, a coffee shop, a covered train station, your fave restaurant, or even a movie theater during the off-hours (just ask for permission first!). Also don't be afraid to end your portraits with a little bit of fun in the rain once the bulk of the portraits is done! Remember the day as it was!
Wedding Portrait Locations to Avoid in New Jersey
While a good photographer should know how to work in any location and conditions, there are certain locations and times of the year that you should think twice about going to for your wedding portraits. One such location is any beach during the prime summer months (from May to September) and prime times of the day (10am-6pm). If you are having a beach wedding and would like to have your wedding portraits at a nearby beach, try to arrange for off-times, such as early morning or late evening. Another option you might consider instead of a beach is a nearby park, such as Spring Lake Park. However if you're set on a beach around mid-day in the summer, just be prepared to have photos with crowds in the background.
Another one of my big no-no's is the 911 memorial at Liberty State Park, or any other memorial for that matter. Unless that memorial has particular significance to you, I would avoid taking your wedding photos in the center of the memorial, as cool as it might look, out of respect to the names on the wall.
Urban Wedding Photo Locations in New Jersey
Many couples might opt for a more urban look to their wedding portraits, rather than a manicured park. This provides a more casual and candid setting for your portraits and you can incorporate local shops, grab a coffee or an ice cream as part of your photoshoot, or find hidden alleyways and go exploring.
Hoboken city center is one such location that many couples like to explore. While the main point of interest for many couples is Frank Sinatra Park along the waterline of the river, with the beautiful NYC view and the brick pathway, there are also a lot of other great spots in Hoboken such as the cobblestone streets of Court Street or the more gritty uptown spots along 14th street and further west.
Jersey City Arts District is an urban location in the area that offers character amongst its architecture and murals, graffiti, and waterfront views.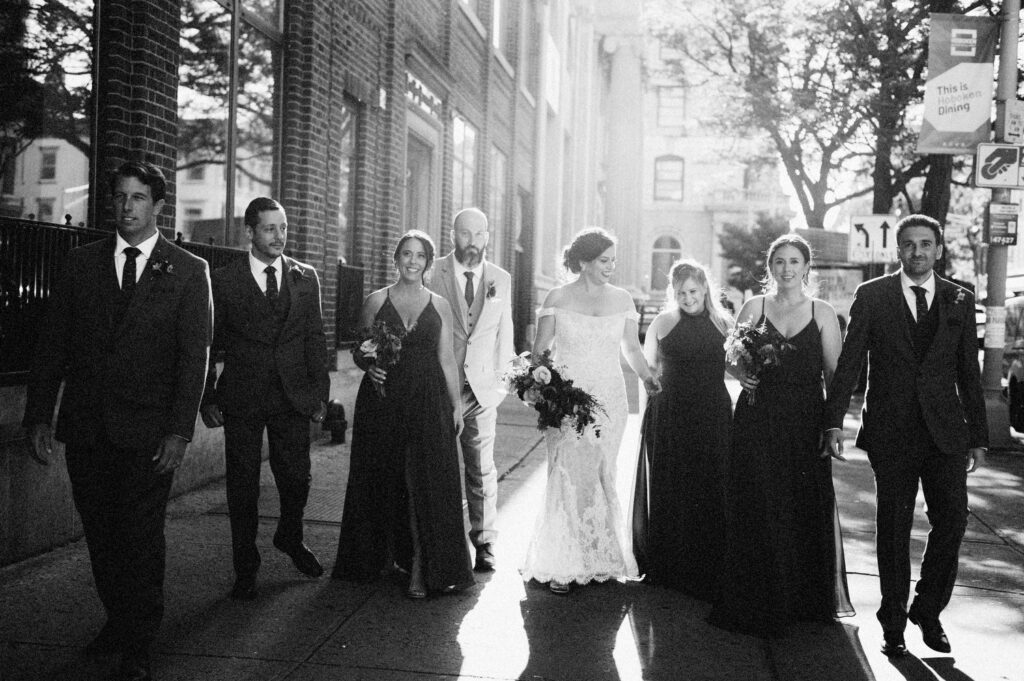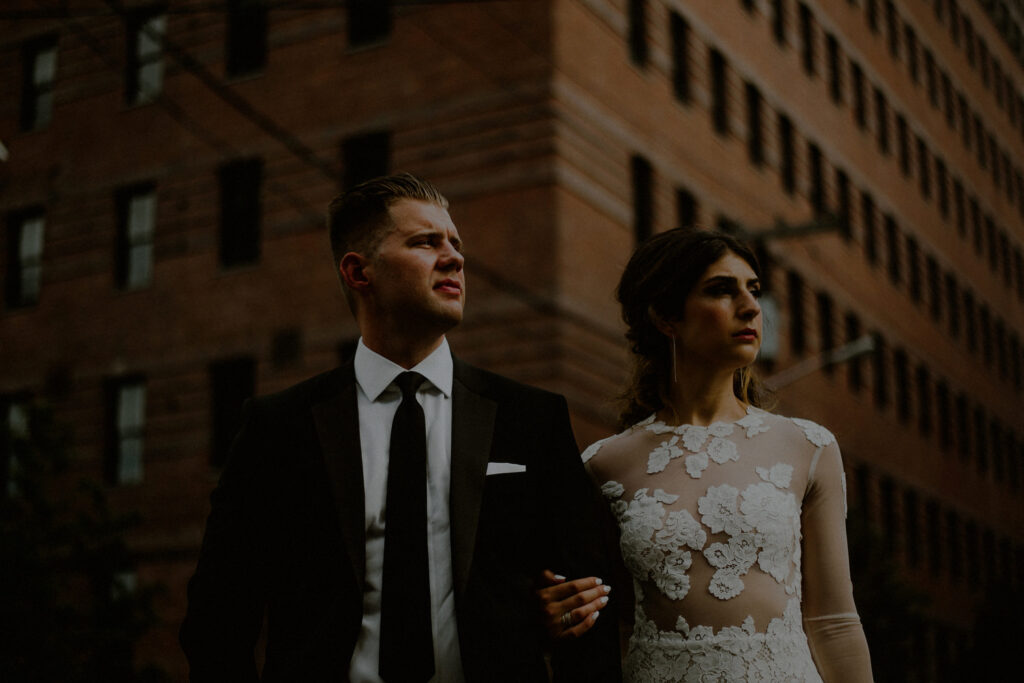 Morristown is another urban location that has a lot of character, and many parks around the area to explore as well, in case you get tired of the urban setting.
Princeton downtown is another great spot to explore, and includes the prestigious and beautiful Princeton University campus to photograph in as well.
NJ WEDDING PLANNING GUIDE