Factory 220 is an industrial wedding venue in Passaic, Northern New Jersey. This is the perfect venue for couples seeking a non-traditional or unique wedding celebration.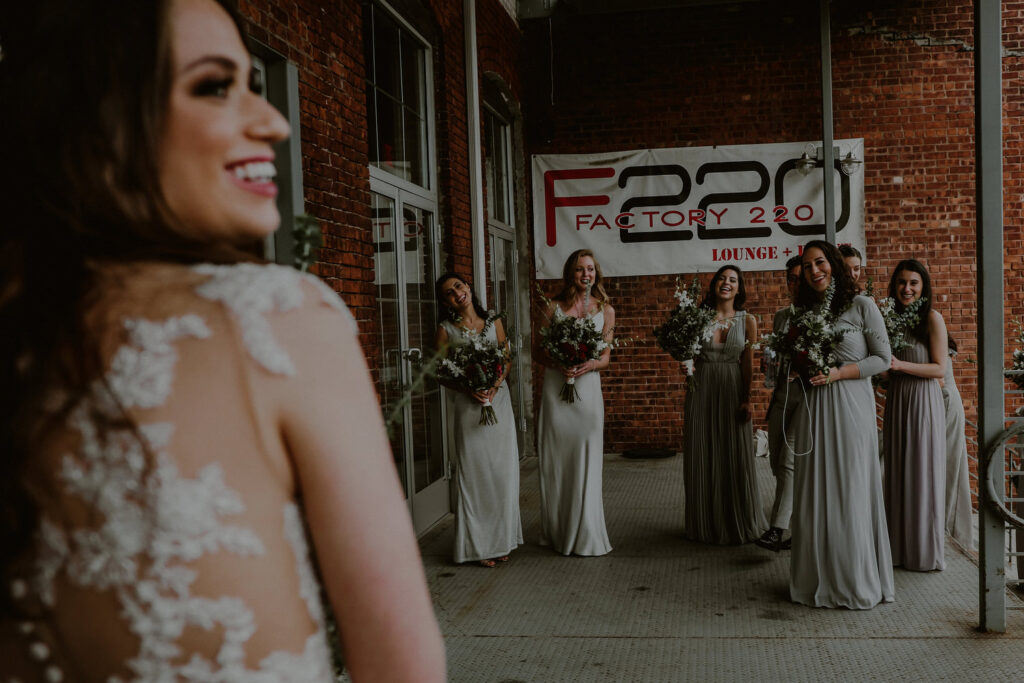 Due to it's large capacity, this venue is perfect for weddings with a larger guest count, as this can be hard to come by in New Jersey. Factory 220's website boasts 60,000 square feet and a capacity of 2000 guests!
In addition, everything is available on site, including a large, mirrored getting ready bridal suite, and an adjacent groom's suite, so you don't have to go from hotels to venues – everything is on site.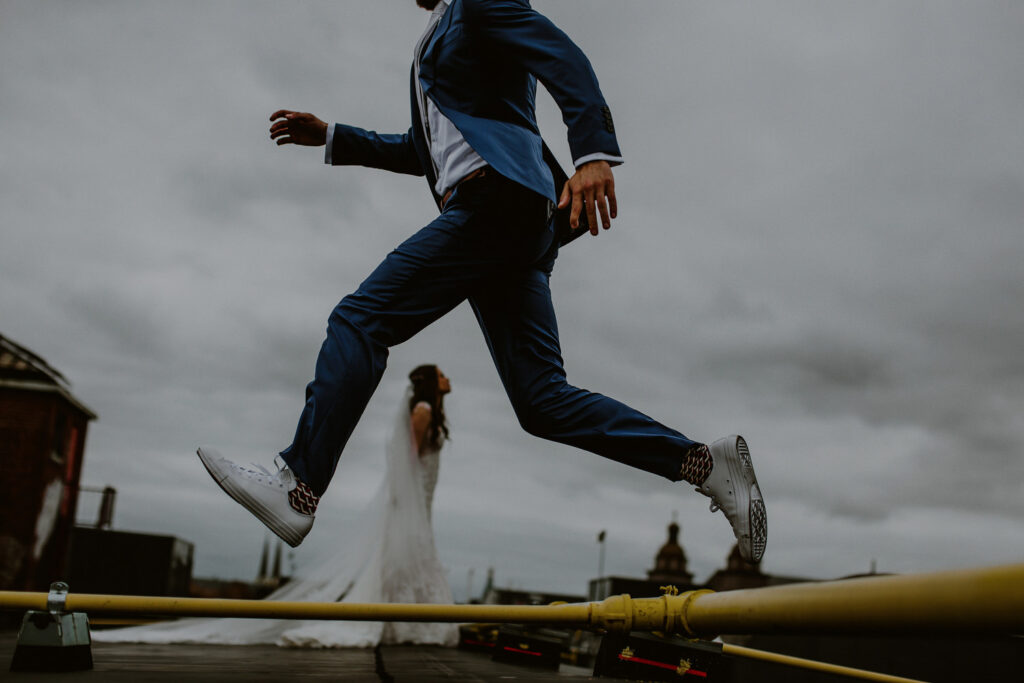 The modern industrial appeal of Factory 220 is a blank slate for creativity, which many couples appreciate, as they can truly make the wedding their own. With such an open loft space, and the right design team, you can turn this industrial space into an elegant chic wedding or a rustic boho style wedding.
Factory 220 also is a popular wedding venue with many Modern Jewish weddings as the venue owners and caterers can provide a fully kosher menu and several different rooms throughout for many of the traditional Jewish celebrations such as the Tisch and Bedeken which require different spaces for guests to roam around.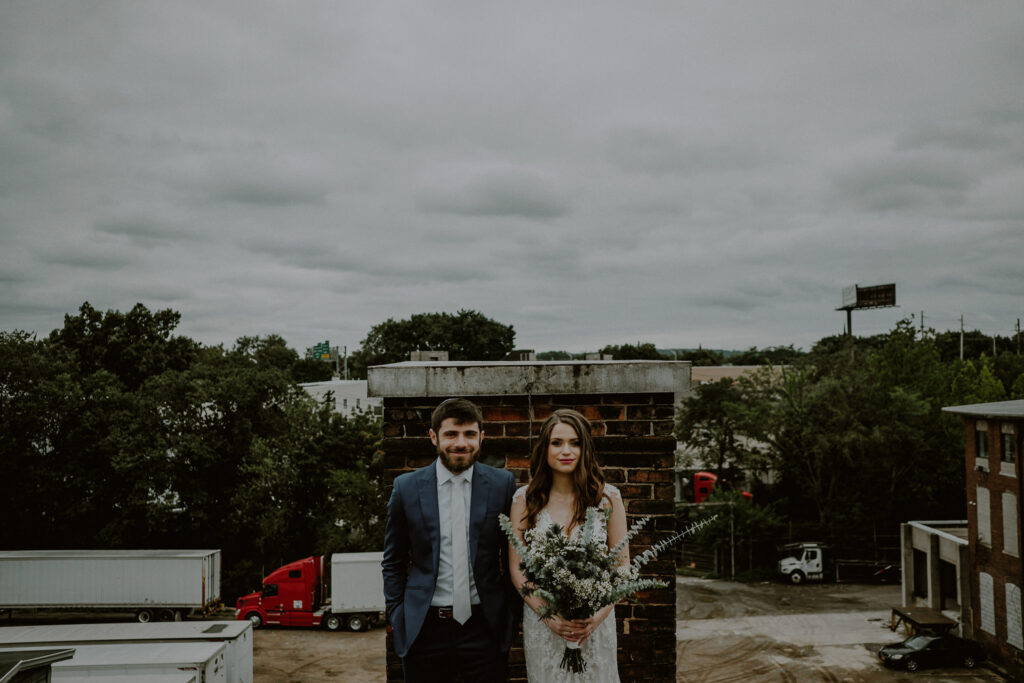 As a photographer in NJ who appreciates creativity, blank canvases for creating unique weddings, and non-traditional weddings, this is a space I definitely would recommend. In addition, compared to a few of the other industrial spaces in this area that boast "factory-chic" settings, I would recommend Factory 220 over the others due to it's professional staff, cleanliness, and ease of amenities such as clean bathrooms, parking on site, and a newly remodeled HVAC system for the building.
If you are not a fan of darker spaces, this may not be the wedding venue for you, as the walls are somewhat dark, and it can be a challenge to light, if you are unfamiliar with this type of space. I personally love the dark and moody vibe to my wedding photos, but just a heads up to anyone who might expect bright photos from an industrial wedding such as this.
History of Factory 220
*taken from Factory 220's website*
The building was original built at the turn of the 19th century and manufactured electrical cabling on a mass scale. Heavy bindles of cable were wound, transported on track (embedded into the floor) and shipped throughout the U.S.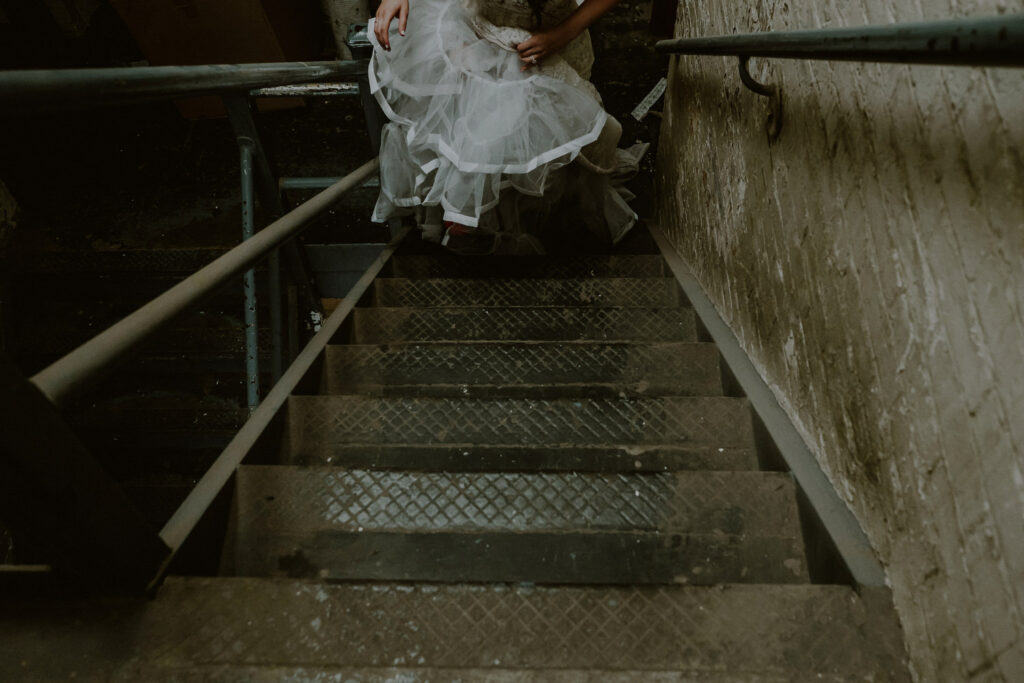 In the 2010s, the floors were sanded, the walls cleaned, but still left with a "distressed," rustic look and the electrical updated. Modern HVAC was installed and the space transformed into a massive event facility, housing multiple rooms, a large, private parking lot and many other amenities which make it the perfect location for hosting any number of events, large or small.
Getting Ready Bridal Suite On site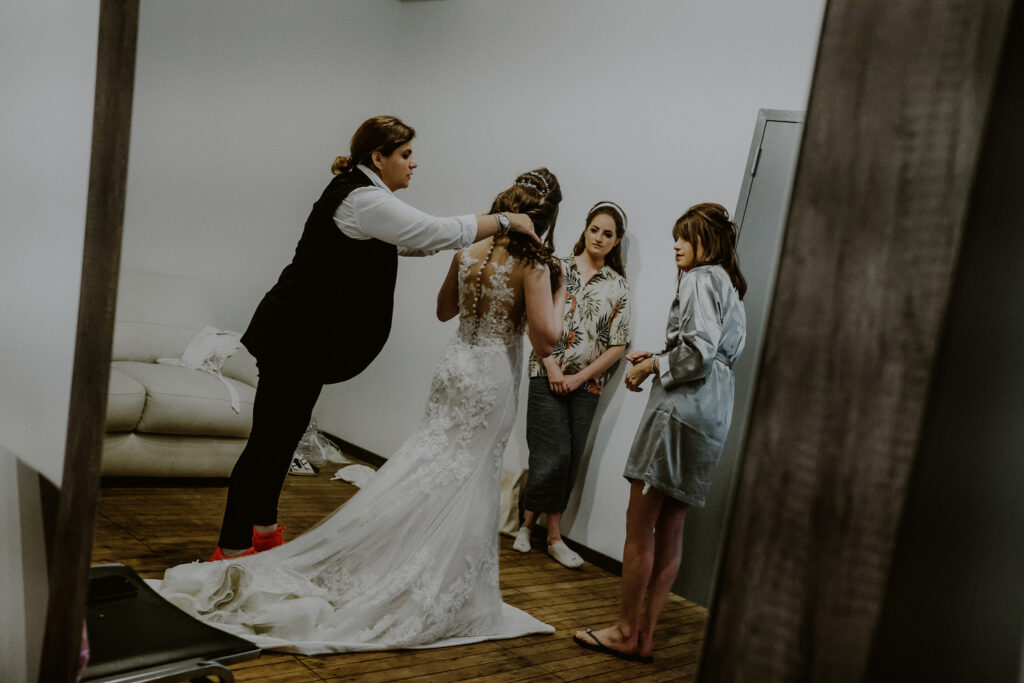 Getting ready at Factory 220 is simple and easy. The venue provides a mirrored bridal suite for the bride and a room for the groom as well. While the suites are not huge or naturally lit, they provide enough space for a wedding party to accompany the bride and/or groom for getting ready photos.
Wedding Portraits at Factory 220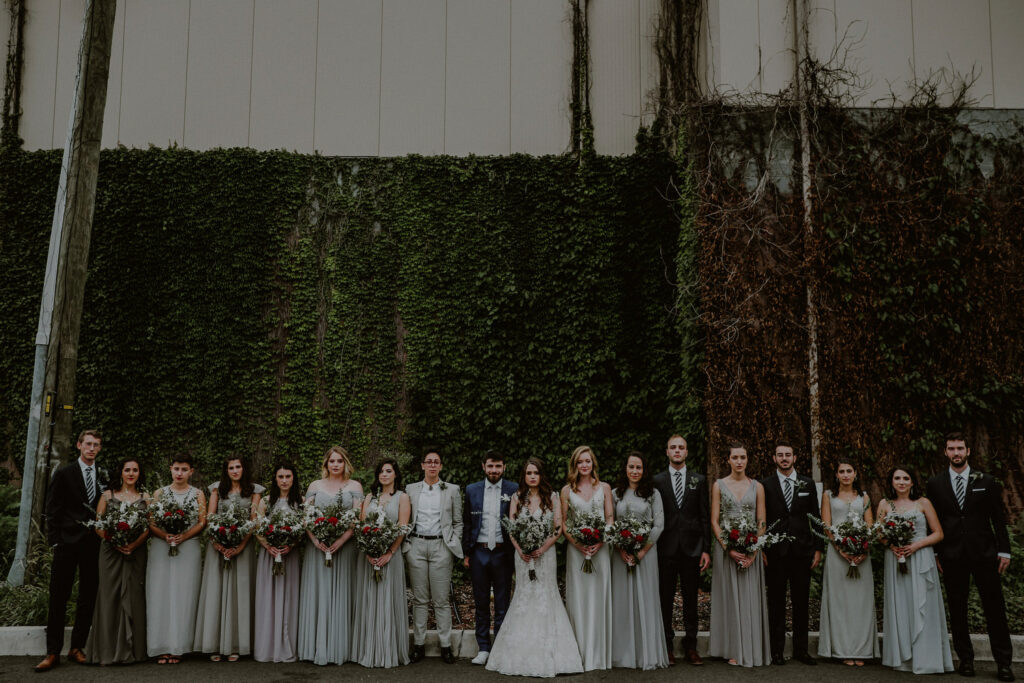 Because of it's industrial nature, set in an urban city of Passaic, NJ, the wedding portrait locations you will find in and around the Factory will have a different vibe than your classic wedding portraits. I personally love thinking outside the box and creating non-traditional wedding portraits. Within the interior of the Factory, there are many spaces that can be creatively lit for portraits. Outside of the venue there is a small overhang as well, and believe it or not, the parking lot and the unique rooftop overlooking the city was what provided me with an opportunity to think outside the box. If you have extra time built in, the Great Falls of Paterson is only a 17 minute drive away from Factory 220, and is an additional opportunity for creative outdoor wedding photos in a unique location.
Indoor Ceremony Space at Factory 220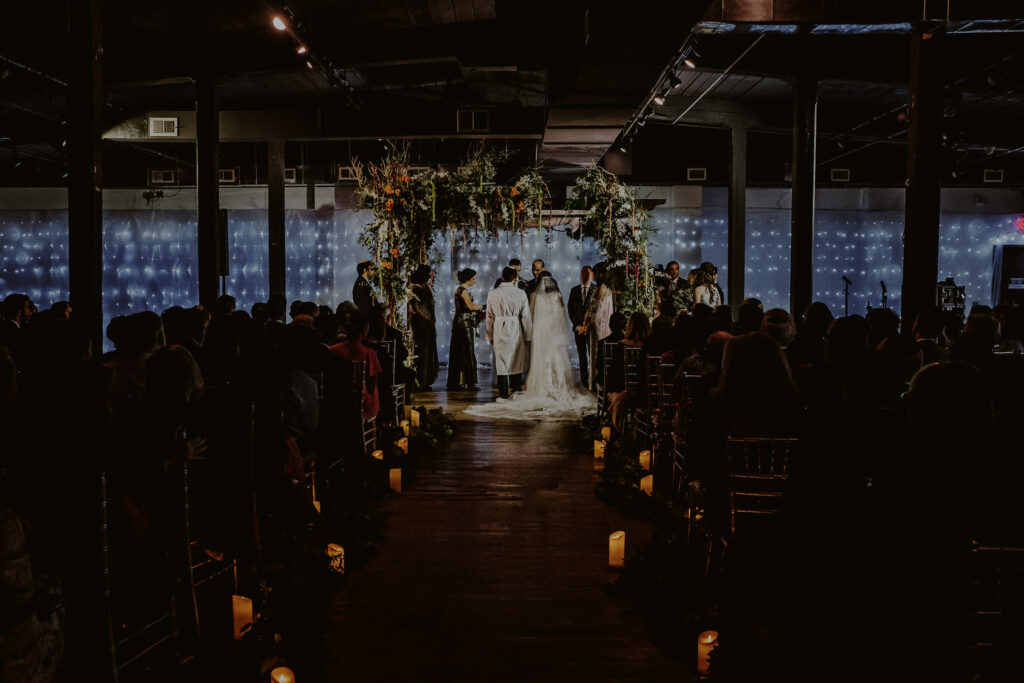 The indoor ceremony space at Factory 220 is large, and can accomodate many guests for your wedding ceremony. It can be decorated as you wish as well. However, the ceremony space is quite dark, so I would recommend to decorate with lots of lighting, such as candles, string lights, or spot lights, which can create an even more romantic mood along with the surrounding moodiness of the space.
Blank Canvas for a Reception Space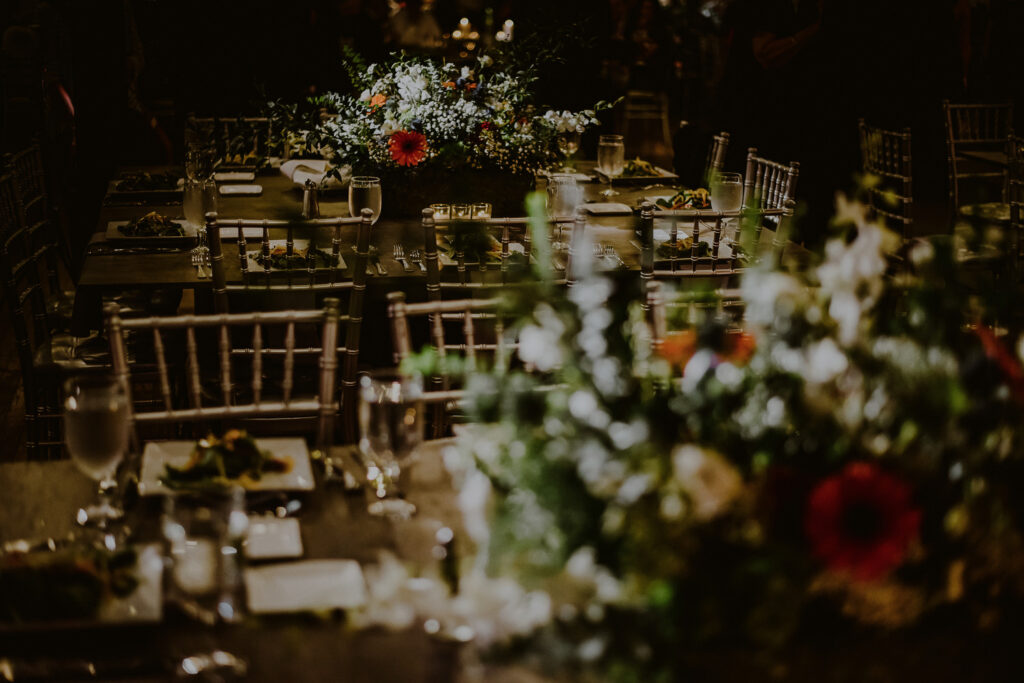 As I mentioned previously, Factory 220 is a modern industrial factory-like setting that is literally a blank canvas for the wedding of your dreams. It can house up to 2000 wedding guests, and with the right team of designers, florists, lighting experts, and entertainment, you can have a beautiful customized wedding that will be completely unique. I would highly recommend bringing on a planner to help your vision come to life as there are a lot of moving parts in a custom wedding that they will help take the stress off for.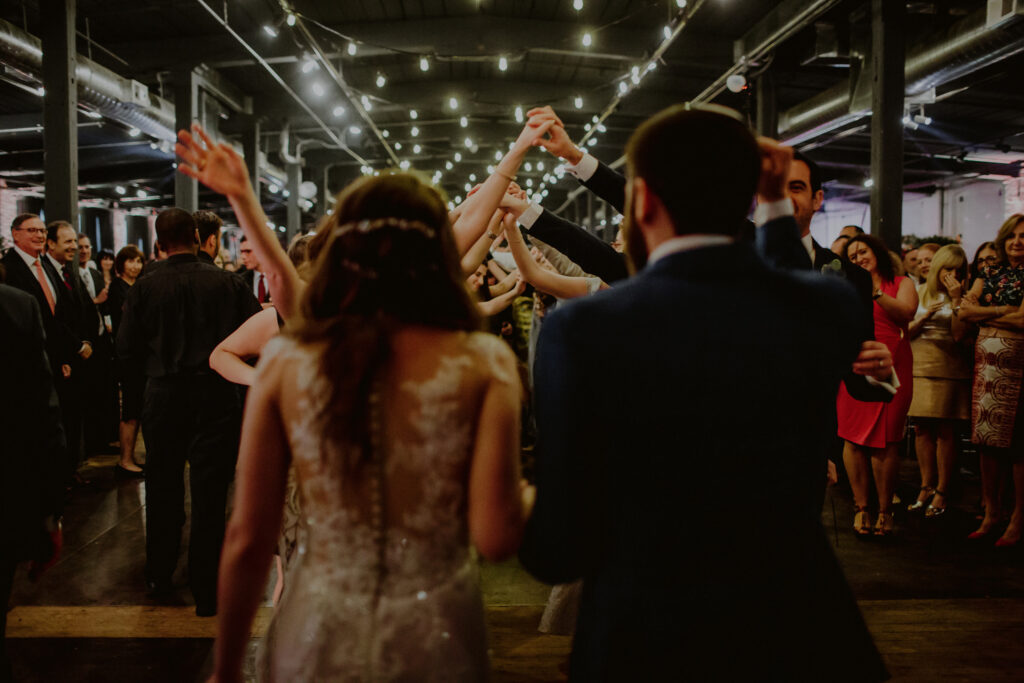 I love that while the space is large and open, there are several different rooms as well that you could have guests moving in between for cocktail hour and different events.
Keep in mind that the reception spaces do not have a lot of window light, therefore do require a lot of lighting to set the mood. This is something you'll want to discuss with your lighting designer or DJ/Entertainment company that will be providing the lighting design for the space.
Unique Jewish Orthodox Wedding at Factory 220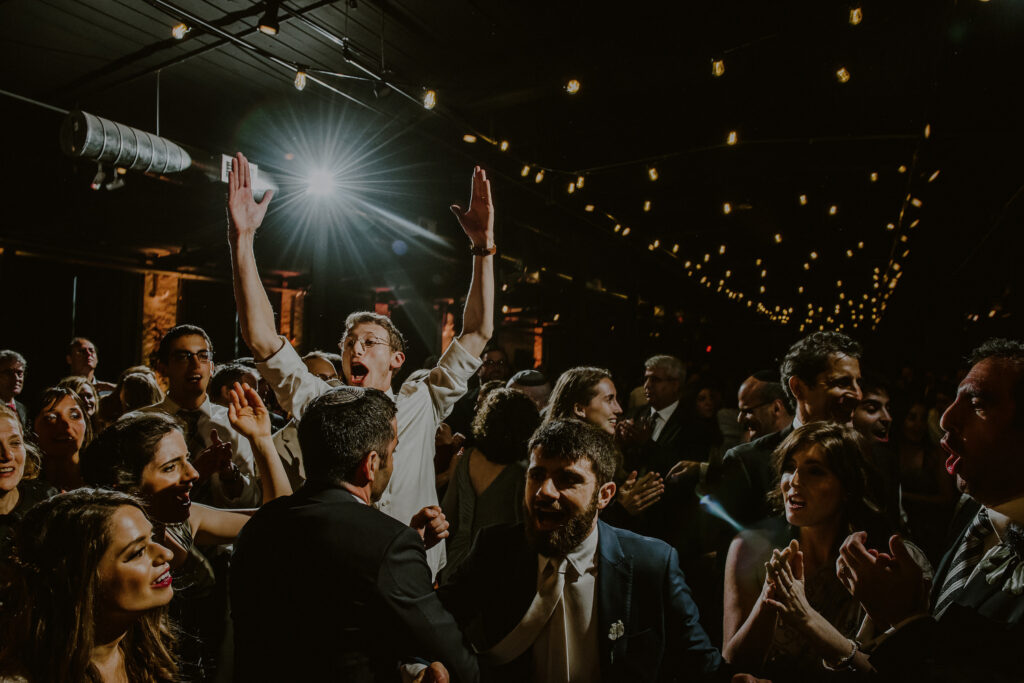 Jewish Orthodox Weddings are popular at Factory 220 because of the large open space that it allows for guests to wander between the Tisch and the Bedeken, as well as the large dancing space for horahs and such. I love that the couples that hire me to photograph their weddings still maintain the lovely traditions of their weddings, but still make it their own, and appreciate a modern approach to their wedding photos and a unique non-traditional wedding venue vibe. Check out Allie and Aaron's Modern Orthodox Jewish wedding photos for a look at how their day went.