Bonnet Island Estate is situated on a private coastal island in Manahawkin, NJ, on the Jersey Shore. The plantation-style estate features picturesque waterfront views, seasonal florals, a majestic ballroom, private guest suites, and an intimate Boathouse Chapel, all on-site for a complete beach wedding experience in one convenient place.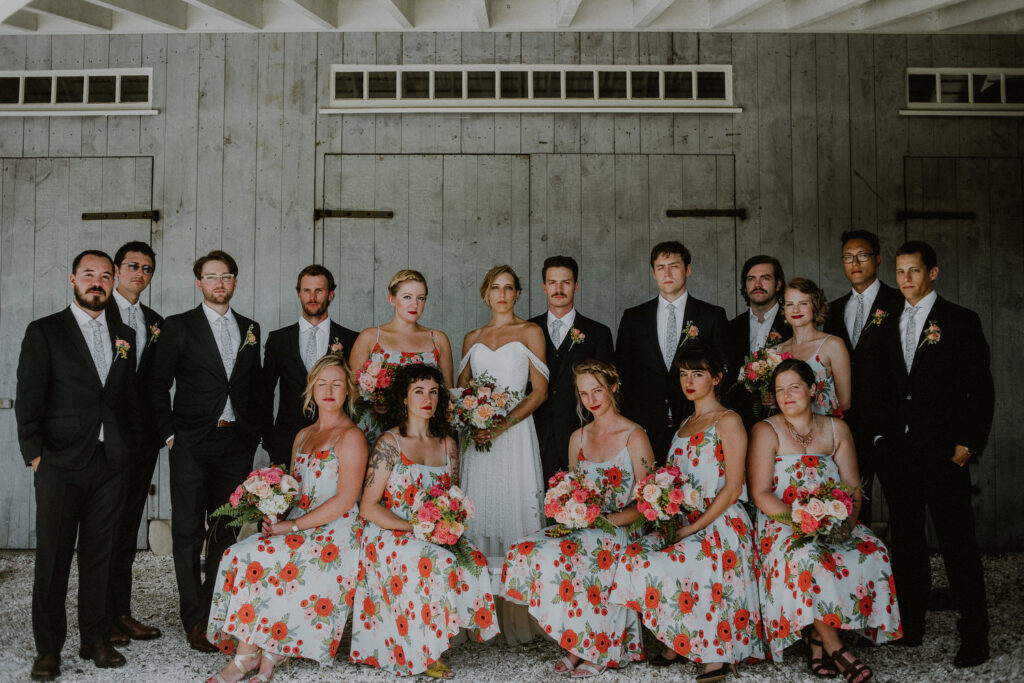 It is honestly one of the best NJ beach wedding venues I've worked at because it's not your typical beach-front venue, but rather a complete experience, with a private bay, beautiful marshlands, and the estate itself is gorgeous, and a photographer's natural light dream!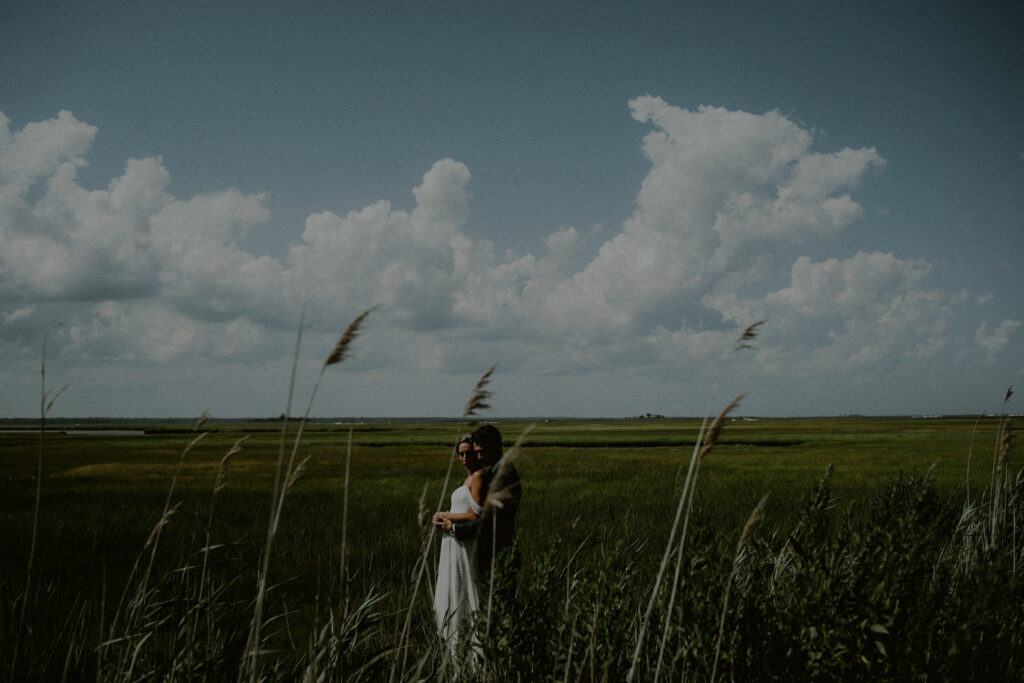 Getting Ready at Bonnet Island Estate
Bonnet Island Estate makes getting ready there a luxurious experience. The 12 private rooms that are on site at the estate, which can be used for you and your wedding party as an overnight stay for the weekend, are luxurious and well-lit with plenty of natural light, making your getting ready wedding photos turn out that much better. There is ample room for your bridal party to help you get ready in the same room, and there are several rooms to spread out in, so that the couple does not need to run into each other before the ceremony or first look. The entire estate has a luxurious laid-back elegant feel to it, right on the bay.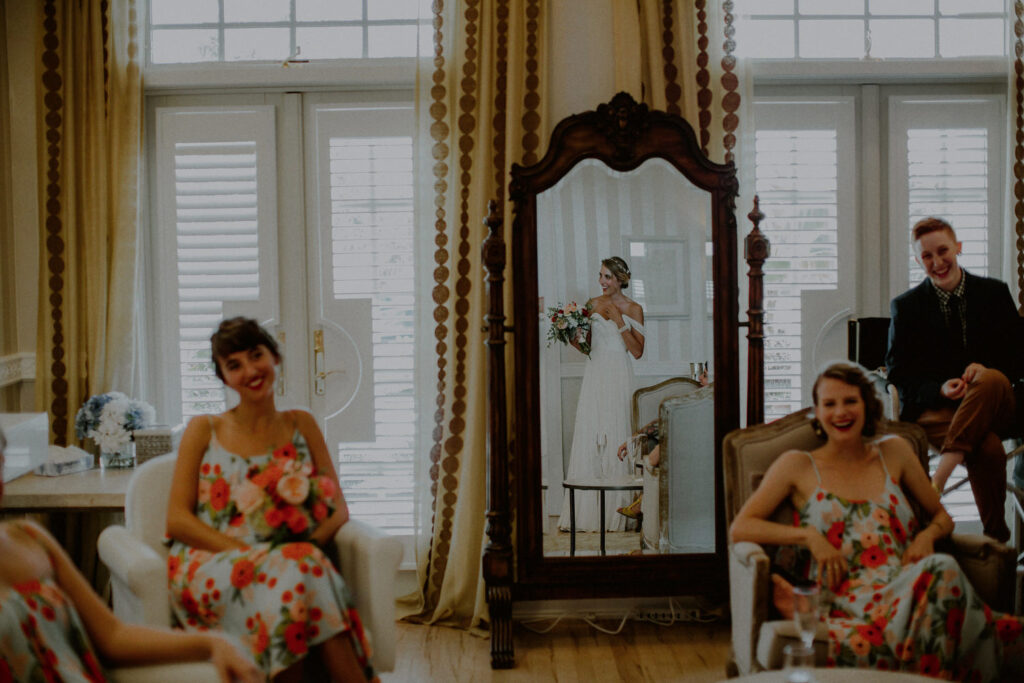 Waterfront Wedding Portraits at Bonnet Island Estate
Whether or not you choose to do a first look on the property, there are plenty of spots for a unique first look as well as your wedding portraits, and bridal party portraits. This is not your typical beach wedding venue, because it is situated on the bay, with wonderful opportunities for waterfront views. One of the spots I love for portraits at the estate are the marshlands surrounding the private island, which makes for a killer sunset wedding portrait as the sun comes down right over the marsh! There are also plenty of opportunities for indoor photos, around the barn-like chapel that is on site for the ceremony, and inside the estate as well. For those who want to venture out to take more beach wedding portraits, the closest beach is Manahawkin, which is only a 5 minute drive from the estate.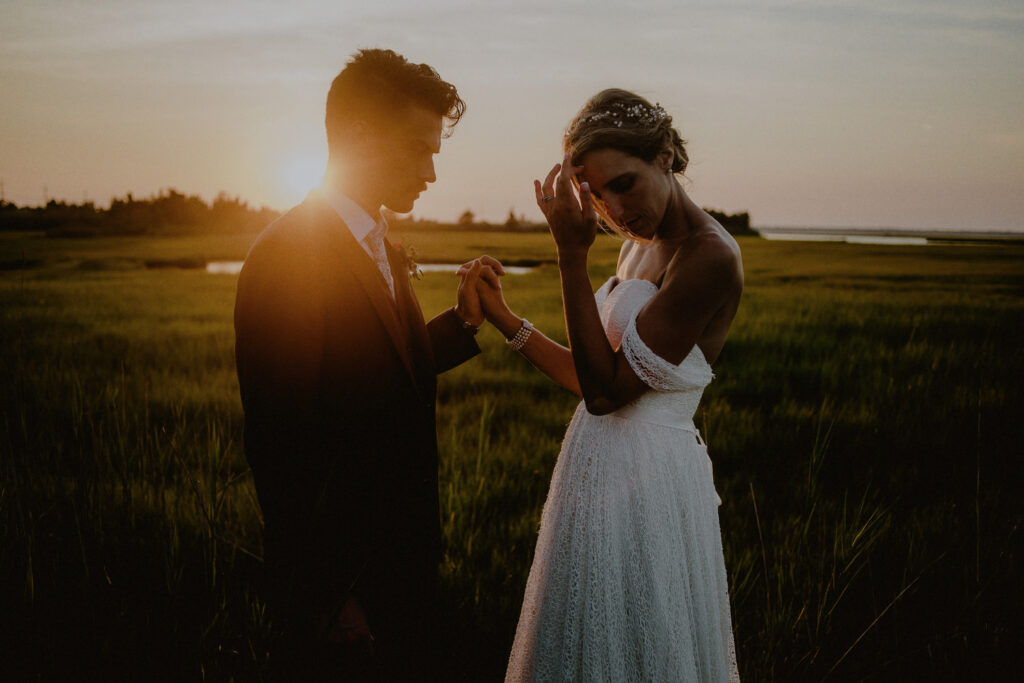 On-Site Ceremony in the Chapel at Bonnet Island Estate
One of the greatest features of Bonnet Island Estate is its on-site chapel for wedding ceremonies. Your guests won't have to travel far from the venue to the chapel, because it's all within walking distance on the beautiful white gravel paths that are laid out. The small rustic barn-like chapel has plenty of light coming through, is uniquely decorated with white shiplap walls and floors, and is well laid out for a comfortable experience for you and your guests. It is honestly one of my favorite on-site ceremony spaces. One of my favorite photos of the chapel is the view from the balcony of the estate looking down at the chapel, and overlooking the marsh. It's a great photo opportunity to get all of your wedding ceremony guests captured before they enter the cocktail hour.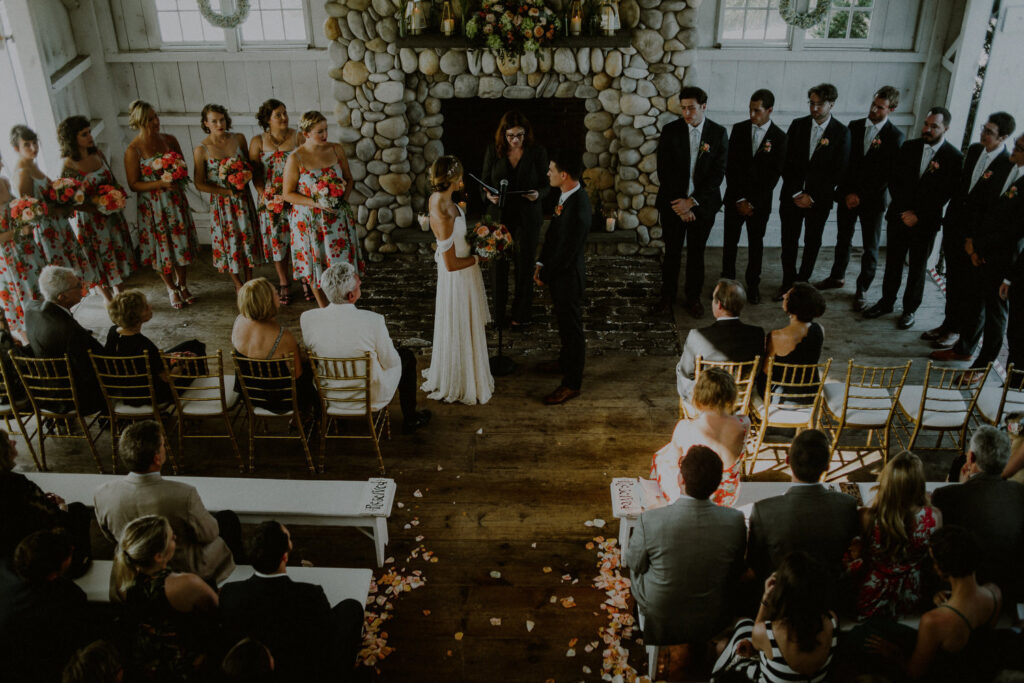 Wedding Reception at Bonnet Island Estate
The cocktail hour takes place overlooking the bay of the estate, so it's a peaceful way to unwind and get ready for a great party. Bonnet Island Estate's wedding reception ballroom resembles an inverted hull of a classic sailing ship, with cathedral ceilings and floor-to-ceiling windows on one side. At 250 guest capacity it is spacious and doesn't feel cramped with the layout. Until nightfall, you can get gorgeous light streaming in from the windows, which is perfect for giving well lit speeches at the beginning of the night. The food at Bonnet Island Estate is also exceptional, since it is catered by one of the best in the industry, Merrimakers Catering, who are owners of several other wedding venues in New Jersey. Definitely recommend to go all into the seafood options at your cocktail hour since it's super fresh!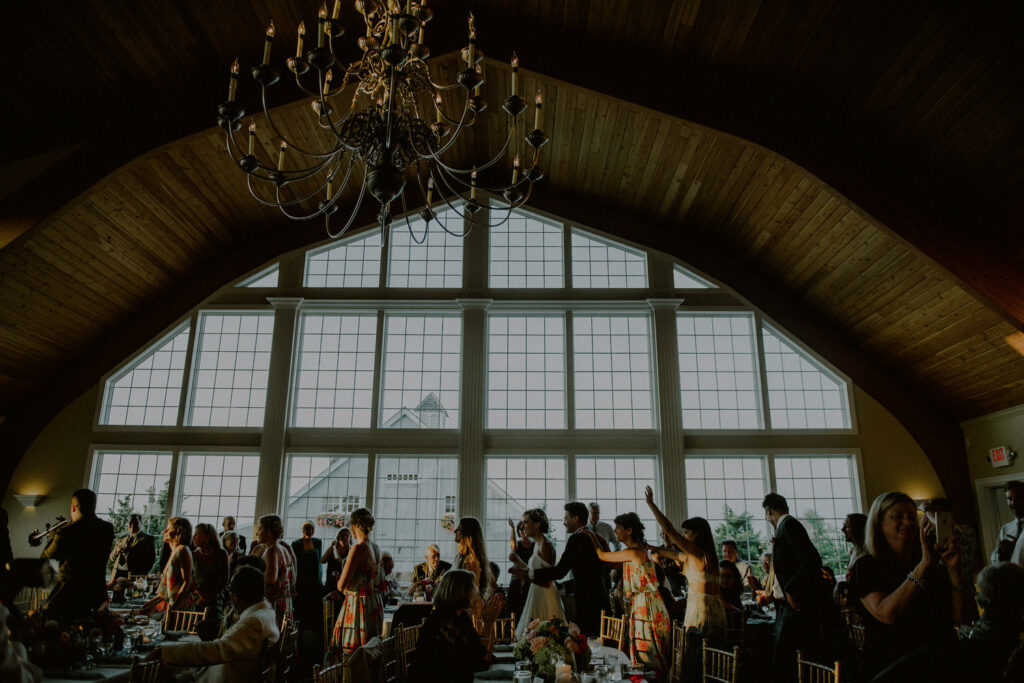 All-in-all, Bonnet Island Estate is a luxury waterfront wedding venue that is one of the best in Long Beach Island. Its secluded nature on the private island makes for intimate moments with your guests, and the on-site accommodations and wedding ceremony space make it a convenient location to have a wedding with a beautiful backdrop.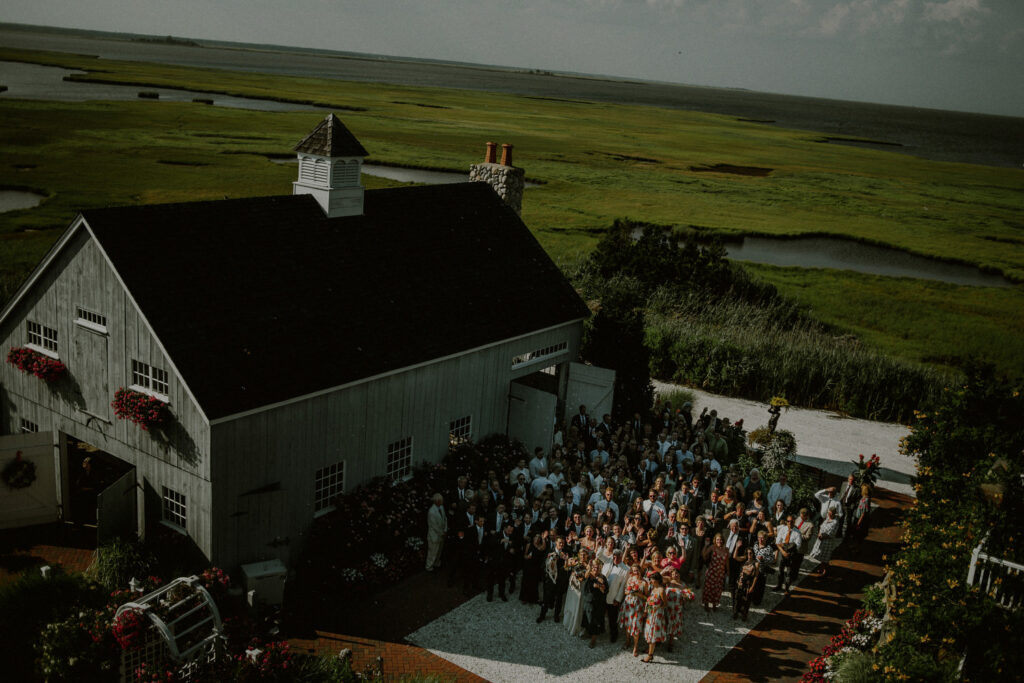 To view a full wedding at the Bonnet, check out Johanna & Matt Bonnet Island Wedding.
For more beautiful venues or photo locations in New Jersey, check out my other posts:
Top Wedding Venues in New Jersey