Avenue A Club Wedding
Avenue A Club Wedding in Newark, NJ // Julie and Saul
Sometimes I step into a scene to photograph, and it feels like I've stepped into a movie set… vintage wedding dress delicately hung next to it's matching veil, on a wooden hanger against the chipped wall.. wedding details laid out beneath, the rings, the necklace, the hair piece, the shoes, the invitation, appropriately placed on a small rustic wooden table that looks like it was perfectly chosen for the occasion. The curtains hung on the wall are curtains that most would normally think would be the first to scratch and start fresh, but in this case, were absolutely perfect for the occasion. A minimalist set up, with barely any furniture, and what furniture remained was old and dusted, and seemed not of this era. It set the tone. For me, at least. And I just loved it. The calm aura of the atmosphere, the quietness of the room, voices echoing in an almost empty house.. and then the bride… who was like a delicate flower… and who was as calm and patient as can be, without (or seemingly so) a care in the world… just going about the day to get ready to get married…
The reality of the home, which was just a perfect setting for the bride to get ready in, is that it wasn't a movie set (obviously)… it was just perfectly imperfect and real… they were recently moving in to this home, while Saul was getting ready at their old home… hence the bare rooms, and the older, rustic home.. which I found lovely to set the stage for the first day of their life together – a blank slate.. with just the bare minimum they need to get by – old or new, it didn't matter, because this is what would set the stage for their life together, and I found that just a lovely analogy to the entire day…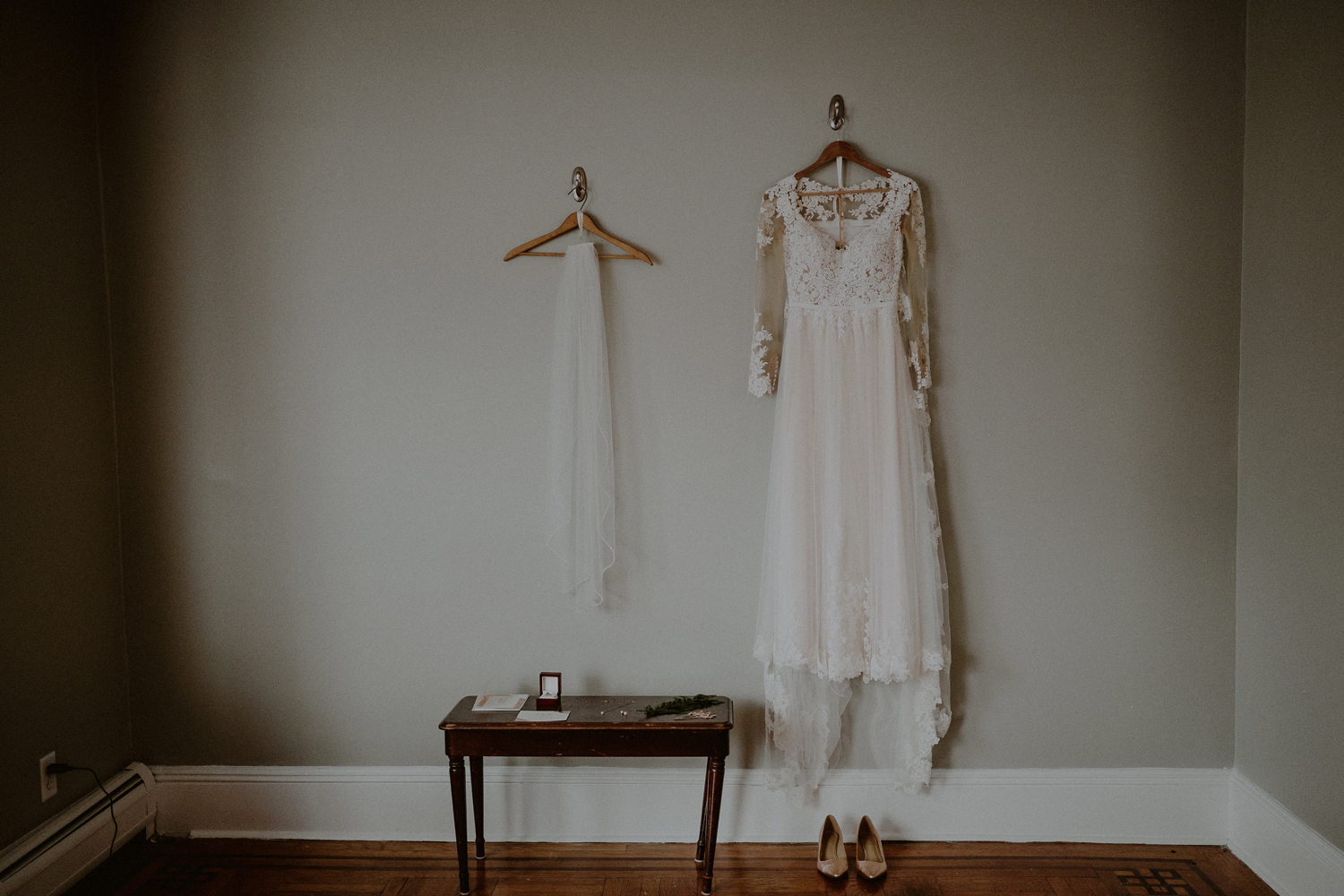 After leaving the home that they would eventually come back to that evening, and also the home of her mother, Julie made her way from Jersey City to Newark, NJ, where she would have a "first look" with her groom-to-be, Saul. They met in the parking lot of the venue, Avenue A Club. Another perfect setting in my eyes – simple, minimal, and easy for them to just concentrate on each other. We explored the surrounding undeveloped streets and underpasses of Newark, my favorite type of portrait session, where we are unfamiliar with the neighborhood, but can explore and be inspired together. It was a cold, winter December wedding day, but they braved the cold to explore with me… and so did Nahla, their beautiful pup who passed away recently. They had told me that she would soon be passing from her newly diagnosed Lymphoma, so I absolutely knew that I would want to make pictures with her that they would find meaning in, and be able to look back on and remember what it felt like to be with her. And those eyes will tell you everything you need to know about their relationship…
But enough with that, because we'll all be pulling out the tissues if I keep going…
What later continued, was a beautiful, and unique wedding ceremony and reception at the Avenue A Club in Newark, surrounded by a showroom of antique cars, brick walls, and iron piping that made this venue indeed a very unique industrial wedding venue which made it so fun to photograph in. Their evening was full of laughter, crazy faces, and insane dance moves. My favorite kind of progression – calm to crazy town!
Thanks also to my awesome second photographer Danilo, for helping out on this one and always making great connections with my clients!
Enjoy the preview of the day!
If you enjoyed this "industrial" Avenue A Club Wedding, take a look at this Art Factory wedding for another take on a rustic wedding venue, and also this Jewish wedding at the industrial-looking Factory 220.